Good evening ladies and gentlemen and welcome to the third installment of my list of the 50 Greatest NBA Players of All Time.
Before I begin let me start by asking you to please rate these articles on my writing ability alone. I understand that there may be players that you believe should be higher or lower or don't belong at all. Like I said, this list is from my personal opinion and while I respect others' opinions, I ask that you simply leave them in the comments section below and not to give it a thumbs down based solely on that. I only wish for this to be rated and judged on my writing capabilities and those alone. Again if you have any disagreements over who shouldn't or should be on the list, leave them in the comments section, thank you.
Last I left you we started with the German wunderkind Nowitzki and ended with a Round Mound Rebound machine in Barkley. Now let us continue on with the list.
We tip off this list with undoubtedly the greatest New York Knick of all time.
30. Willis Reed
The entire history of the New York Knick franchise is defined by one shining moment and this man was the one who created it. Before the 1970 NBA Finals, Reed was already an established star and was considered one of the best players of that era, a statement he proved by becoming the first NBA player ever to win the regular season MVP, All Star Game MVP, and Finals MVP in the same season. An offensive juggernaut, rebounding machine, and defensive stalwart, Reed along with Walt Frazier captained the Knicks to a franchise record 60 regular season wins at that time and to the 1970 NBA Finals against the ever present Los Angeles Lakers which boasted a human logo, a scoring machine, and last but not least, the most dominant player in NBA history. Through games 1-4, David seemed to hold his own against Goliath, even having the Lakers against the ropes. Then during game 5 Reed tore a muscle in his leg and was forced to leave the game, his absence however rallied the Knicks to win one for the captain as they defeated the Lakers, however following game 5, game 6 was all Lakers as they took advantage of Reed's absence and cruised to a victory to stage a petulant game 7 showdown. Then what happened next was in a word, historic. With the Knicks on the verge of winning their very first championship and reeling from a heartbreaking loss against the Lakers in game 6, all hope seemed to be lost, but that was before a familiar figure walked out to the court minutes before the game started. It was Willis Reed, defying doctor's orders and sending the Madison Square Garden crowd into a roaring frenzy. Reed started the game by hitting his first two shot attempts, his only points of the game, as he exited the game shortly afterwards. What happened after was pure emotion, as the Knicks rode the wave of inspiration provided by their captain and ran the mighty Lakers out of the Garden and finally hoisted their long awaited NBA Championship trophy in the air, Frazier's 36 points and 18 assists had a hand in the victory as well, but it was all possible thanks to the amazing show of heart and grit projected by Captain Reed. Following the emotional championship win, Reed would go on to lead the Knicks to a second championship in 1973. It goes without saying that the Knicks would never have a single championship title to it's name if it weren't for one man, one walk, and one show of inspiration. Reed's game 7 walk to the court was voted as the greatest moment in Madison Square Garden history.
Accomplishments: 2x NBA Champion, 2x NBA Finals MVP, 1x NBA MVP (70), 7x NBA All Star, 1x NBA All Defensive First Team, and 1965 NBA Rookie of the Year.
29. Isiah Thomas
We go from one of the NBA's most inspirational heroes to one of it's vilest villains. There are many words to describe Isiah Thomas, pest, brat, sore loser, and prick but cowardly, weak, and gutless he isn't. Thomas stormed into the NBA as the Detroit Pistons gritty savior and savior he became as he led the most despised, hated, dirty, and despicable NBA team of all time in the Bad Boy Pistons, while all those words describe the Bad Boys, there's another moniker that can describe them, one of the greatest teams in NBA history. In an era of hard fouls, cheap shots, and bench clearing brawls, the Bad Boy Pistons took all those qualities and cranked them up to eleven! Thomas served as the ringleader of some of the most controversial moments in NBA history along with his brutal and irritating right hand man Bill Laimbeer, easily the most hated man in league history, his stern and tenacious sidekick Joe Dumars, his hulking and intimidating enforcer Rick Mahorn, and his slithering worm to do the dirty work. Thomas led the Pistons with brute force, relentless defense, and brash arrogance. Thomas was no scrub himself though as he tried in vain to lead his team to the 1988 Championship against you guessed it the Los Angeles Lakers despite badly twisting his ankle halfway through game 6. In one of the most gutsiest and passionate displays of will, Thomas valiantly scored 25 points in the third quarter (a record that still stands). Despite the gritty display of heart and emotion from a hobbling Thomas, the Pistons fell short of their ultimate goal. Following the wave of emotion set forth by Thomas, the Pistons came out the following season like a bat out of hell, thrashing anyone and everyone in their way with physical and sometimes dirty defense as they charged their way back into the NBA Finals and once again going toe to toe with the Lakers, this time however the Pistons would not be denied as they dominated and destroyed the legendary Showtimers. Thomas would then lead the Pistons to back to back championships as they captured their second title in the 1990 NBA Finals. The Pistons were on top of the world, they were the kings of the NBA, nothing could stop them, that is until they ran into a familiar foe who this time brought backup as that foe and his team thoroughly dismantled the Bad Boys and swept them out of the NBA forever, but with one final show of disrespect and defiance, Thomas led his Bad Boys off the court and into the locker room without as so much a congratulations to their vanquishers. While the Bad Boys will live on forever as the most despised team of all time, you cannot deny that Thomas will live on forever as one of the greatest point guards of all time, but behind those pearly whites, their lies a devil behind that smile.
Accomplishments: 2x NBA Champion, 1x NBA Finals MVP, and 12x NBA All Star.
28. Gary Payton
The point guard position is by all accounts the most important position in basketball, the position that is most trusted by the coach who projects his plays from the point guard who creates the plays from the sidelines onto the court. Now imagine that point guard being locked down, shut out, and being completely helpless by a defender, that defender was Gary Payton. It is without doubt that Payton is the greatest defensive point guard of all time. Aptly named The Glove, for his physical and smothering defense. Payton not only excelled at physical defense, his legendary trash talk would break down any point guard mentally and emotionally. Payton's finest hour came during the 1996 NBA Finals facing off against the greatest NBA team of all time and going one on one against their master. Even though the Sonics would fall to the inevitable champions, Payton perhaps got the last laugh as he held the master Bull in check, by his standards to an NBA Finals career low in percentage points. Put Payton in today's NBA and I can guarantee that he locks down every point guard. His size and length would completely suffocate the 6'0 Chris Paul, his trash talk would completely unravel the already erratic Russell Westbrook, his lateral quickness and footwork would completely block off the speedy and elusive Tony Parker, and finally his banging and violent defense would break down the already fragile Derrick Rose. Defense was not Payton's only weapon however as he practically invented Lob City before Lob City was actually Lob City as he and Sonics teammate Shawn Kemp would electrify the Evergreen State with their Rain City offense which consisted of Payton throwing the ball up into the air and Kemp seemingly soaring all the way from the Space Needle to thrown down an emphatic dunk. Even though he wouldn't finally win a ring until the twilight of his career, Payton will forever be embedded not only as the greatest defensive point guard of all time, but one of the greatest pure point guards of all time.
Accomplishments: 1x NBA Champion, 1x NBA Defensive Player of the Year, 9x NBA All Star, 9x NBA All Defensive First Team, and 1x NBA Steals Leader.
27. Ray Allen
The 3 point shot is perhaps the deadliest weapon in the game of basketball and this man is the greatest 3 point shooter that has ever lived. Ray Allen is the quintessential king of the 3 point shot. Never has there been a shooter with a release as quick as Allen's shot, as soon as the ball hits his hands it's out in an instant and through the net. Allen is also perhaps the second greatest clutch shot maker of all time, whenever his team was desperate for a game tying or winning shot, the ball would always find Allen's hands and Allen would always have his feet beyond the arc. In fact, Allen is so good at shooting the 3, that he doesn't even have to look down at his feet to see if he's behind the line, he simply just knows, which is in of itself, simply uncanny. I debated who to put in this spot before settling on Allen. My original choice was gonna be the second greatest 3 point shooter in NBA history, Reggie Miller, but with Allen now all alone atop of that list with nobody even in sight of breaking it soon, plus the rings to back it up, it would've been unacceptable to leave Allen off the list. Whether he's Jesus Shuttlesworth taking Denzel Washington to school or Ray Allen simply saving a king's legacy with the second most clutch shot in NBA Finals history last year during game 6 against the Spurs. When it comes to shooting to Ray Allen it's as easy as 1, 2,...3!
Accomplishments: 2x NBA Champion, 10x NBA All Star, and NBA All Time Leader in 3 Point Shots Made.
26. James Worthy
In the history of Los Angeles Lakers lore, there's many names that come to mind, but most probably don't remember James Worthy. Worthy was the perfect third man to a magician and the cap. Worthy always had a knack to show up and take off at the right time in the right game. Worthy was an offensive juggernaut during the late 80s Showtime Lakers dynasty. No game was bigger than game 7 of the 1988 NBA Finals which saw Worthy explode for 36 points, 16 rebounds, and 10 assists earning the nickname Big Game James. Worthy is also remembered for being being the star player of the North Carolina Tar Heels in the early 80s which saw him team up with a player that simply lived in the air which catapulted them to the top of the college basketball world with an NCAA Championship in 1982. Despite this small entry, there is little to doubt the importance to the history of the Los Angeles Lakers that Worthy provided whether it was in the regular season or especially in the big games. James definitely lived up to his name and was simply...worthy.
Accomplishments: 3x NBA Champion, 1x NBA Finals MVP, and 7x NBA All Star.
25. David Robinson
In the 1990s, the NBA was perhaps at it's greatest era (depending who you ask) and most point to the overabundance of big men the 90s provided, with legendary centers like Patrick Ewing, Dkembe Mutumbo, Alonzo Mourning, a Dream Maker, and Diesel powered Superman, none could be more legendary than the Admiral. With the exception of his nemesis across the state in Houston, Robinson can clearly make an argument of being the greatest big man in the greatest big man era. A rebounding machine, a shot blocking extraordinaire, and a scoring giant. Robinson is just one of 4 players in the history of the NBA to record the very rare and nearly impossible quadruple double in a game against the Detroit Pistons, Robinson poured in 34 points, hauled in 10 rebounds, dished out 10 assists, and rejected 10 shots. If that wasn't enough, Robinson is also one of just five players in NBA history to score 70 or more points in a game when he scored 71 against the Los Angeles Clippers. For most of his career, he served as the heart and soul of the San Antonio Spurs but came up short of making the Finals year in and out, just when everyone in San Antonio was beginning to doubt if the Admiral would ever earn his hard fought medal a big fundamental landed by his side in 1997 and finally gave him that reliant twin tower that he so desperately desired. Robinson is not only viewed as one of the greatest big men in NBA history, but is perhaps the most respected player to ever play the game. Players, coaches, and fans can't help but to stand and salute the Admiral.
Accomplishments: 2x NBA Champion, 1x NBA MVP (95), 1x NBA Defensive Player of the Year, 10x NBA All Star, 4x NBA All Defensive First Team, 1x NBA Scoring Champion, 1x NBA Rebounding Champion, 1x NBA Blocks Champion, and 1990 NBA Rookie of the Year.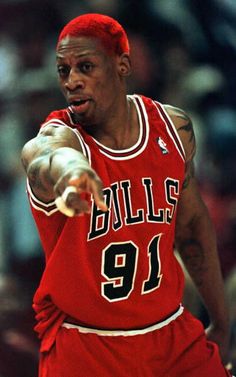 24. Dennis Rodman
There are many words people like to call the worm, freak, crazy, insane, unstable, erratic, wild, vain,...well you get the point. There has never been a more polarizing figure in NBA history than this man (or alien?). Whatever you wanna call him, you cannot help but to call him champion. Other words that can describe Rodman, energetic, relentless, fierce, tenacious, and emotional. While not particulary a scoring threat, Rodman exuded all of his energy into the so called dirty work, rebounding, defense, peptalking, and above all else exuberance. Rodman is without question one of the greatest defenders in the history of the game, and without question the greatest defensive power forward of all time, he is also the greatest rebounding forward of all time. Whenever Rodman saw a ball clang off the rim, he would be the first in the air to snatch it from anyone within distance like a ravenous tattooed snake catching a frog in mid leap. While most people will judge him for his colorful hair, bad attitude, inked up body, and pierced appendages you simply cannot question one last word to describe Rodman, respected.
Accomplishments: 5x NBA Champion, 2x NBA Defensive Player of the Year, 2x NBA All Star, 7x NBA All Defensive First Team, and 7x NBA Rebounding Champion.
23. John Havlicek
In the history of the Boston Celtics organization there have been countless legends, many of them have already made this list in Robert Parish, Paul Pierce, Kevin Garnett, Kevin McHale, and Ray Allen, and there's still 3 more to come. However of those previous Celtics listed, no Celtic has ever meant more to the organization than this man. Havlicek basically innovated the sixth man role and made it into the importance it is today. Perhaps no player exuded more energy, more guts, and more endurance than Hondo. A tenacious rebounder, a pin point passer, and hellacious scorer, Havlicek could literally do it all and he was a staunch defender as well, as a matter fact one defensive play is embedded in Celtic lore forever. In the seventh and final game of the 1965 Eastern Conference Finals, with the Celtics leading the Philadelphia 76ers 110-109 with five seconds left and with possession, all the Celtics had to do was inbound the ball and run the clock out, but the inbounds passer (who will appear on this list) inbounded the ball too high and it struck the top wire of the basket support and fell out of the bounds, giving the Sixers the final possession and a chance to win the game and series. With the Sixers ready to inbound the ball and Havlicek with is back to the passer, quickly spun around and tipped the ball to teammate Sam Jones thus sealing the victory for the Celtics, and forever immortalizing Havlicek as one of the greatest clutch defenders of all time. As the leading scorer in Celtics history, there is no question that Havlicek belongs on this list and every other list of greatest NBA players of all time.
Accomplishments: 8x NBA Champion, 1x NBA Finals MVP, 13x NBA All Star, and 5x NBA All Defensive First Team.
22. Bob Cousy
We go from one Celtics great to perhaps the greatest Celtic (I said perhaps, don't blow a gasket). Cousy forever changed the game as being the very first pure point guard, and possibly even the greatest. Cousy was the offensive leader of the greatest dynasty in NBA history, the late 50s/early 60s Boston Celtics. Cousy wasn't called the Houdini of the Hardwood for nothing, with pin point perfect passes to literally everyone on the floor, tossing half court passes for fast breaks, or simply dropping it underneath the basket. There is no question that the greatest franchise in NBA history wouldn't be where they are today if it wasn't for Cousy and his more well known and dominant partner who we'll see much higher on the list. Cousy is not only remembered for his innovative fast paced style, but also as the founder of the National Basketball Players Association, the very first trade union in the four major North American sports leagues.
Accomplishments: 6x NBA Champion, 1x NBA MVP(57), 13x NBA All Star, and 8x NBA Assists Leader.
21. Wes Unseld
Remember when I said Elvin Hayes was one of the most underrated and underappreciated big men to ever play, well this man and Hayes' Bullets teammate is THE most underrated and underappreciated big man. Unseld is often forgotten in the pantheon of great NBA centers, which is a shame cause he truly was one of the best of his era. Unseld is one of only two players to win both Rookie of the Year and MVP honors in the same season. What he lacked in the size department he made up with brute strength and sheer determination. Unseld was not only a rebounding and defensive force but also one of the best passing big men you will ever find. Together with Hayes, he formed one of the most dominant duos in NBA history as they took the Bullets to the NBA Finals four times and winning it in 1978. When fans write out their own list of greatest NBA players or NBA centers, I can only hope that among the stilts, caps, admirals, diesels, mountains, dreams, and champions, they'll save a spot for the greatest Bullet of all time.
Accomplishments: 1x NBA Champion, 1x NBA Finals MVP, 1x NBA MVP(69), 5x NBA All Star, and 1969 NBA Rookie of the Year.
That concludes this list of the 50 Greatest NBA Players of all time. We're inching closer and closer to the top 10, who will they be? will there be surprises? you'll just have to wait and find out as I bring you the list 20-11 later this week. Stay tuned, and keep dribbling and driving.