Sega: "Not to worry!"
Eep!: "Huh?!"
I felt horrible for Sega, but I wasn't about to buy a system just because it included a pair of Fisher-Price speakers. This wasn't the last of the price slashes and freebies. Sega offered tons more of coupons and gimmicks to get consumers to buy Genesis including Toys'R'us vouchers and blockbuster sponsorships, but for some reason they didn't expect the American shopper to turn away from a Japanese product. Sega had sunk to their lowest point. Two Sonics FREE, with the purchase of The Sega Genesis Console.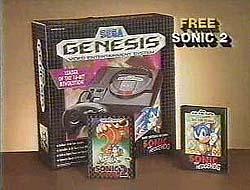 With a spiffy commercial and a great deal like that, who wouldn't buy a Genesis? I didn't. Why? The new Legend of Zelda was going to be released on Super Nintendo. I needed to buy a new skateboard. I needed to throw pennies into the gutter. Who needed a Genesis? I didn't… [Sniffle] I didn't.
But wait! The deals weren't over just yet. Sick of Sonic the Hedgehog one AND two? Not to fear, because a fairly new game is on the rise and it is said to be free, when you purchase "The Sega Genesis Fighting System!"
Young Bobby Angles has a problem; he didn't have "The Sega Genesis Fighting System." Oh dear, he was tortured by the school bullies everyday and needs to earn the respect of his peers. What shall he ever do? Not to fear Sega will slash their prices once again in effort to gain the less fortunate and provide young minds with the entertainment they were once deprived of.
Bobby gives in, yet saves $40, receives a free copy of Streets of Rage 2"…gets more moves, more control, and now he's pretty much okay."
What wasn't Sega giving away? Their very soul…which was later sold to various console-hardware companies and returned back to their roots, software.
In closing, Sega had and still has by far the best software programmers ever. In retrospect, Sega was the underdog and was always just a cult following. Though isn't it funny how Nintendo now relies on Sega's software for its sales as well as other home console companies such as Sony and I believe Xbox. If only Sega had a better strategy for compiling a better home console and focused less on destroying its competition we might all be sitting in front of A Sega Exodus 2600 or something like that. So I leave you with this question. What if I had bought that Genesis, Saturn and/or Dreamcast? What if all the other children of the world had bought that Genesis, Saturn and/or Dreamcast? Would Sega-Hardware still be around to make another console? Would the Mario versus Sonic war still persist? We will never know. We will never know. Rest in peace Sega-Hardware…you had a rough life.
-eep!