Now for the final installment to my smash hit article trilogy. This time around, cancelled rides from other Disney parks will have the spotlight shined on them. And now...
THE GREATEST DISNEY RIDES

NEVER

MADE!!!
PART 3: WALT DISNEY WORLD AND BEYOND
Tim Burton's Nightmare Before Christmas Ride
Park it was to have been built: Disneyland Park, Disney's Hollywood Studios (rumored)
Reason for cancellation: Tim Burton rejecting the proposal
Believe it or not, The Nightmare Before Christmas wasn't a huge success when it came out in 1993. Though it was critically acclaimed, it didn't do as well in the box office as Disney hoped it would. Since Disney and Tim Burton each owned half of the characters, Disney needed to get Burton's approval for whatever they wanted to do with the characters. The movie itself finally saw a huge audience when it was release on home video. Hoping to cash in on the movie's unexpected popularity, Imagineers came up with a Peter Pan's Flight-type dark ride themed after the movie. It was to have been built right next to "It's A Small World". When Disney showed their proposal to Tim Burton, he rejected it, fearing that Disney would overexpose the characters (isn't that what they're already doing). Despite this, the cancelled ride would eventually serve as the inspiration for the Haunted Mansion Holiday.
The Nightmare Before Christmas is one of my all time favorite animated films. The movie as a whole deserves an entire ride instead of temporarily inhabiting an existing ride (The Haunted Mansion). The only real downside would be dealing the massive amount of emo and goth kids who will crowd the park just to ride a Nightmare Before Christmas ride.
Parks it was to have been built: Disneyland Park, Magic Kingdom, Disneyland Paris
Reason for cancellation: Financial failure of Euro Disneyland
What was eventually built on proposed site: Mickey's Toontown (Disneyland)
When the Little Mermaid was released to critical and commercial success in 1989, Imagineers imeadiately started coming up with ideas to bring the Ariel & friends to the Disney parks. The most ambitious was a Fantasyland dark ride for Disneyland and the Magic Kingdom. A very similar was also planned for Disneyland Paris' (then called Euro Disneyland) phase 2 plans. Unfortunately, this ride suffered the same fate as most of the ride proposals announced as part of the "Disney Decade". Recently though, Disney announced that a Little Mermaid ride will finally be built at Disney's California Adventure and the Magic Kingdom, though it will be a lot different than the ride that was announced in 1990.
Though I'm not entirely a fan of Disney's Little Mermaid (personally, I think Hayao Miyazaki's take on the story (Ponyo) is better than Disney's version), I've alway felt that the movie would perfectly fit as a Fantasyland ride. A ride like that would be worth checking out.
Disneyland Clone of Muppet*Vision 3D
Park it was to have been built: Disneyland Park
Reason for cancellation: Protests from Orange County residents. Problems with the Henson family
When Muppet*Vision 3D debuted in Disney's Hollywood Studios on May 16, 1991, it became an instant hit. Disney immediately made plans to clone it at Disneyland. Two potential locations were proposed. The first was in (a very early version of) Mickey's Toontown (how does the Muppets fit in Toontown?) in a cartoony version of the Main Street Opera House. Speaking of which, the second location, and this was a huge mistake on Disney's part, was the Main Street Opera House itself. This would have meant that the Kermit the Frog & Co. were to have evicted Abraham Lincoln from Disneyland for the 2nd time (Mr. Lincoln previously left Disneyland in the early '70s before quickly returning due to complaints). When news of the potential removal of Greatest Moments with Mr. Lincoln was leaked, the Republican residents of Orange County (where Disneyland is located) protested and petitioned Disney not to get ride of Mr. Lincoln. Not only did this made Disney cancel their plans for a west coast version of Muppet*Vision 3D, their ongoing feud with the Henson family had them figuring out when and where the show would be presented in the park. Finally, in February 2001, almost ten years after it's debut in Florida, the long overdue clone of Muppet*Vision 3D opened as an opening day attraction at Disneyland's 2nd park: Disney's California Adventure.
Indiana Jones and the Lost Expedition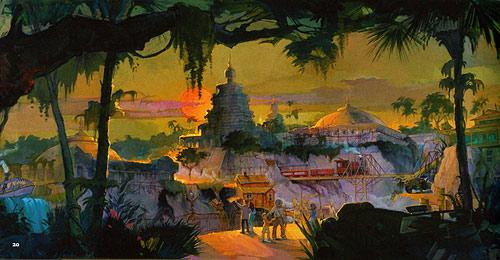 Park it was to have been built: Disneyland Park
Reason for cancellation: Budget constraints
What was eventually built: Indiana Jones Adventure: Temple of the Forbidden Eye
In the mid '80s, George Lucas and Disney started a partnership. After they completed the Captain EO film, the Imagineers started coming up with two rides, each based on a popular Lucas' franchise. One of them was a Star Wars ride (Star Tours) and the other was a very elaborate ride themed to Indiana Jones. Though there is an Indiana Jones ride at Disneyland today, this proposal was to have been a
LOT
elaborate than what was eventually built. For starters, the trooper jeep ride that now exists was to have been accompanied by a roller coaster themed after the mine cart sequence from Temple of Doom. The Disneyland Railroad and Jungle Cruise would have also been re-routed to go through the complex, giving riders a dramatic views of the complex and the rides inside. This idea was labeled as a "break the bank" idea and all but the trooper jeep ride were cancelled. That wouldn't be built until the '90s since technology had to catch up with the storytelling that the Imagineers were trying to achieve.
Though the WDW's Indiana Jones Stunt Show kicks ass, the Indiana Jones ride at Disneyland must kick more ass. They should have built this complex at the Magic Kingdom, especially when the piece of crap Kingdom of the Crystal Skull came out.
Park it was to have been built: Disneyland Paris
Reason for cancellation: Financial failure of Euro Disneyland
What was eventually built: Space Mountain: De la Terre à la Lune
Now let's bring another "break the bank" idea to the table. Without a doubt, Disneyland Paris has the most unique Tommorowland. Rather than make an exact clone of the other Tommorowlands, the Parisian park decided to pay tribute the two of the greatest sci-fi authors of all time: Jules Verne and H.G. Wells. Though Tommorowland classics like Star Tours and Autopia are present, their ride buildings, as well as the surrounding architecture, is based on buildings one would imagine from a novel of Jules Verne or H.G. Wells. The jewel in the crown was to have been a Space Mountain-like dome named Discovery Mountain. Inside the dome was to have been two rides themed to Jules Verne stories, a replica of Epcot's Horizons, and a replica of the Natilus. As for the two rides, the first ride was to have been an INTAMIN 1st generation freefall ride themed to the Mysterious Island. This ride would serve as the basis for The Twilight Zone Tower of Terror. The other ride, and the main draw of Discovery Mountain, was a roller coaster themed to From the Earth to the Moon/Around the Moon. The highlight of the ride was the "blast off", an inclined launch. It all seemed to good to be true, and it was. Euro Disneyland soon face financial troubles when it opened and building a proposal like Discovery Mountain was simply out of the question. Disney decided to build the roller coaster portion as a stand alone ride. For a brief period during the construction, the coaster kept the Discovery Mountain name, until "Discovery" was replaced with "Space" sometime in the 'mid 90s. In 1995, the roller coaster, now named Space Mountain: De la Terre à la Lune (From the Earth to the Moon), opened to rave reviews and helped the struggling park show signs of financial success.
Disneyland Paris' Space Mountain is one the coasters I've always wanted to ride. But this entire proposal screams to be built at another Disney park. Either Tokyo Disney Sea or the Magic Kingdom (in fact, Disney wanted to transform the latter's Tommorowland into a clone of Paris' Discoveryland, but the plans were shitcanned due to the failure of Euro Disneyland)! I would wait in line for a 1st generation freefall ride and roller coaster themed to Jules Verne.
Hollywoodland (aka. Roger Rabbit's Hollywood)
Park it was to have been built: Disneyland
Reason for cancellation: Financial failure of Euro Disneyland
Disney-MGM Studios was an undeniable success for Disney. Rather than clone the entire park and create a 2nd gate in California, Disney decided to create an area for Disneyland that had the popular components of the Florida park. Just like in Florida, guests would have walked down a recreation of 1940s Hollywood Blvd. where in the distance was a replica of the Chinese Theatre. Inside was a west coast clone of the Great Movie Ride. Another reason this area was planned was to introduce Roger Rabbit to the park (this area was planned before Mickey's Toontown opened). The cancelled Toontown Trolley and Runaway Baby Buggy rides were also to have been cloned for the west coast. However, there was another cancelled Disney-MGM ride that was also meant for this area. A ride so elaborate, it's too good to be just mentioned with Hollywoodland. And that ride is....
Dick Tracy's Crimestoppers
Park it was to have been built: Disneyland Park, Disney's Hollywood Studios
Reason for cancellation: Poor box office return
Here's another cancelled ride that was to have been the highlight of Sunset Blvd (Florida)/Hollywoodland (California).When Warren Beatty's Dick Tracy came out in 1990, Disney executives were expecting the film to gross as much (if not outgross) as Tim Burton's Batman. One of the first things Disney did to plan to cash in for this potential movie franchise was a ride for Disney-MGM Studios and Disneyland. Dick Tracy's Crimestoppers was essentially supposed to be an Enhanced Motion Vehicle ride (i.e. Indiana Jones Adventure, DINOSAUR), only with a few new features. Being that the ride was to have been themed to a high speed car chase through Prohibition era Chicago, this EMV ride was to have had a emphesis on speed. Another new feature was that was the addition of light guns. In keeping with the time period the ride takes place in, each of the cars was to have a few Tommy guns (machine guns from the Prohibition era) built in for guests to shoot at gangsters. Though the film went on to gross $162 million at the box office, the numbers dissapointed Disney and the idea of a Dick Tracy franchise and theme park ride were dropped.
I haven't seen the Warren Beatty Dick Tracy movie (yet), but just by looking at this concept art and the overall premise of the ride, it looked like it would have blown Animal Kingdom's DINOSAUR out of the water. The theme of this ride would have perfectly blended in with the '30s/'40s theme that Disney-MGM Studios was trying to achieve in the Sunset Blvd expansion. They should take this concept and build it, only with a few changes: Replace the Dick Tracy theme with a theme of classic gangster films (i.e. Public Enemy, The Untouchables) and instead of making it a EMV ride, make it a type of ride with technology that sends Universal's Amazing Adventures of Spider Man running for the hills.
Well, 'tis ends. Hope you like the article series. Something big is in the works as we speak!!!