It's Christmas once again! Hope you and yours have a great one. Every year I have my own tradition of movies and TV specials that I cannot miss. I'm sure you do too. I know you're on the edge wondering how similar mine are to yours, so let's have a look.
HOME ALONE
"A Family Comedy Without The Family"...I've always liked that tagline.
Young Kevin McCallister finds himself left behind while his whole family takes a Christmas trip to Paris! While his mother makes a tireless effort to get back to him, he gets into all kinds of mischief.
He sleds down the stairs, shoots action figures with an air rifle, even guys groceries and does the laundry. Helpful fellow, is he not? Soon however, he's threatened by the Wet Bandits, Harry and Marv. Yikes.
So begins his quest to defend the home, using all kinds of means only a child would think of.
With an all around fabulous cast, including Catherine O'Hara, John Candy, and Roberts Blossom...
It's a timeless classic. Actually the first time I saw it, was in August, on VHS, while visiting California. I came to appreciate it more and more as I grew older.
We got more of the same with it's sequel..
The same cast returned, and they were joined by Tim Curry, Dana Ivey, Rob Schneider and Brenda Fricker. It even included music by the E Street Band! With more slapstick pain thrown upon Harry and Marv, this one is another can't miss.
------------------
A GARFIELD CHRISTMAS
Why the heck doesn't this come on anymore? For years growing up, CBS never failed to air it. Oh well, maybe Boomerang or someone will roll it.
As you probably know, America's fat cat isn't too thrilled about having to go to Jon's family farm for Christmas
If you saw my article on Movies Of 1989, you know I adore the work of Pat Carroll. She actually voiced Grandma in this special, which makes it all the more memorable for me.
Nice tree!
------------------
ERNEST SAVES CHRISTMAS
Santa's in trouble, and only Ernest can save the day! KnowWutIMean? Santa Claus (at least, the current one) has decided to retire, and pass on his role to another. But various situations make it difficult, fortunately Ernest P. Worrell is there to help out.
Can Santa's magic bag of toys be returned to him in time? Will the prospective replacement come around? Will any of Ernest's other personas fool anyone? Watch it and find out.
------------------
A CHRISTMAS STORY
What a great lamp!
Ah, the joys of A Christmas Story. Ralphie's one Christmas wish is to get an official Red Ryder carbine action 200 shot range model air rifle. However, his hopes are hampered by a local bully, disapproving adults who constantly tell him he'll shoot his eye out, and subliminal messages reminding him to drink this stuff...
Even the obnoxious mall Santa won't cut the kid a break. Who could say no to charmer with a smile like this?
Oh well. Once I wanted an NES Power Glove for Christmas, but never got it. Looking back now I see it was a good that I didn't, but c'mon...Ralphie just wants a harmless air rifle.
Yeah baby, you got it. Don't shoot your eye out!
------------------
LOVE ACTUALLY
The ultimate romantic comedy, the ultimate ensemble cast, that just happens to be set at Christmas time.
The plot is way too extensive to go into here, but everyone in the movie knows everyone else, and the subject of love in its various forms is the center of the film.
Hugh Grant is Great Britain's prime minister, Bill Nighy is an aging rock star who doesn't seem to care if his career resurrects or crashes and burns. Liam Neeson, Laura Linney, Alan Rickman and Emma Thompson all have their plot points too. It is funny, well acted, and just plain well done. I'll watch it anytime, but it seems to mean more at Christmas.
------------------
BATMAN RETURNS
Maybe not a Christmas movie in the general sense, but like Love Actually and Die Hard, it is set during said holiday.
A decent enough sequel, it felt more like a Tim Burton film than the first. I guess with more of a quirky style than it's predecessor, you could leave no doubt who was at the helm.
Danny DeVito as the Penguin is much different than the "man about town", that I had been familiar with. DeVito is great, and his grotesque appearance is good/scary, but it was kind of a shock to see the character as a monster than a man.
Michelle Pfeiffer starts off as a hapless secretary, but soon becomes a creature of the night herself as the sultry Catwoman. Her no-apparent-plan is well done, and of course Micheal Keaton is great again as the Dark Knight..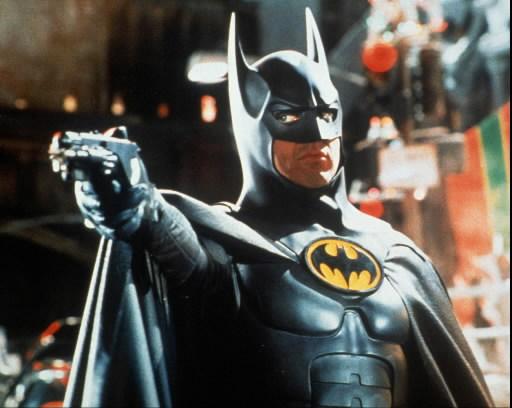 The Bat's chat with Penguin remains a favorite scene of mine...
Also in the cast is Christopher Walken, who alone makes any movie good if you ask me. The movie is not for kids at all, in fact I think it's darker and more intense than the first film.
Originally I didn't care for Batman Returns much, and really I still don't, finding it to me more of a Tim Burton movie that just happens to have Batman in it. But for some reason I always check it out during Christmas, if no other time of the year.
------------------
ELF
Good advice from Buddy the Elf. The aptly named
Elf
stars Will Ferrell as Buddy, a simple minded, Christmas loving human raised by Santa's elves.
Deciding to seek out his real family, he heads to New York City and finds that not everyone shares his overjoyed love for the holiday season. Another Christmas tale with an excellent cast (that seems to be a theme here), Elf, although relatively new, has found its place as a Christmas standard.
------------------
IT'S A WONDERFUL LIFE
This is another film that technically isn't a Christmas movie in the general sense either. Though Batman Returns is set during Christmas all the way, It's A Wonderful Life only has the opening and the climax set at Christmas. But I digress.
I heart Jimmy Stewart. In all roles, he was truly an awesome one. Here, even in the face of the many great things he's done for his hometown, George Bailey is clouded by the trouble given to him by the villainous Henry Potter, played by Lionel Barrymore.
Coming to his aid is Clarance Oddbody, AS-2. Who through an idea of George's own depressed words, shows him what the world would be like had he never even been born.
Shaken by the experience, George does come to see that his life really is wonderful, in spite of it all.
Times get tough for us all, but at Christmas, it is good to remember how blessed you really are.
------------------
A CHARLIE BROWN CHRISTMAS
In this day and age of political correctness, its good to know this one still runs every year, without fail.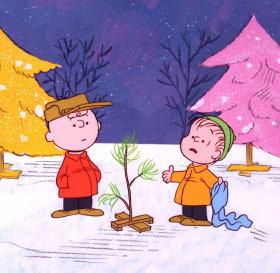 Charlie Brown just isn't feeling it this year. Psychiatric help, directing a play, even his attempt at getting a tree..none lift his spirits. Fortunately, Linus is there to remind him what Christmas is
really
about.
Snoopy dancing, Lucy's claims of how Beethoven wasn't so great, Sally's list to Santa, and Pig-Pen's cloud of dust in a snow storm all play a part in the most essential Christmas special of them all.
------------------
THE SANTA CLAUSE
One of the better Santa themed movies out there, The Santa Clause was the first movie I saw to suggest Santa was a position, rather than one single person forever. Even though Ernest Saves Christmas is sort of the same thing, I didn't see it til later.
Tim Allen is Scott Calvin, a toy businessman who finds himself fulfilling the Santa Claus
e
.
I didn't care much for the sequels, but this one remains a favorite. Most of the time it's the Christmas Eve requirement.
------------------
SCROOGED
How could I resist seeing a spin on A Christmas Carol with Bill Murray? I couldn't.
Murray is Frank Cross, a cold, cynical, uncaring TV exec who needs a serious boost of Christmas spirit. Fortunately, he is aided by three Christmas Spirits. One of whom is Carol Kane, who won't stop beating him up.
It's for his own good, really. The movie caps off with Murray and the cast leading you the viewer in singing, "Put A Little Love In Your Heart." Fun.
------------------
THE NIGHTMARE BEFORE CHRISTMAS
Jack Skellington, king of Halloween Town is growing tired of the same old scary routine every year. But then one day, he enters a portal and finds himself in the joyous Christmas Town!
Jack is intrigued by this celebration, and even though he doesn't understand it all, he begins an effort to bring Christmas to their world. He even takes over Santa's job for himself.
Things don't go quite as he hoped, so then Jack must find a way to put things right again.
Due to it's story line, I find it to be a rather sad movie, but it is very well done when it comes to stop motion works, and has become something of a classic among fans. It also features another excellent voice cast. It's all good, because Jack does get the girl in the end.
------------------
HOW THE GRINCH STOLE CHRISTMAS
The Grinch hates Christmas. The whole Christmas season. Oh, please don't ask why, no one quite knows the reason.
He thus decides to prevent Christmas from happening, by taking everything from the nearby town of Whoville. With the dog Max as a reindeer, and the Grinch in a Santa suit, his quest begins.
He truly is a mean one.
As a kid, this was my first introduction to the great Boris Karloff. I have been a buff of his work e're since. I didn't like the Jim Carrey film at all, so I have to make a point of referring to this as the "animated" How the Grinch Stole Christmas. A shame really, but what are ya gonna do?
------------------
JINGLE ALL THE WAY
As I recall, this movie came out about the same time there was such a mad rush for
Tickle Me Elmo
dolls. Or maybe it was the time when you couldn't find Power Rangers toys. Either way, I got a kick out of how appropriate the timing was.
Ah-nold is a hard working dad who forgot to get his son this year's ultimate gift,
Turbo Man!
. Thus begins his quest all over Minneapolis to find it.
Unfortunately, not only is it the season's hottest item, an irritable postal worker (Sinbad) is after one too.
With another all star cast including Rita Wilson, Robert Conrad, James Belushi, Martin Mull and the late Phil Hartman, this holiday romp is TURBO charged family fun.
------------------
MIRACLE ON 34th STREET
I prefer this, the 1947 version to the 1994 film. I guess because with the '94 film, I saw John Hammond, not Santa (played by Richard Attenborough).
Anyhow, they're pretty well the same other than a few differences here and there. Kris Kringle (played here by Edmund Gwenn) is hired as the new Macy's Santa Claus. Soon his claims of being the real thing alarm the Macy's staff, but so does his knack of sending customers to other stores for the gift they're really looking for.
He wins over just about everyone, except for a young Natalie Wood, who has been raised not believing in pretty much any kind of fantasy.
Not only that, but soon the New York supreme court calls a hearing to determine Kris' sanity, and his legal status as Santa.
Either film is ok, but I stick to the classic one.
------------------
RUDOLPH THE RED-NOSED REINDEER
One of the many Rankin-Bass classics. I've seen the others, such as Santa Claus Is Comin' To Town, The Little Drummer Boy and so on, but this one seems to be the definitive show.
CBS is usually pretty good with running this one every year, and I don't miss it. It's funny how so many of these older specials still run, and still reach younger generation.
Even the music of Burl Ives can reach the younger crowd. Just as Fred Astaire and Jimmy Durante did with the other specials. Ya gotta love 'em.
------------------
CHRISTMAS VACATION
Does he know they're stuck under a truck?
Ah, Clark Griswold: the holiday madman. Be it weddings, vacations, or anything else, the Griswolds are headed for disaster. No matter what. Clark has a plan of a fun old fashioned family Christmas that is sky high. So is the tree.
Soon, grouchy in-laws and boorish Cousin Eddie arrive to add to the fun.
Clark wouldn't be more surprised if he woke up with his head sewn to the carpet. Dig those Wally World mugs.
It just isn't a real Christmas if this side splitter isn't on the tube.
------------------
There you have it! To you, my fellow Retrojunkies...
May it be an awesome one for you and yours.
~TheOutlaw