#10: Sgt. Kabukiman NYPD
Shortly After The Decline Of Troma Studios, Namco Approached Troma With Two-Million Dollars And Asked Them To Make A Film Similar To The Toxic Avenger, Geared Towards A More Family Friendly Audience. Troma Then Used A Concept They Picked Up In Japan While Filming The Toxic Avenger About A Kabuki-Themed Superhero. The Film Then Became Sgt. Kabukiman NYPD. It Told The Story Of A Modern Day Police Officer Who Inherits Powers Passed Down Generation To Generation By Legendary Kabuki Masters. He Then Faces The Greatest Challenge Of His Life... Saving The World From Mass Destruction! Despite Being Panned By Critics Upon Its Initial Release, The Film Has Generated A Loyal Fanbase, Especially Amongst Troma Fans.
#9: Rabid Grannies
Around The Time Troma's War Was Released Two Troma Fans Raised Enough Money To Finance Their Own Low-Budget Horror Film. Troma Picked It Up For Distribution And Renamed It Rabid Grannies. The Film Is About A Family Dinner Party That Is Interrupted When The Two Hostesses Are Turned Into Demons That Go On A Blood-Soaked Killing Spree Around The Estate. Its Awkward Title And Creative Kills Make It One Of The Most Watched Films In The Troma Library Today.
#8: Terror Firmer
After Tromeo & Juliet Launched Troma Back Into Super-Stardom, They Focused On Their Latest Project, A Low-Budget Stalk N Slash Film Based On Lloyd Kaufman And James Gunn's Book All I Need To Know About Filmmaking I Learned From The Toxic Avenger. The Film's Production Started In 1998 And Ended Later That Year. The Film Was Released In The Summer Of 1999 Under The Title Terror Firmer. The Film Was An Instant Classic With Troma Fans Around The Globe Who Enjoyed The Film Immensly. It Followed A Group Of Filmmakers' Misadventures On A Movie Set Targeted By A Knife-Wielding Lunatic Who Picking Of Members Of The Crew Little By Little. To This Day Many Critics Hail This As One Of Troma's Best... And Grossest.
#7: Redneck Zombies
A Little After The Toxic Avenger Finished Its Theatrical Run, Two Young Men Set Out To Make Redneck Zombies, A Backwoods Horror Film About A Family Of Rednecks Who Use A Misplaced Barrel Of Chemical Waste As A Moonshine Still And End Up Turning Themselves And The Rest Of The Town Into Flesh-Eating Lunatics That Prey On A Group Of Nearby Campers. Troma Gladly Agreed To Distribute The Film If Pericles Lewnes & Ed Bishop(The Two Men Behind Redneck Zombies)Would Work As Interns For Troma. They Can Be Seen Doing The Special Effects For A Number Of Troma Films After That(Troma's War, Toxies 2 & 3, Sgt. Kabukiman NYPD etc.). The Film Is Still Very Popular With Troma Fans To This Day And Is One Of The Most Sought Out In Their Library. An Interesting Thing To Note Is That It Was Featured As An Answer On The 80's Edition Of Trivial Pursuit. Q:What Troam Film Has The Tagline "They're Tobacco Chewin, Gut Chompin, Cannibal Kinfolk From Hell"? A:Redneck Zombies.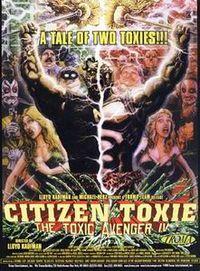 #6: Toxic Avenger Sequels
Despite Their High Ambitions, They Will Never Be As Good As The Original, But They're Still Loads Of Fun Nonetheless. The Toxic Avenger 2 & 3 Were Filmed Back To Back And Released As Two Seperate Films(3 Being The Best Of The Two)While 4 Was Released Years Later Under The Title Citizen Toxie. Part Two Is About Toxie Going On A Quest To Find His Real Father. He Arrives In Chinatown And Finds It To Be Just As Crime-Ridden As Tromaville And Declares War On All The Scumbags Poisoning It. Part Three Is About Toxie Working For The Corporate Bullies Known As Apocolypse Inc. So He Can Afford His Sweetheart Claire's Eye-Operation. He Then Finds Out Just How Evil They Are And Sets Out To Stop Them Before They Have A Hold Over Tromaville. Part For Is About Toxie Being Sucked Into A Vortex That Leads To Tromaville's Opposite Amortville(Catchy Right? Troma Spelled Backwards). Upon His Arrival Toxie Soon Learns Tromaville Was Disneyland Compared To This Place. And Just When You Thought Things Couldn't Get Any Worse Toxie Finds Out That His Evil Doppleganger, Noxie, Is Painting Tromaville Red With Blood. Toxie, Aided By Two Schoolkids, Has To Get Back To Tromaville Before Noxie Destroys His Reputation. Little Does He Know That A Few Obstacles Await Him On His Way Back To Tromaville...
#5: Cannibal! The Musical
Trey Parker And Matt Stone Of South Park Fame Made Their Feature Film Debut With This Hidden Gem. Filmed In 1993 And Released In 1996 By Troma Studios, Cannibal! The Musical Tells The Story Of Alfred Packer, The First Man Ever To Be Convicted Of Cannibalism Through A Slew Of Catchy Musical Numbers. The Film Also Stars A Few Trey Parker/Matt Stone Regulars(Including Dian Bachar Who Also Starred With Them In 1998's BASEketball). This Film Helped Get Their Career Off The Ground When David Zucker(Director Of BASEketball) Saw This Along With Orgazmo(Another Early Film Of Theirs).
#4: Class Of Nuke'em High
Troma Had Just Achieved Critical And Financial Success With Their Latest Film The Toxic Avenger And Set Out To Make What Many People Say Is The "True Sequel" To The Toxic Avenger. Released In 1986 With The Tagline "Reading, Writing, Radiation" Class Of Nuke'em High Centers Around A Group Of Teens At A Local Highschool That Just So Happens To Be Located Next To The Toxic Waste Facility. When The Local Punks Plant Some Marijauna Just Outside Of The Facility They Find It Grows Extremely Fast And Decide To Sell It At And Upcoming Party. After Sharing Some Pot, The Two Lead Characters Engage In Sexual Intercourse, Causing The Female To Give Birth To A Radioactive Creature That Grows To Be Humungous And Goes On A Rampage Through The School Halls. Despite Being 100 Percent Toxie Free, It Was A Big Hit On Home Video, And Is Considered By Many To Be Nearly As Successful As The Toxic Avenger.
#3: Troma's War
There's Nothing Like A Good War To Make Heroes Of Us All! Released In 1988, Troma's War Was A Critisism Of Reagan's Attempt To Glamorize War, As Well As A Send Up Of The Action Films That Were Still Popular At The Time. It Follows A Group Of Airline Passengers From Tromaville That Crash Land On An Uncharted Island Populated By International Terrorists That Plan To Overthrow The US Government. They Soon Realize That If They Are To Make It Off The Island Alive, They Have To Fight Their Way Through The The Gun-Toting Psychopaths Hunting Them Down Like Animals, Even If It Means War. Despite Almost Ruining Troma Financially, It Recieved Positive Reviews From Critics, And Is Very Popular With Troma Junkies Today.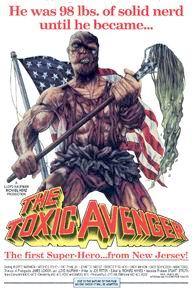 #2: The Toxic Avenger
After Making A Slew Of T & A Comedies, Troma Realized They Were Going Nowhere And Decided To Do Something Different, And That's Were It All Started. After Reading A Newspaper Article Proclaiming The Horror Film "Dead", An Enraged Kaufman Set Out To Prove Them Wrong, By Making A Horror Film Set At A Local Health Spa. The Toxic Avenger Is About A 98 Pound Weakling That Falls Into A Vat Of Nuclear Waste And Is Turned Into A Hideously Deformed Creature Of Superhuman Size And Strengh. After Aquiring The Strength To Do So, He Declares War On The Crime Polluting His Hometown, Spilling The Blood Of Many Badguys In The Process. Troma's Most Successful Film To Date, It Has Spawned Three Sequels, An Animated Spinoff And Countless Merchandise. Since His Debut In 1985, Toxie Has Become One Of Pop Culture's Most Well Known Superheroes, And Is Troma's Corporate Mascot(Kind Of Like How Disney Has Mickey Mouse).
#1: Poultrygeist-Night Of The Chicken Dead
After The Dreadful Tales From The Crapper Was Allowed To See The Light Of Day, Troma Picked The Pieces Back Up And Released Poultrygeist, Their Best Film To Date. The Film Follows A Group Of Fast Food Employees Who Discover That Their Beloved Fast Food Reseraunt Is Built On An Indian Burial Ground. Now The Indian Spirits Are Inhabiting The Chicken And Turning Customers Into Zombie Chickens. What Ensues Is Orgy Of Blood And Guts That Harkens Back To The Infamous Lawnmower Massacre In Dead-Alive. Poultrygeist Is Also Troma's Best Reviewed Film To Date. It Has Garnered The Praise Of Many Mainstream Critics And Hollywood Bigshots Including Eli Roth And Steven King Who Say Its The Funniest Thing In Years. Troma's Masterpiece.