Who is Allee Willis, you might ask? Willis is many things.
She's a Grammy-winning songwriter...An artist...A party-thrower...A writer...A woman who has done many things. She's written songs for movies like "Beverly Hills Cop" and "The Karate Kid" and her artwork has been shown all over the world. Her collections of kitsch culture and items from black history are celebrated. She latched onto the power of the Internet long before many of us were even aware of it.
I contacted her through her official website and asked her if she would be willing to do an interview. She agreed to do one, and I guarantee you that if you like retro culture, then you will love this interview.
So, without any further ado, here is:
The RetroJunk Interview With Allee Willis
--
Caps: I've screwed this up with several previous interviews, so I'll ask: When were you born?
Allee: Detroit.
Caps: What were your pop-cultural likes growing up?
Allee: Motown Motown and Motown. Loved television too - As a kid, Mickey Mouse Club, American Bandstand, Dobie Gillis, My Three Sons, Soupy Sales, The Fugitive, Ben Casey, Dr. Kildare. Later, Shindig, The Monkees and Hullabaloo. Listened to the radio constantly - CKLW, WKNR and WCHB, WJLB in Detroit. The first two were white and the last two black.
Caps: What were your school days like?
Allee: Loved doing reports and projects. Mainly because I loved writing on cheap lined paper and watching how the pencil or pen sunk into it or how it crinkled and sounded when it got wet. Loved school supplies. Not crazy about studying but was diligent about it. Loved making posters for any of my friends running for Student Council. Was fairly popular but wasn't in the top clique. When I wasn't at school I was playing records.
Caps: What drew you to being an entertainer?
Allee: I loved music and the radio. And growing up in Detroit when Motown was in its glory.
Caps: How did you first start out in the music business?
Allee: I got a job as a secretary in the advertising department at Columbia and Epic Records in NY when I graduated with a degree in Journalism from the University Of Wisconsin in 1969. I became a junior copywriter a couple of months later, writing ads, liner notes and radio commercials for all the female and black acts, all of whom were lumped together in the minority category. Wrote for everyone from Barbra Streisand, Janis Joplin and Laura Nyro to Bob Dylan, Sly Stone and Earth Wind & Fire. In 1972 I bought a piano and a reel to reel tape recorder. I took the first 3 songs I wrote to my boss and got signed to Epic. I did one album, Childstar, released in 1974. My producer, Jerry Ragavoy, great R&B producer and wrote songs like Time Is On My Side and Piece Of My Heart, was also producing Bonnie Raitt. She asked me to write a song for her, which I did, "Got You On My Mind", co-written with David Lasley, and from then on I got two or three songs cut a year. Nothing major until Patti LaBelle started doing my stuff in 1978, introduced me to Herbie Hancock, which led to Verdine White and then to Earth Wind & Fire later that year.
Caps: Rapper Q-Tip once rapped: "Rule #1080: Record Company People Are Shady". Would you say this to be true or false?
Allee: I never ever dealt with record company people unless I knew them socially outside of the record business. I'm the least political music person you've ever met. The business makes me ill. I never was just a songwriter. Always wanted to tie my art and lifestyle into what I did so other than a couple of my publishers who I adored, music execs who only saw me as a songwriter only were of no use or interest to me. It's a miracle I ever had any hits.
Caps: "Boogie Wonderland", "In The Stone", "September"...You wrote all of these hits for Earth, Wind and Fire. All of these are wonderful tunes. What was the inspiration for each of them, or did they just flow out?
Allee: I just loved EWF and jumped at the chance to write when Maurice White first called me in 1978. We started September the first day we met. Al McKay, the guitarist, co-wrote that as well. Other than Boogie Wonderland, which I wrote with Jon Lind and brought to the group, everything else was me just doing what Maurice wanted me to do. I didn't have much say about the direction of anything. i was just there to help him express his feelings in the songs. I co-wrote all but two songs on the I Am album.
Caps: You wrote the song "You're The Best Around" for the 80s classic "The Karate Kid". What was the inspiration behind that song?
Allee: I wrote it with Bill Conti, who was known for all the "Rocky" movie scores. It just had to sound jubilant. I didn't think it was an especially good song at the time. It was only many years after the film came out that I realized a lot of people considered it a classic. I never even saw the scene it was in until I caught part of the movie on tv a few years ago.
Caps: Were you disappointed when "You're The Best Around" wasn't nominated for an Oscar?
Allee: No, it never dawned on me it would be.
Caps: In the same year you wrote "You're The Best Around", you also contributed 2 songs to the "Beverly Hills Cop" soundtrack, "Stir It Up" by Patti LaBelle and "Neutron Dance" by The Pointer Sisters. "Beverly Hills Cop" is one of my favorite movies. What was it like to work on a movie that would go on to such critical and box-office acclaim?
Allee: Check out http://www.alleewillis.com/music/neutrondance/index.htm. The ENTIRE saga is there.
Caps: In relation to 8 and 10, have you ever met the people who worked on these movies? Like, for example, did you get to meet Eddie Murphy?
Allee: I met him at the after party for 4 seconds. I work in so many different fields - art, music, video, technology - and I throw a lot of parties. So I've become friends with a lot of people I've gotten to work with because they make excellent party guests.
Caps: The 80s was a very wild time for everyone. What was the wildest party you recall going to in that decade?
Allee: That would definitely be one of MY parties. Here's what People magazine said about them. " ... invitations to Allee Willis's ultra-exclusive... parties are the campiest hot tickets in LA". I was/am a serious party thrower. Not meaning in frequency but in the themes , concepts and execution. Check out these links and you'll know all there is to know:
http://www.youtube.com/watch?v=PD3rIowL_28&feature=related
http://www.alleewillis.com/photos/launchingaw/index.html
http://www.alleewillis.com/parties/parties-home.htm
I also had my own column in Details Magazine in the 80's, Some Like It Smog. It was a diary of my work and social life so I was at everything that was anything for a few years there.
Caps: Why are people so quick to make fun of the 80s? Even shows like "I Love The 80s" have a funny idea of what "love" is. Being as you saw the decade first-hand, what's your take on it?
Allee: I was way too busy being concious of my own evolution as an artist and attempting to be a happy person in the 80s so am not as enamoured of that decade as some people are. Stylistically, I thought thought the clothes and hair were creepy. I had my own style, attached much more to the 50's, 60's and 70's, specifically on the modern and kitsch tips. I liked that synthesizers rose to prominence in the 80's but so many of those records sounded like folks had too much fun with presets and not enough fun making records that would stand the test of time. But synths and music videos definitely hit the street running in the 80's.
Caps: I love the song "What Have I Done To Deserve This?". It reminds me a lot of Summers' past, even though the song is somewhat bleak. The Pet Shop Boys and Dusty Springfield were an interesting combination...Was it your idea to get them to work together, or was it suggested by the record label?
Allee: I go into this in extreme detail on my website, some of which I've copied here. Check out http://www.alleewillis.com/music/whidtdt/index.htm The song also had a matching motorized art piece and party and later matching ceramics. it's the full artistic expression of an idea in multi mediums that's the real art form to me. Here's some specifics about the song though.
In 1983, my publisher, Kathleen Carey at Unicity, a division of MCA, introduced me to British music manager Tom Watkins. He had seen a piece of my art in her office and asked if I would come to London to do a portrait of his new group, Pet Shop Boys, for their fan club stationary. "West End Girls" was a hit in Europe but wasn't out in the states yet. I flew to London in December 1984, and while they were posing for me, Neil Tennant asked me why they had never seen my art before. I told him it was because I had just started painting a few months before and I really was a songwriter who wrote primarily Black pop songs. After a second he turned to me and said "You're not the A. Willis on those Earth Wind & Fire records are you?". I ended up staying in London an extra week to write and demo "What Have I Done To Deserve This". My recollection of writing the song varies a little from theirs. I remember Chris being very uptight and sullen and stomping out of the room and Neil having to calm him down. They had never collaborated with anyone before and I think Chris was freaked out at the intrusion. Also, I was a horrible keyboard player, which I remain to this day. I was very frustrated because we weren't getting anywhere and I just started playing, as best I could, a couple of things I had been tinkering around with before I came to London -the figure that plays throughout the verse as well as the chorus chords and melody. Chris came up with the music under the B section ("I brought you drinks, I brought you flowers...") and Neil came in with the title and basic concept of the song. We didn't finish the lyrics until we were actually in the studio recording the demo. I remember the session being tense but I also remember really being excited by the song. And in the end, the whole "What Have I Done To Deserve This" experiences is one of my favorite musical times ever. I had also brought all my chips for my Linn Drum machine with me, a very big deal at the time, and those sounds help defined the feel of the song. I sang the parts that Dusty Springfield eventually sang and Neil sang the same parts he did on the record. Chris played just about everything I think. I loved writing songs with incongruent parts, of which "What Have I Done To Deserve This" is my favorite, but there was a lot of worry on both Neil and Chris' part for two years before they finally recorded it that they didn't know which section was the chorus.
I remember both Chris and Neil saying at the demo session that they'd love Dusty to sing it with them. I knew her manager, Vicky Wickham, very well and and had also written a song with David Lasley that Dusty had cut in 1981, "I Wish That Love Would Last". She cut another song of mine written with Lauren Wood, 'Send It To Me', after I wrote WHIDTDT. It took a couple of years of phone calls from Neil and Chris as well as from me trying to convince Dusty to record the song as she hated the music business and was reluctant to get involved again. "What Have I Done To Deserve This" became the second largest selling song of her career after "Son Of A Preacher Man".
Caps: Backtracking to "Neutron Dance", did you like the music video that was done for the song, or would you have done things differently?
Allee: I would always have done things differently. I was equal parts songwriter and conceptual artist so it was always very frustrating to me to just do the song or just do the video and someone else come in for the other part who the song meant something completely different to. Neutron Dance was fine because it was promoting the movie. But I originally started doing motorized art pieces because I was so frustrated that the videos had nothing to do with what I thought my songs were about. You can read a lot about Neutron Dance and see the art and party that went along with it at http://www.alleewillis.com/music/neutrondance/index.htm I'm only now, after all these years, doing the videos to my own songs. Check them out on youtube:
http://www.youtube.com/watch?v=Qo_VXWO5SKo&feature=related
http://www.youtube.com/watch?v=-M4Um48vPGU&feature=related
http://www.youtube.com/watch?v=uphd06xbozY
Caps: What movies were you approached to write songs for, but wasn't able to?
Allee: I can't remember. I took the gigs if I thought the films were of any quality.
Caps: To go back to "You're The Best Around", the song has been used on shows like "Futurama" and "South Park". What's your attitude towards how these songs are used on these programs?
Allee: I love how anyone uses my songs. I have always been more intersted in the effect my art has on people and what it inspires them to do with it more than I have been to the actual art I make. That's why I was so drawn to interactivity and the internet in 1991, way ahead of the curve.
Caps: Considering all your work up until 1994, I never would've guessed that the theme song to "Friends" is one of your works as well. Like so many others you've written, this song had left a major impact on popular culture. You've hit so many home runs in terms of popular music...What does it feel like to have done all this?
Allee: I always struggled to get recognized for doing more than I was known for doing. That feels like it's finally starting to happen now. Music is only a quarter of what I do. I was always very proud of the songs I wrote. I was aware that some of them had left permanent marks on the culture, especially some of the Earth Wind & Fire ones. Also having been in Beverly Hills Cop and writing the Friends theme. But once I did The Color Purple, my musical I co-wrote with Brenda Russell, Stephen Bray and Marsha Norman, it felt like the cultural imprint ran even deeper. It's mindblowing to experience my work with thousands of people a night and see the effect the story and presentation has on them. It totally changed the culture of Broadway audiences. Our audiences were/are up to 85% black a night. The Broadway average before that was less than 5% other when when Diddy did Raisin it went to 25%. When I look back on eveyrthing I've done it makes me very proud, especially how cross-media my work is. I'm also very proud that I got to address Congress, speak at Harvard and preach the reality of social networks ten years before they took off.
Caps: You won a Grammy for helping on the soundtrack to "Beverly Hills Cop". What's it like to win such an award? Were you nervous when you accepted your honor?
Allee: I was very excited. My date was Paul Reubens, Pee Wee Herman. We had an agreement that if I won he would pull my jacket down so it was striaght before I walked on stage. My ears went numb and I literally didn't hear them announce we won. He had to do that PeeWee face right in front of my face and scream that I won, pull my jacket down and push me towards the stage. Everyone deserves to have that exciting of a moment in their life.
Caps: Conversely, you were nominated for a Razzie for working on the theme to "Howard The Duck". How did you react to THAT nomination?
I loved it. I love lo art as much as I love hi art. I'm the biggest kitsch collector of all time. You have to understand, I was exceptionally frustrated as a songwriter. With Howard the Duck, Thomas Dolby brought me into that. He was in the drivers seat and I understood that. I was not emotionally attached to it as I was there doing a job, helping someone write some songs. It really didn't have much to do with what I might have done musically if left to my own devices. But I got to write songs with Thomas Dolby and George Clinton and that was worth it. The first time I went to the set and saw the little person running around in what looked like a pillowcase with feathers glued on I had no illusions about the success of that movie. But I had already learned not to attach my identity to whether something was a hit or not. That's a horrible way to live and no artist should lay that pressure on themselves.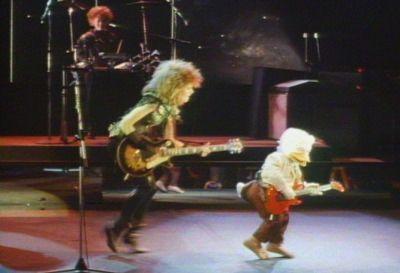 Caps: Visiting your official website, I've noticed several pictures of James Brown admiring your work. What was James Brown like? Was he like Eddie Murphy's caricature in "Delirious"?
Allee: I loved him. I had a great time with him. He was very encouraging of my multi-mediaism. He also loved my house and my dog, Orbit. You can see a couple of short videos of him talking about me and us writing together at http://www.alleewillis.com/video/index_2.htm. He also was the first person to tell me to keep collecting African American pop culture artifacts as so few Blacks had access to them growing up. My collection is now one of the largest in the world. A lot of it is always out but I pull the entire collection out when I throw my Sound Of Soul parties every February to raise money to save historic Black 24 track tapes in the Pacifica Radio Archives. See http://www.alleewillis.com/pacifica.html.
Caps: Did you ever work with The Tubes? They seem to have the same sense of outrageousness that your work does.
Allee: No. But I ended up at a lot of the same parties as Fee Waybill and we had tons of mutual friends.
Caps: Moving away from music, you're quite an accomplished artist. Who would you say your influences are artistically?
Allee: No specific artist or person. Just a love of pop culture, kitsch and futurism - Modern design and architecture, anything vintage via thrift shops, swap meets and later Ebay. I loved that Warhol had a building and a group of multi-disciplined artists and dabbled in a bunch of different mediums. But there was no one person I followed fanatically.
Caps: I've read a lot about you and motorized sculpture...What exactly is motorized sculpture, anyway?
Allee: It was the first integration of my music and art. You can read about it and see a lot of it at http://www.alleewillis.com/art/motorized/index.htm.
Caps: Many artists have a muse...Would you say that you have one?
Allee: I don't have a muse but I definitely feel that I am guided and protected by some kind of force. Maurice White told me he chose me to write for Earth Wind & Fire because I was put here as a communicator. With opportunities like writing the musical version of The Color Purple there's no question I feel I'm here to deliver a specific message about being conscious and responsible and to believe in yourself.
Caps: Looking at your website, you've done some great set design work. I especially like the set design you did on the video for "Right On Track" by Breakfast Club. Most of your set design work was done for TV and music video...Have you ever been approached about doing set design for a feature film?
Allee: Before Darren Star created 90210 he asked me to do the set for his first feature film. I can't even remember the name of it now. I was off doing a zillion different things and he went with someone else but no one else ever asked me to do a whole film. With this said, I can't tell you how many calls I used to get from feature film set designers who wanted to see my house whenever they had a movie to design that took place in the 50's, 60's or 70's. At first I took it as a compliment. Eventually I just felt ripped off and stopped letting them come over.
Caps: Out of all the sets you've designed, which one is your favorite?
Allee: Of the old stuff probably MTV's "Just Say Julie" and the Breakfast Club video, both of which and more you can see on my site at http://www.alleewillis.com/art/sets-props/index.htm. With my recent stuff I usually use my house and studio as the set as I have every prop I ever built or collected to borrow from. Also, my house was built as the party house for MGM in 1937 so between the architecture, my collection and all the props and art I'm pretty set over here. You can see my house as a set in my Bubbles & Cheesecake "It's A Woman Thang" video, http://www.youtube.com/watch?v=Qo_VXWO5SKo.
Caps: I've heard a lot of great things about Debbie Harry...What was she like to work with?
Allee: Incredibly friendly and generous. A really really nice person.
Caps: Visiting your website, I've taken a look at all your black-culture memorabilia. I'm stunned at some of the stuff you have. How have you acquired all this stuff?
Allee: See answer above re James Brown. I've always been attracted to Black culture, ever since I first heard Martha Jean The Queen, a female dj in Detroit in the 60's who I credit with starting my obsession with black music. Collecting black artifacts - everything from games to afro pics to books, memorabilia, whatever - is the part of my collection I'm most passionate about. The main part of the collection is 60's and 70's, giant afros and such, but when I started writing The Color Purple I went as far back as 1910.
Caps: Out of all the items you have in your collections, which is your most treasured?
Allee: That is sooooo hard to say. There are a bunch of my favorite things in The Soul patch on my site. You can experience it in detail at http://www.alleewillis.com/soulpatch/index.html
Caps: Which item did you narrowly miss out on that you wanted most?
Allee: All I can think of now is a velvet painting of three ladies, two with giant afros and one a cheap blonde, I saw in a thrift shop in Detroit. I was broke and decided it would cost too much to ship it back to LA. I still think about that painting. There are many more things but I try to put it out of my head as soon as I lose out on anything or go back to buy something I resisted the first time and it's not there. It's too painful.
Caps: In a magazine column you wrote back in the 80s, you introduced the world to the Del Rubio Triplets, singers who would later go on to make regular appearances on "Pee-Wee's Playhouse". Paul Reubens, who plays Pee-Wee, has a lot of esoterica and memorabilia of his own. Have you ever met him?
Allee: He was my best friend for many years. I've spent enormous amounts of time with him since 1985 and have had some real big adventures with him.
Caps: You were also one of the first artists to latch onto the power of the Internet in the early 90s. How did you become familiar with it so earlier than the rest of the world?
Allee: That too is answered in tons of detail on my website. Check out http://www.alleewillis.com/willisville/index.htm
Caps: Going to the modern day, I know that you're part of YouTube. What do you think of it, though, when everyday users make montages of favorite entertainment clips or music videos devoted to favorite movies? Like, if someone made a video of clips from their favorite 80s movies and set it to "Neutron Dance", how would you react?
Allee: I love anything anyone does with my music. I don't like everybody using everything for free but what are you going to do? I have tons of youtube videos on my site where people have used my music. I especially love the ones that feature out of tune singing or really bad dancing. For more than you'll ever want to see go to http://www.alleewillis.com/discography/index.htm From the pull down menus you can get to everything from marching band versions to dancing, kitsch, acapella and more.
Caps: You worked on the Broadway musical version of "The Color Purple". I haven't seen it, so I would like to ask: Is it closer to the book or the movie? What did you think of the movie version?
Allee: Much closer to the book than the movie. The movie told a different story than the book, especially vis-a-vis the male characters. Altho we incorporated some things from the movie we wanted to stay truer to the book. But as with adapting anything for another medium, you take some things that already existed and combine them with things you invent in order to best tell the story in the particular medium you're writing for.
Caps: Over the course of your career, what has been your greatest pleasure? What has been your greatest regret?
Allee: Re greatest pleasure from my songwriting career, probably Earth Wind & Fire and Color Purple. Just to be a part of such iconic experiences was beyond a supreme pleasure. I'm proud of Neutron Dance as it was autobiographical. Also got me named as one of the most dangerous subversives living in the US by Pravda, the official newspaper of Communist Russia, when they mistranslated it as Neutron Bomb. But, without question, the greatest joy comes from doing what I'm doing now - combining my music, art, video, collecting, party throwing and lifestyle into one organic expression. I'm very proud that I always had the balls to go for whatever was in my heart, despite the fact that it meant I dropped out of the hitmaking scene for long periods of time and always had to spend my own money financing everything. I had to make up an alter-ego, Bubbles the artist, to combine everything and really go for it. Bubbles is really 50% of Allee. Hop back to alleewillis.com to get up to speed on Bubbles. Hate to keep pushing my website but I've been tweaking it for over 10 years and it answers any of these questions better than I can in a few sentences. I don't really have any regrets as if things hadn't gone exactly as they had I wouldn't be where I am now.
Caps: On your website, you state that you like reality TV. If someone asked you about doing your own reality show, how would you respond to that?
Allee: I'm doing a pilot for my own show right now. I've had a video camera on since I bought my first one in 1978. I have just about every major moment of my life since then on video as well as trillions of the minor ones. Documenting my experiences has been part of my creative expression for 30 years so a reality show isn't a stretch. I also just wrote the theme song for VH-1's Real Chance Of Love. I loved Chance and Real from I Love New York so jumped at the chance to write it with them. There's a third brother, Love, and they're called Stallionaires. The song, "Does She love Me?" is out as a single now, a great R&B Pop song,not what one might expect of them if you hadn't heard them. Way more on that reality adventure on my blog or at http://www.alleewillis.com/music/stallionaires/index.html
Caps: Who would you have wanted to work with the most that you never got a chance to?
Allee: Missy Elliot. Love her music and her visuals. Would have loved to work with Isaac Hayes too. He owned one of the ceramics I made of him (http://www.alleewillis.com/soulpatch/isaachayes.html) but I never got to work with him musically. I never know who I want to work with until they ask me. Beck, Prince, Jamie Lidell, there's a lot more. I just don't keep them stuffed in my head for instant recall.
Caps: If you were to go back to your youth with the knowledge that you have now, what advice would you give your younger self?
Allee: Do exactly what Allee did.
Caps: Finally, what advice would you have for our readers on how to live life?
Allee:It's your choice. Make the best decisions you can from minute to minute. There's no such thing as failure. Use everything as a lesson. If it's not working, change course and never do it like that again. But you had to go through it once to learn. Don't let anyone tell you who you are or what to be. Follow your heart. Have thick skin. Be your own champion. For a serious crash course in my philosophy on how to live life go to http://www.youtube.com/watch?v=-M4Um48vPGU and hit the 'watch in high quality' link.
---------
There you go. I would like to thank Allee Willis for taking time out from her very busy schedule to do this interview with me, and I encourage you to follow the links as well. There's a lot of interesting stuff on her website.
So, until the next article, this is Caps 2.0 signing off. Have a good day.
*The pictures of Allee and the poster for "The Color Purple" come from Ms. Willis. I would also like to thank RetroJunk poster Ravage for helping me acquire pictures for the article.