Nickelodeon GAS was created by Nickelodeon in March of 1999 as a channel where game shows produced by Nickelodeon could air more frequently. This was when game shows that were playing re-runs up until March 1999 such as Figure It Out, What Would You Do?, Nick Arcade, Family Double Dare, You're On!, Nickelodeon GUTS, Legends of the Hidden Temple and Wild and Crazy Kids were drafted to this channel. This also marked the return for game shows that weren't played for years such as Think Fast!, Finders Keepers, Double Dare, Super Sloppy Double Dare, Get the Picture and Super Special Double Dare.

On January 2, 2000 Make the Grade (which was last played on regular Nickelodeon on December 29, 1991) started airing on Nickelodeon GAS.

On December 27, 2002 game shows such as What Would You Do? and Super Special Double Dare were removed and Double Dare 2000 was taken off Nickelodeon and put on Nick GAS. This was also when programming blocks such as Extreme GAS, Family Fuel, Heads Up! and Wild Card were removed.

In Spring of 2003 Nick GAS began to broadcast original series. This was when they began showing Gamefarm, Play2Z, Robot Wars and Splash TV.

On April 5, 2004 Think Fast!, Make the Grade, Gamefarm, Splash TV, and Play2Z were removed from Nick GAS.

On November 26, 2004 You're On!, the original Double Dare, plus the Camp GAS and Double Dare Double Play blocks were removed from Nick GAS.

On November 1, 2005 Pumping Gas was removed, along with Super Sloppy Double Dare, Global GUTS, Rocket Power, Speed Racer, Scaredy Camp, SK8-TV, Wild and Crazy Kids and Family Double Dare, to be replaced with additional repeats of shows such as Legends of the Hidden Temple, Get the Picture, Nickelodeon GUTS, Figure It Out and Double Dare 2000.

On September 4, 2006 Finders Keepers was removed, and replaced with Figure It Out and Legends of the Hidden Temple, leaving only six shows regularly broadcasted on the network. Afterwards, Nick GAS played five of its six shows in heavy rotation, with Nick Arcade being played twice per day during late night hours only.
On December 31, 2007, Nick GAS was removed from digital cable and became a broadband service with The N taking over the channel space currently occupied by the Nick GAS channel, as stated below. Dish Network viewers, however, still receive the channel, also as stated below.
On January 14, 2008, Nick GAS was finally added to TurboNick. The first episodes offered were from Double Dare 2000, Figure It Out, Global Guts, Get the Picture, Nickelodeon Arcade, GUTS, and Legends of the Hidden Temple.
Switch to broadband
On December 31, 2007,Nick GAS left the digital cable channel lineup and became an online-only service on TurboNick, while The N took over Nick GAS's channel position after splitting from Noggin. DirecTV, Dish Network, Time Warner Cable, and Comcast have confirmed that they will air both Noggin and The N.
The changeover occurred at 6:00AM Eastern/5:00AM Central, making the 5:30AM Eastern/4:30AM Central airing of Figure it Out the final program aired on Nick GAS. After the "You are watching Nick GAS" announcement, the "Your games, your sports" sequence which aired before the 'up next' sequence every half hour was aired one last time, and the network ended anticlimactically with The N being switched over before the sequence ended (A static line could briefly be seen during the switch), leading into the start of the pilot episode of Instant Star.
Now,I Am Going To Talk About Nickelodeon GUTS
GUTS was a 30-minute "action-sports" game show that aired for four seasons on Nickelodeon from 1992 to 1995. Mike O'Malley presided as host; Moira Quirk (often called Mo) was the referee. The show was taped in Universal Studios Florida on Soundstage 21 which was not part of the Nickelodeon Studios Complex, but was rented by them.
Problems with the switch
Due to reasons not yet disclosed by Echostar, Nick GAS has remained on-air for Dish Network customers. Subscribers had reported a continuous black screen when the transition was planned to occur. Echostar then undid the changes, returning the station to Nick GAS's normal program lineup. This retainment of service is possible since the channel ran on an automated schedule. Noggin and The N continue to switch on channel 169 at 6:00AM Eastern/5:00AM Central and 6:00PM Eastern/5:00PM Central daily.
DirecTV also suffered from the glitch until 7:25AM Eastern/6:25AM Central. Most digital cable viewers saw no problems with the transfer from Nick GAS to The N.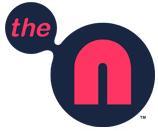 The New The N Logo From 10/5/07 - Present
NOTE:The N's Slogan Is Real. Life. Now.
Programs formerly broadcast on the network
Nickelodeon GAS played every Nickelodeon game show to first air by around 2002 or earlier. Nickelodeon GAS had also shown some Nickelodeon non-game show programming like Speed Racer, Scaredy Camp, Rocket Power and Gamefarm.
Double Dare (1999-2004)
Double Dare 2000 (2002-2007*)
Family Double Dare (1999-2005)
Figure It Out (1999-2007*)
Finders Keepers (1999-2006)
Gamefarm (2003-2004)
Get the Picture (1999-2007*)
Global GUTS (1999-2005)
Legends of the Hidden Temple (1999-2007*)
Make the Grade (2000-2004)
Nick Arcade (1999-2007*)
Nickelodeon GUTS (1999-2007*)
Play 2Z (2003-2004)
Robot Wars (2003-2004)
Rocket Power (2003-2004)
Salute Your Shorts (2003-2004)
Scaredy Camp (2003-2004)
SK8-TV (1999-2005)
Speed Racer (2003-2004)
Splash TV (2003-2004)
Super Sloppy Double Dare (1999-2005)
Super Special Double Dare (1999-2002)
Think Fast! (1999-2004)
What Would You Do? (1999-2002)
Wild and Crazy Kids (1999-2005)
You're On! (1999-2004)
* 2008 for Dish Network Viewers
[edit] Blocks formerly on the network
Camp GAS (2002-2004)
Double Dare Double Play (2001-2004)
Extreme GAS (2001-2002)
Family Fuel (2001-2002)
Heads Up! (2001-2002)
Pumping GAS (1999-2005)
Wild Card (2001-2002)