This movie favors damp, dark places. It is here that Kaleb is found looking rather dead (I mean, he is laying there unresponsive, after all). He then jumps up, startling our supposedly fearless hero and his love interest, sending them running.
GIRLY RUN ALERT! GIRLY RUN ALERT!
I love this scene—it just cracks me up to watch Mr. Miller run for his life. I have a feeling I could take him in a race. Thing is, I run like that too. Their attempt to escape from the undead Kaleb sends our hero swinging on a chain that crashes through a large window, and crashing onto Noonan's police car, rendering him unconscious.
Noonan: It's about f***ing time!
Rafe: I've gone to hell, and it's worse than I thought. Noonan, where's Katherine?
Our hero winds up in a hospital chained to his bed (obviously this is a medical hospital, but perhaps he is tied to the bed for his own "safety"—perhaps he was babbling something about vampires walking among us—that would justify being tied up).
A nurse arrives in the room, and good-old convenient Noonan follows her over to a curtained patient when she asks for help. When Noonan slumps to the floor, dead, Rafe is terrified to find that the nurse is a vampress. Notably, the vampress that tried to seduce him--Tammy. But, he knows he must kill her.
"I used to love her…then I had to kill her…" (this is merely added in for effect--it never actually was played in the movie)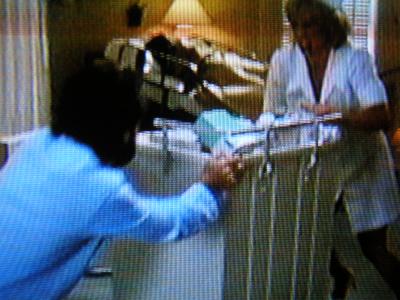 Jabbing her in the forehead with an intravenous line doesn't work, so he does what anyone would do in his precarious situation--he runs her into a sun-filtered window with a medicine cart. "Tell me, Tammy, why do vampires hate sunlight?" As she begins to fry from the sun, Rafe does the run again…
…and hides behind his bed, as vampress Tammy explodes.
WHOOPI GOLDBERG ALERT!
Sorry to disturb your beauty sleep, but I needed to throw in another one of my classicly bad expressions...
"I'm trying to rest. I knew I should have asked for that private room."
Rafe then leaves the hospital (not sure if he escapes or is released—like I said, I think if he was babbling stuff about vampires running amok, he wouldn't get released any time soon), and attempts to send the vampresses to their eternal sleep. Can he do it? Do you have another twenty-five minutes or so of sanity to spare? Sure you do—you don't want to miss the film's bloody finish.
VS.
The movie climaxes (excuse my pun) with a duel to the death between living man, living woman, and undead vampire vixen. Plus, it contains a really good scene involving Super Soakers filled with Holy Water and the appropriate song "Ballroom Blitz."
Rafe: It's Holy Water!
Reverend Current: This will take care of the others, but you'll have to cut Lillith's heart into four pieces!
Rafe: Some girls just require a little special treatment.
Rafe: Ready padre?
"Cha-ching!"
"Don't go soft on me--they're vampires--send them to Hell."
THE ANALYSIS
Judging by my explanation, you would expect this movie to be bad…and it is. But, it's a ridiculously fun kind of bad. Dennis Miller truly delivers, and "deliver" is a rather generous term—it seems he's the only one who is delivering, even though he is essentially a lackluster actor in a ridiculous movie. In a role written obviously with him in mind, this is the perfect vehicle for his abilities. Even his facial expressions are funny in a bad way—after seeing this movie again for the umpteenth time, I wanted to know where I can "learn to act the Dennis Miller way."
Do they offer classes in how to make bad faces? I'm a natural!
Don't get me wrong; the concept of this movie is a blast—elaborate sex/torture contraptions, a coffin slide that sends horny young men to the brothel below, and an incredibly elaborate scene involving Super Soakers that is memorable (and the most redeeming scene) among viewers. If you forget just about everything else in this movie, you'll remember the Super Soaker scene forever. Let's just say that I now have "Ballroom Blitz" on my iPod because of this movie. I think of this scene everytime I listen to the song--how's that for impact?
I figured I could also set aside a small "aside" to discuss the way our hero runs. Remember how I said I could take this guy in a race? This is the kind of run that gets people killed in movies. But, since he's the hero, and first listed in the credits, he can't die any time soon.
The cast is a largely nameless group of supporting actors hailing from Canada (where the movie was filmed) that mainly derives their work from Canadian film companies and television. The presence of it's star/hero Dennis Miller, along with Erika Elaniak, Chris Sarandon (who I swear his only claim to fame is having been married thirty years ago to Susan Sarandon), and the fact that it re-unleashed Corey Feldman on unsuspecting viewers, is what holds it up.
And really, the acting isn't that great. Angie Everhart, a professional supermodel, is awful in this movie. She can't act, and it's obvious her beauty is the only thing that can redeem her otherwise unlikable character. But, despite this, would you mess with her? Erika Elaniak is not any better—she's still famous for starring on "Baywatch" and a few "Lifetime" movies. Her acting is okay, it's not the greatest ability put forth. Corey Feldman—ok, I loved Corey Feldman in his eighties kiddie movies, but he scares me in this one. Vampire Kaleb is too creepy to bear.
Dennis Miller is the biggest bright spot in this dark movie—the factor that many were happy with, this writer included. As I said, his facial expressions are funny bad, but his character, though skuzzy to start, becomes a nice, likable guy. I'd want Rafe's services if I had a missing loved one, or an interesting case. I'd pay him good money to save the day.
This movie is also extremely drawn out during the first twenty minutes. A good rule of thumb—if you're going to put the lead character's name as first billing, it helps to SHOW HIM WITHIN THE FIRST FEW MINUTES! I can't emphasize this enough—it took twenty minutes for Dennis Miller to even show up, yet he's listed first in the credits. And the "Lillith comes back to life" scene is only watch able once—its lasts ten minutes and is going nowhere. Patience of steel will keep you seated during this part—otherwise, fast-forward the video, hit skip on the DVD, or take a (long) bathroom break if it is on TV. You need to see it only once to understand the back-story. After that, cut to the scene in Katherine's bedroom where she argues with Kaleb. Or, you can skip this if you heard Dennis Miller was in it, and that's your motivation for watching this bad movie. I still watch this scene. That leaves about an hour or so left in the film. Trust me, he's in plenty of scenes thereafter.
I'm not going to tell you this movie is for everyone—its not. I wouldn't even recommend it to most (okay, not any) girls. It's at times extremely vulgar and gory. Naked boobs and Angie Everhart's "2-4-6-8! You can watch me masturbate!" scene is quite excessive by my standards (obviously not too excessive if I've seen this movie more than once—and live to write a review about it).
Is this movie trashy? You bet. Does it have too much nudity than is comfortable? Yes. Is the acting bad? You bet your bippy. Is it fun? Oh, you better believe it! I laughed a lot during this movie, and it was quite fun, though vulgar and excessive at times. I'm a huge Dennis Miller fan, so he was a driving force that attracted me to this movie. Otherwise, I wouldn't have wasted my time or my ten dollars to buy this video (yes, that's right—ten dollars).
Speaking of wasting time, if you have ninety minutes to kill, and want to see a really unconventional movie, this is a good bet. You'll laugh, you'll say "huh," and you will want to buy a Super Soaker.
"2-4-6-8! You can watch me—"
Okay, speaking of excessive, that is overdoing it.
I guess I could at least do the honorable thing and show you the box. This is one of two video boxes (I think this was the alternate--the video store had a different video box...which threw me off when I made this rather unnecessary purchase. For the curious, that's my water glass in the foreground of the picture (which I took on my desk).
I would love to suggest some more web pages to guide you on this movie, but since I don't speak Russian (honestly, one of the only pages I found was in Russian!), I couldn't exactly recommend it...besides, there weren't enough pictures of Dennis Miller. Consider this the most extensive collection of photos you'll find on the web for "Bordello of Blood."
And for now, boys and ghouls, the author bids you a frightful night!! Yes, I know the Cryptkeeper never said that, but this creepy author said it.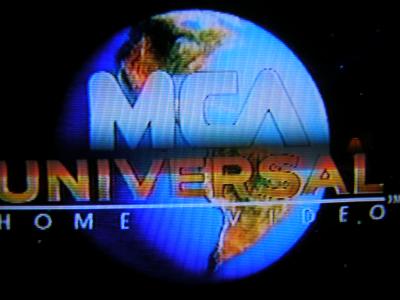 Screencaps courtesy of my digital camera. Images taken from "Tales From the Crypt Presents Bordello of Blood." Copyright 1996 Universal/MCA Home Video.