OK, so this article is definitley geared more toward female readers (and I'm guessing some of the boys, wink wink). So I apologize ahead of time if it doesn't interest everyone. But even so, I'm sure the guys can share in the general memories of some movies I list , and not just the parts with the actors themselves. With that being said, i wanted to share with you some of my very first
crushes in life, and the movies that spotlighted them. Let me just state for the record that I KNOW the characters themselves aren't real. I'm not one of those crazy girls who is obsessed with actors and keeps like shrines in their bedroom. I swear I'm totally normal, but when I was younger, these guys just did it for me!
Let's start with my very 1st crush memory,Christian
Slater.
God, did I love that man. I think the first time I saw him was in Gleaming the Cube. He played a young punk, a skate boarder. Who loved nothing more
than to scope out empty swimming pools with his buddies and thrash til they passed out. Christian's character Brian is thrown into the middle of a weapons dealing war when his adopted Vietnamese brother is killed. Action packed, I highly recommend it. A young Tony Hawk can also be spotted in this one.
The next film I saw him in was Heathers.
Playing bad ass rebel Jason Dean, Christian sported a dark brunette look and was just as tasty! I mean sure, he had homicidal tendencies, and acted on them! But I would still give it up for him anyday. Ha ha!
With girlfriend Veronica (Winona Ryder) by his side, they start offing the popular students and making it look like suicide. When Veronica wants to stop, Jason takes matters into his own hands. Cult fave, awesome stuff!
The last Christian movie I wanna mention is Kuffs. In it he plays George Kuffs, sort of a slacker, who's police officer brother is killed and George steps up to take over his brother's district.
Witty, snappy one liners really grabbed my attention in this one. And his relationship with his cop partner Ted has some seriously funny moments.I could look at him all day. Watch it! Obviously, I could go on and on listing movies(Legend of Billie Jean, Interview with the Vampire,True Romance..etc..) All worthy kickass movies, but I have to get onto my next man!
Val Kilmer! I have to admit, he's looking a little bloated and beastly these days, but the way he looked in the 80's stole my heart! 1st movie I have to talk about with good ol' Val is Real Genius!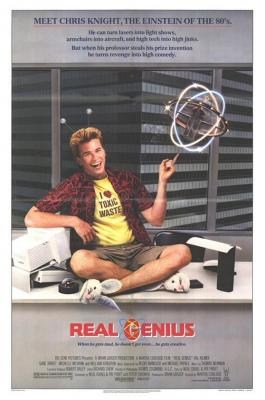 He plays Chris Knight, super genius/super slacker/super prankster. He is everything a girl could want in this movie. Funny, sexy, smart. MMMMMM.
He helps to take new student Mitch under his wing at their prestigious college. Evil Dr. Hathaway tricks them into building a super laser for their "class project.". But he really intends to sell it to the government as the newest suped-up weapon. Val and his friends save the day, and a crap load of popcorn is involved! Definitly one of my favorites ever, I still quote it to this day.
Next up, Top Gun. I'm so not a Tom Cruise girl. I'd take Iceman anyday!
He's an extreme asshole in this one, and plays the villian perfectly. Gotta love the beach volleyball scene! Full of action and great movie soundtrack, who doesn't love Top Gun!?!?
Last Val mention, Willow.
I absolutely love fantasy movies! And Val's portryal of the sword fighting Madmartigan was more than worthy of my crush. He had the long, black mane and was looking better than ever.
Following the adventures of Willow Ufgood, a dwarf who is trying to save a human child destined to be a princess from an evil queen, this is a great flick! Great fighting scenes, magic, sorcery, and laughs, Madmartigan reluctantly helps Willow on his quest, and makes the movie a hell of a lot better. (Honorable Kilmer mentions include Heat and Tombstone, though Tombstone strictly on his awesome portrayal of Doc Holliday and not his looks since he was dying from TB!)
Last but not least, I'd like to mention another huge 1st love of mine, the late great River Phoenix.
So much talent shown in such a limited amount of time. I first spotted River in Stand By Me. The coming of age tale about 4 best friends in search of a dead body in 1959. Funny, poignant and touching, I still love this movie.
River as Chris Chambers was the tough kid in the group, but still he had a good heart and was the voice of reason. I still cringe at the leech scene when they all jump in the pond. Ewwww.
Let's jump to I love You To Death. I don't know how many of you have actually seen this one, but it's hysterical. Tracy Ulman is wonderfully funny as the wife of a cheating husband, played by Kevin Kline. She gets so mad, her mother helps convince her to kill him. Hilarity insues.
River plays Devo Nod, a laid back hippie who's in love with Tracy Ulman's character, and agrees to hire hit men for her to do the deed. He's so sweet in this one, (once again, homicidal tendencies, but gotta love him).
Wrapping it up, I want to talk about My Own Private Idaho. Directed by the great Gus Van Sant, River's character Mike Waters is a gay prostitute with narcolepsy.
He was abandoned as a child and is on a quest to find his mother. He meets Keanu Reeves' character Scott, the son of a wealthy figure-head, who has also taken to being a gigalo. Scott decides to help Mike in locating his birth mother. A really touching film, a must see! Side note, I really dug that sexy, crazy wind blown hair look on him.
Unfortunatly, River Phoenix died of a heart attack brought on by a drug overdose outside Johnny Depp's club The Viper Room on Halloween night 1993. I'm sure he would have went on to do more extraordinary films had he not passed away.
Well everyone, thanks for taking this trip down memory lane with me. Sure, I loved to stare at these guys and crush on them, but they're also great actors of our time. Hope you enjoyed!