He may be known best as Lt. Mitch Buchannon from the famous series "Baywatch." But David Hasselhoff has had a much wider career, spanning from several TV shows, plus an impressive list of films and theatre work. He is indeed one of the most popular television actors of all time. He was even named one of "TV's Ten Most Powerful Stars" by TV Guide, and "Most Watched TV Star" by the Guinness Book of World Records.
David Michael Hasselhoff, nickname "The Hoff," was born on July 17, 1952 in Baltimore, Maryland. His parents are Joseph and Dolores Hasselhoff, and his family is of mainly German ancestry. David has four sisters, Daine, Joyce, Jean, and Lisa. Daine is the oldest, followed by David, then Jean and Lisa. Because of their father's career, the family was often forced to move.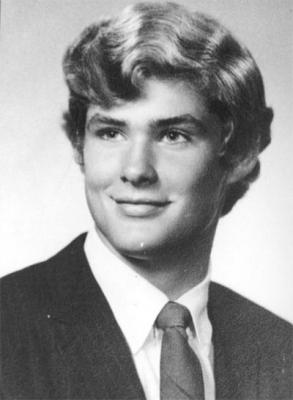 David was first interested in acting at the young age of seven, which inspired him to take singing and dancing lessons. When he was very young, whenever he was offstage he was shy around the girls because of his height. But on stage he was fearless and dedicated to his craft. David went to Lyons Township High School in La Grange, Illinois, and later attended the Academy Of Dramatic Arts in Michigan, and then the California Institute of Arts in California.
Hasselhoff originally decided to pursue a professional career in musical theatre. He changed his mind and decided to try a career in television instead. When Hasselhoff was twenty-three, he got a part on the CBS soap opera series "The Young and the Restless," where he played as Dr. William Foster from 1975 to 1982. He became very successful because of the show, and his fate as an actor was sealed.
During his time on "The Young and the Restless," David was also in several films and a second TV show in 1980 called "Semi-Tough." The show followed two womanizing football players that play for the seldom winning New York Bulls. The show only had several episodes.
One day Brandon Tartikoff, who worked for NBC, talked to David and convinced him to move from daytime to primetime television. And so in 1982, after leaving "The Young and the Restless," Hasselhoff got the lead role of Michael Knight in the famous 1982 Action Sci-Fi TV series "Knight Rider." The show quickly became popular and won four awards.
When production on "Knight Rider" first started, many people working on the show were worried that they couldn't find the right actor to play the lead role of Michael Knight. They wanted to cast an attractive man, but they were afraid whoever they casted wouldn't be able to act. Then they discovered Hasselhoff, an attractive man who could act.
Hasselhoff played the role of Michael Knight, whose name was originally Michael Long in the pilot episode. Michael Long was played by actor Larry Anderson. Michael is a cop who was shot in the face by his back stabbing partner and left for dead. Believing to be dead, he recuperates with the help of an elderly millionaire named Wilton Knight and his accomplice Devon Miles. Michael Long recuperates, but his face is altered due to being shot. That's when Hasselhoff takes over. His name is changed to Michael Knight, and he is given a super car named KITT. He and KITT go on a mission to stop the people that betrayed Michael. After getting revenge, he decided to dedicate his new life to helping others and fight crime with the help of his new companion, KITT.
After four seasons the show came to an end in 1986. After the show there was a made for TV movie in 1991 called "Knight Rider 2000." In the film, Michael Knight has to return from his retirement to stop badguys in a future where guns are illegal.
David Hasselhoff didn't want to limit himself when it came to his dreams. He was already a famous actor, but he wanted to expand his career into music as well. His dream to become a pop star came true in 1989 when he released his first pop album "Looking for Freedom." Since then he's released numerous other albums.
Hasselhoff made his return to television in the popular drama series "Baywatch." The show follows a team of lifeguards that work at a famous beach. Hasselhoff played the part of Lt. Mitch Buchanon, a veteran who at times takes action to protect vacationers at the famous coast.
The show won five awards. And it was the longest running show to ever win an Emmy. When the show first debuted on NBC in 1989, it had good ratings. But the network planned on canceling it after just one season. David bought the rights to the show, and once it was secured financially, he revived the show in 1991. Hasselhoff was in the show till 2000. The show came to an end in 2001 when it was cancelled. Hasselhoff was also in the "Baywatch" spin-off "Baywatch Nights," which ran from 1995 to 1997.
Hasselhoff did a lot of famous work back in the 1980's and 1990's that made his face a popular sight on our TV screens. He continues to participate in charity events, and in some cases has saved people's lives. In 1995 he rescued a car crash victim and saved a drowning child.
David Hasselhoff has been married twice. His first marriage was in 1984 with Catherine Hickland. After five years of marriage they got divorced in 1989. That same year he remarried with an actress named Pamela Bach. They are still married to this day, and they have two daughters, Taylor-Ann Hasselhoff and Hayley Hasselhoff. In an odd coincidence, David's ex-wife remarried a man named Michael Knight.
David Hasselhoff has played some memorable characters over the years. From his early days as Dr. William Foster on "The Young and the Restless," to the dashing tough guy Michael Knight on "Knight Rider," to Mitch Buchannon on "Baywatch" and "Baywatch Nights." Hasselhoff was rewarded for his work in 1996, when he got his star on the Hollywood Walk of Fame.