Halloween
Ah yes Halloween time. Nothing brings back the nostalgia and fond memories like Halloween. I enjoyed reading Retro-machine's vol.8 Halloween edition and decided to write my own article. I have lurked here for some time and never posted.
Toys/Decorations
During the 80s Halloween was a lot different than it is now, at least it was for me.
It was the only time of year my action figures became official family decorations for the holiday.
Do you remember the Remco mini-monsters from 1980?
They were Star Wars sized Figures with very little articulation. There was a Christopher Lee style Dracula, Wolf Man, Frankenstein, Phantom of the Opera, Creature of the Black Lagoon, and the Mummy. I proudly got them out and set them up for all to see in the living room during Halloween along with my Imperial Monsters 1986.
Decorating our the door would be our Frankenstein jointed cut-out (on the far right) made by Eureka of Dunmore Pennsylvania.
Hanging in the windows would be my hand drawn monsters from all of the vintage horror movies that my dad subjected me to.
Halloween Films
While we waited for the magic hour when we could storm the streets like the deranged candy addicts we were, we watched movies.Now you may have watched
The Great pumpkin charlie brown
(1966) or the
Garfield Halloween special
(1985),
but in my family a halloween tradition was to watch Disney's
The Legend of Sleepy Hollow
(1950)
while we sat around in our costumes eating Count Chocula or Booberry by the bowlful.
Some other movies I remember watching around the Holiday were
Lady in White
(1988)
Set in a small town in 1962 on Halloween. It is a ghost story narrated by a ten year old who was nearly killed by a child killer in a cruel Halloween prank. The ghost helps the boy solve catch the murderer. The kid is a monster fan just like I am and has some of the Aurora monster models in it as well as a werewolf mask that is definitely not circa 1962. Besides the obvious anachronisms the acting is pretty cheesy but it is still a pretty good movie, it even has Katherine Helmond the old lady "Mona" from the Who's the boss?[/i] T.V. show.
She aways scared the hell out of me anyways, along with Betty Davis. You may remember her from Watcher in the Woods[/i] (1980).
Poltergeist
(1982) will always remind me of Halloween as it was practically the only time we watched it.
The clown under the bed scene scared me to death!
Well almost any clown did remember Pennywise from
IT
(1990)?
Spooky Records
Sometimes to set the mood during Halloween we would play our scary records. I still remember the crackling sounds from needle on the record player as we waited for them to begin. We had several Halloween records to choose from whether it was the monster mash
(1974)
(1976)
(1974)
(1964)
or just spooky sounds, or scary stories.
My favorite one was this one,
(1975)
I loved listening to Edgar Allen Poe's the
Tell Tale Heart
or the
Signalman
by Charles Dickens.
We would always leave a record playing all night with the sounds of shrieks of terror or mad scientist's bubbling lab, or creaking doors to create atmosphere for our trick or treaters.
Board Games
While we listened to our records we played board games with haunted themes. Ghost castle (1985) was a fun little game that you dropped a skull down a coffin chute to see which of your players would get killed by an axe, sent flying, knocked off the stairs, or enter the secret passage. It is basically an update of the Which Witch board game (1970)
There was also a Real Ghostbusters version (1986)
Another game was Ghosts (1982)
it had kind of a checkers/ stratego concept.
Fast Food
At least sometime during October we would pilgrimage to the Arctic Circle hamburger stand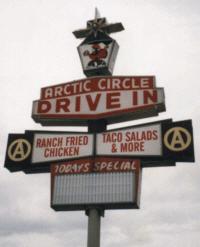 to get a Square pumpkin kid's meal with halloween flashlight inside.
It was probably the only time of year I ever ate there. You could have only experienced it if you lived in the western half of the United States as that is where Arctic Circles are to be found.
Costumes
I remember perusing the aisles of the grocery stores looking at all of the children's costumes in boxes. Peaking through the Cellophane on the front to see which creature I wanted to be.
my costume at age 5 (1982) notice how it says "Flame Retarded" instead of retardant.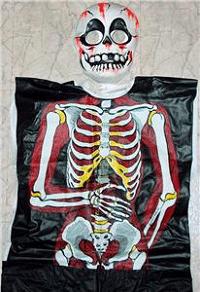 In addition to the mask with eye-holes and the elastic that broke in 2 seconds, you received a vinyl pullover with ties at the sides. My twin brother's costume (1982)
They had nearly every character to choose from even Star Wars.
my costume at age 6 (1983)
My twin brother's costume (1983)
Halloween memories I could go on forever. I sure wish my scanner was working so I could upload photos from those Halloweens, alas you will have to settle for these photos I shamelessly stole from the web. Until next time.