If you look at USA Network today, you'll find it to be an odd combination of crime drama reruns, wrestling and the occasional big-budget movie. For several decades, though, the channel had far more variety. One of the best examples of that variety is the program "USA Up All Night", which was co-hosted by my newest interview subject.
The woman in question is the lovely Rhonda Shear.
With the assistance of her representative Marie Crane, I was able to set up an interview with Rhonda. Life treats everyone differently, and Ms. Shear's life has been quite interesting.
Without any further ado, here's:
The RetroJunk Interview With Rhonda Shear!
Caps: What were your pop-cultural likes growing up?
Rhonda: Well, I have always loved music and dancing, but I have to say growing up some of my favorites were The Monkees, Bread, Chicago, and Three Dog Night. Other Icons in the fashion world Twiggy (who is now a friend and fellow HSN designer) and Raquel Welch were such beauties...I read 17 Magazine and followed all the actresses...Always on to the latest thing!
Caps: What were your school days like?
Rhonda: In Junior High I was a cheerleader which a lot of fun, and I dated Van Fagan who I reconnected with and am now married to. I was in the Sigma Delta Sorority and a "Little Sister" at one Fraternity, a "Sweetheart" at another. I was involved in school, studied and made good grades. After High School I went to Loyola for Communications and haven't stopped since!
Caps: What inspired you to become an entertainer?
Rhonda: I have always loved to entertain, from dinner parties to being on "USA Up All Night" and touring as a stand-up comedian. I think it started when I was a young girl growing up in New Orleans with all the parades and costumes. I love the rush! I competed in beauty pageants and was a dancer for years before moving to Hollywood. I am not afraid to stand out in a crowd and have fun doing what I love, and I'm certainly not afraid of a little bling. I really wanted to be named Ms. Dance Louisiana, and I danced on that TV show for a while which lead to commercials and modeling. The first time I walked into a studio, I knew that being on TV is what I wanted to do-The energy behind the scene, the cameras and lights, all of it...So exciting!
Caps: What jobs did you hold before becoming an entertainer?
Rhonda: I actually worked for the city of New Orleans for a while on a beautification project and I ended up running for office as well (missed it by 135 votes!) After that I headed out to LA and worked some random jobs while running around for castings. I worked in the Playboy Club as a bunny for a little while. A funny job I had for a bit was singing telegrams dressed as a "Honey Bunny". Always an entertainer.
Caps: One of your major 80s roles was in the 1985 sex comedy "Basic Training". The movie saw a theatrical release, but do you think that movies like that could be released theatrically nowadays?
Rhonda: I hope so! I think there has been interest lately in the kinds of films I was in and if you think about it there are still tons of movies out there being made with sexy/campy themes and content.
Caps: Most of our readers are familiar with you from the USA movie showcase "Up All Night". How did you become involved with that program?
Rhonda: At the time USA Network was looking to change the feel of the show to make it a little sexier and sillier and my manager told me about the casting. So, I show up as myself; big hair, big personality and just had fun with it. Other girls were in business suits, but I was, of course over the top, and I guess they liked it...Loved all my years on "USA: Up All Night" and my fans. It was such a fun show to be on!
Caps: In retrospect, what's your honest opinion about the movies that aired on that showcase?
Rhonda: The movies were great for late night. I thought they were campy and funny entertainment for a generation. Granted, some of them were pretty bad, but so bad they were good! Like a train wreck...Can't look away!
Caps: What were the funniest moments for you during your time as host?
Rhonda: So many! Once while out filming at a food festival, I had a breast escape on camera and in front of people at the festival. I think the edited it out later. I'm surprised I didn't have more wardrobe malfunctions with the things I wore on the show! Another time we were shooting at a carnival and they put me in the dunk tank after assuring me the water was nice and warm... Not so! It was FREEZING! The pie throwing episode was supposed to be toward the end of the show, but they totally surprised me and pied me right away. I had to re-do all my hair and make-up, but was genuinely shocked. We also did a few shows with animals which is always entertaining. One we shot with horses was especially funny when the horse got a little too happy, if you know what I mean...So many memorable moments!
Caps: Do you think that a showcase like "Up All Night" could be aired nowadays, or do you feel that the time for such programs has passed?
Rhonda: I think it could absolutely work! Some of my "USA: Up All Night" viewers have been petitioning to get it back on air, and my husband and I are planning to bring it back on the web...All new "Up All Night"
webisodes!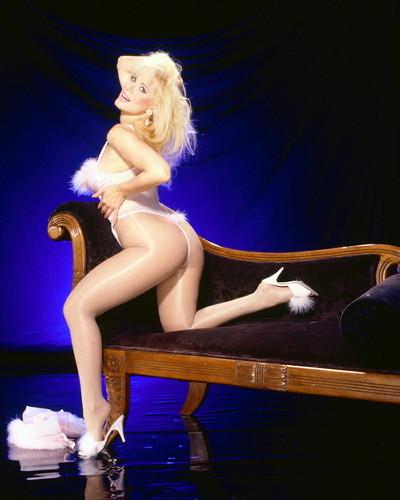 Caps: You released a comedy album called "Your Bedtime Buddy". I own it and I have to say it's enjoyable. What's it like to perform stand-up comedy?
Rhonda: It's really exciting. It's such a high to read a crowd and hear the responses live. I love that every show is different because of the crowd. You can play off of them. I really have fun coming up with material too there is so much to laugh about just in everyday life!
Caps: Why didn't you release any more comedy albums?
Rhonda: Honestly, I have so much going on with my Rhonda Shear Intimates business and other projects, I just haven't had time. I am thinking of writing a book on my life and the comedy that it is sometime, and who knows, maybe I'll get back into comedy one of these days!
Caps: How do you feel the entertainment business changed from when you first started out?
Rhonda: I think it is still a really tough industry. You have to be patient and work hard to make it in the entertainment business. I think a lot of it is about re-inventing yourself as you change and trying different things...Going out for castings even when they are not really your top choices. You just never know who you'll meet or what one little part can lead to!
Caps: What roles did you audition for, but didn't get?
Rhonda: There were plenty, and trust me, I obsessed about every part I didn't get...The ones that got away. That's just the way it goes in Hollywood though. There are so many talented people who want it just as bad as you do!
Caps: In recent years, you've become involved in the field of women's clothing. What drew you to the clothing business?
Rhonda: I'd say fashion has been a passion of mine my whole life from making costumes for pageants to wearing all kinds of wild fashions on "USA: Up All Night". I have always loved following trends and colors. Women's intimates seemed like a great direction for me with my experience with Hollywood costumers and red carpet solutions. The line started with a few pieces of shapewear on the Home Shopping Network and now has 6 collections, is sold in 27 countries, and has become an innovative influence in the industry worldwide. It has been really an amazing experience developing new products and seeing the line grow! It's funny to think that Rhonda Shear (Intimates) is now in bed with thousands of men every night, and my husband's OK with it!
Caps: What has been the most rewarding part of being in the clothing business?
Rhonda: I would have to say hearing all the positive feedback from my customers is really incredible. I truly put my heart into each design and really believe in all my products. I wear them and love them before I'll sell them because I want to know that they are comfortable, supportive, and sexy. Many women call in with problem areas or health conditions that prevent them from being able to wear pretty or comfortable intimates. I take those stories and make products that will work for real women...All shapes and sizes. Women should feel empowered and look great no matter their age or style. As I often say "Behind every great woman, is a great behind".
Caps: Quite a few reality shows center around the fashion trade. As an actress, what are you feelings about reality programs?
Rhonda: I have actually been developing an idea for my own reality show about the behind the scenes crazy world at Rhonda Shear Intimates...Just funny, sexy, every day at the office life. I think there is definitely a place for reality shows, but I have to say there is nothing like a well written scripted show. There are some really brilliant writers out there!
Caps: Considering how busy your business is, what would be the perfect day off for you?
Rhonda: I never take a day off. I am always working on something! Guilty pleasure, though, I'd say is sitting in the hot tub with a cocktail or hanging out on the couch with my doggies...
Caps: If you had to choose between entertaining or being in the clothing business, which would you prefer?
Rhonda: Hollywood was my past and I wouldn't change a thing about my life there. Fashion and intimate apparel is my present and future. I love what I do now and I'm so happy here in Florida. too. Why choose? I choose both!
Caps: Is there any chance we'll see you return to the entertainment business?
Rhonda: I really never left entertainment. I have just shifted my focus a bit. I am still on live TV a couple of times a month selling Rhonda Shear Intimates or giving style tips on talk shows. I still get calls to make appearances at events and even in some films and TV shows. I am always open to being a part of fun projects!
Caps: If you could go back to your youth with the knowledge that you have now, would you do anything differently?
Rhonda: I wouldn't change a thing!
-----
I would like to thank Rhonda for agreeing to work with me, and I would like to thank her representative Marie Crane for setting it all up.
For more on Rhonda's business and career, visit http://www.rhondashear.com/index.html