By the end of this summer it will have been 10 years since a Paris car wreck took the life of Princess Diana. But rather than fill this article up with those disgusting pictures of the car crash scene I thought that I might do a little tribute to the People's Princess and show a side of her that's never been fully understood.
It's difficult to put into words what Diana's legacy has meant to people. Even people who knew her can't adequately put into words what her legacy has meant to people.
To HRH Prince William and HRH Prince Harry she was their mother. To HRH Princess Beatrice and Princess Eugenie she was their "Aunty Dutch."
But to ordinary everyday cittizens of the United Kingdom and the world she was HRH Diana The Princess of Wales.
Diana's beginings were very humbling indeed. She was born on July 1, 1961 in Sundridge, U.K. the youngest child of the Viscount and Viscountess of Althrop; whom divorced when Diana was 6. She lived with her father and brothers. It wasn't until after her grandfather died that she was given the moniker "Lady Diana."
Diana Spencer as a young child
Diana Spencer had lead a very sheltered life until the time she met Prince Charles.
Lady Diana Spencer grew up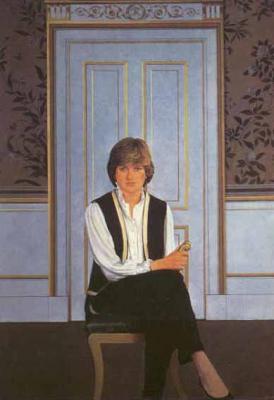 Lady Diana and Prince Charles in happier times.
The Fairytale wedding: Charles and Diana were wed at Buckingham Palace in 1981. The marriage of Charles and Diana marked the first time a Monarch has married an englishwoman.
Heirs to the Throne: Princes William and Harry.
William Arthur Windsor b June 21, 1982
Prince William was born on June 21, 1982. He is third in line to the throne after his after his grandmother and father.
Henry Albert Charles David Windsor aka Prince Harry b September 15, 1984
Prince Harry was born on September 15, 1984 and is fourth in line to the throne after his grandmother, father, and his older brother William.
Princess Diana, Prince Harry, Prince William and Prince Charles. Judging by this picture it looks as if Harry is having trouble standing still and Diana is trying to disipline him for not standing still.
Diana, Harry, and William all enjoy a day at the amusement park away from prying eyes.
Diana first sent William and Harry Miss Mynor's School in North London before they were sent to the prestigious Eton College. Both William and Harry were sent there because their father was adamently opposed to sending his children to the same school that he went to.
William's first day of pre-school circa 1985.
The Monarchy Divorces
Due in part to infedilty on both sides Lady Diana and Prince Charles divorced in 1996 at the insistance of Charles's mother. As a result Diana lost the right to be called Her Royal Highness.
Diana still attends to her duties. Here she is taking a gift that's being offered to her by a young child.
Princess Diana in her sparkling tiara
Princess Diana, Prince William, and Prince Harry arrive in Niagara Falls Ontario for a visit. Absent from this photo is Prince Charles.
Princess Diana greets Mother Theressa
Diana poses in a very revealing cocktail dress.[/align]
Diana is killed in a car wreck.
I thought at the begining of my article I would never put in any of those disgusting car crash scene photos out of respect for Diana and for William and Harry.
This article is meant to celebrate Diana's life and all of the wonderful charities that she supported.
The Alma Tunnel in Paris France. This is where Princess Diana, Dodi Al-Fayed, and Henri Paul all lost their lives. Of course the car crash scene photos are all over the internet but

NOT

in my article they're not.
When their mother died William was 15 and Prince Harry was 13. William, Harry, their father, and Earl Charles Spencer, Diana's brother, all trailed behind Diana's casket.
Earl Spencer vowed to keep William and Harry protected from the paparazzi that were hounding their mother.
William and Harry at their mother's funneral procession
Diana's legacy as "The People's Princess" will never be forgotten. She seems to have left her mark on whomever she visited. No matter what the situation and no matter what scandals were abound Princess Diana nothing could have stopped her from helping people in need. She was truly The People's Princess and she was called that for a reason.
She loved to help people whom she thought needed help and she seems to have passed that kind of value on to her two boys. Prince William and Prince Harry are the way they are because of their mother.
Diana and the boys are out on vacation.
A beautiful picture of the People's Princess with a smile on her face that could light up a room.
Diana the Princess of Wales