In the years I've been on retrojunk (seven according to my profile which says I joined on 5/28/07), I had wanted to see someone post a vs. article pitting two nostalgic celebrities against each other. That has finally happened but I only remember two of them making them few and far between, and so I've decided, at the risk of getting sued by several major entertainment companies, to hold my own "Retro Celebrity Death Match" as it were starring some characters that I've grown fond of (and some that I haven't) in both the past and present. Let the battle begin. RETRO KOMBAAAT!!
I like to think of this as the comedy version of
Freddy vs. Jason
with Freddy being replaced with Pee-wee and Jason with Ernest. Both of these low budget giants were popular back in the day and each still has his own cult fan following today (I'm included on the Ernest side, check out
Nightwatcher's Patrol #1
). However, while they both had great solo careers Pee-wee and Ernest had never actually met each other, so here's our chance to see what would happen if these two goofballs were brought face to face (sort of). Ready...um, fight?
In this corner...
(I'm only doing it in the following order out of fairness by the way)
Full Name -
Pee-wee Herman
Age -
Hard to tell, presumably somewhere in his thirties
First Appearance -
Cheech & Chong's Next Move
- 1980 film (cameo)
Occupation -
Somewhat likeable but annoyingly high strung man-boy
Catch Phrases -
"HA-HA! Heh, heh, heh, heh!", "I know you are, but what am I?""
Home Base -
The famous playhouse in the magical alternate dimension of Puppet Land
Pee-wee's beginnings weren't exactly what one might call glamorous. He started out as a side street theater act and got his first shot at the big time with a cameo in
Cheech & Chong's Next Move
where he was an unlikable gutter mouth who got himself arrested by the police (oddly enough this would happen for real later on). A showing of his stage act was taped and aired on HBO as
The Pee-wee Herman Show
one chilly midnight in February 1981. In 1985 the film
Pee-wee's Big Adventure
was released, co-written by Paul Reubens and directed by Tim Burton it saw the crazy man-boy go on a cross country journey to recover his beloved bicycle after it gets stolen. Pee-wee's name wouldn't become a household word however until September 13th 1986 when his Saturday morning television series
Pee-wee's Playhouse
began. The show ended on November 17th 1990 after five seasons with forty five episodes. A second movie entitled
Big Top Pee-wee
was released in 1988 but was not as well received as the first (mostly because it stunk despite having been co-written by Paul Reubens as well). The series continued in syndicated re-runs until 2002 when Paul Reubens was arrested for supposedly exposing to much of himself at an awards ceremony while in character as Pee-wee. Reubens career as Pee-wee continues however, starting in 2010 he brought back
The Pee-wee Herman Show
which is now on tour around the country (and is usually sold out I might add) and has also written scripts for two more movies:
The Pee-wee Herman Story
would be a darkly toned black comedy for adults where everything seems to go wrong for Pee-wee and he ends up becoming a complete jerk and
Pee-wee's Playhouse: The Movie
would be the kid friendly movie that is based on the show from the 1980's where Pee-wee and the gang actually leave the playhouse for the first time to go on a road trip. So it looks like Pee-wee is still going strong and good for him, but I'm still not a huge fan, although I did kind of enjoy
Pee-wee's Big Adventure
and I have to admit that
Pee-wee's Playhouse
had some good quality but I'm just not really crazy about him. Now let's meet the other combatant.
Full name -
Ernest P. Worrell
Age -
Unknown, probably somewhere between his mid thirties to mid forties
First Appearance -
A 1980 television commercial for an appearance by the Dallas Cowboys cheerleaders at Beech Bend Park near Bowling Green, Kentucky
Occupation -
Several throughout his career including a grounds keeper/counselor (
Ernest Goes To Camp
), an auto mechanic (
Ernest Goes To Africa
) and a sanitation engineer (
Ernest Scared Stupid
) among others
Catch Phrases -
"Hey, Vern!", "Knowutimean?"
Home Base -
Vern's house, somewhere in Kentucky
Well I've already covered Ernest's entire career in
Nightwatcher's Patrol #1
but I had an easier time with that because it was only about Ernest. This time I will have to do the quickie version but despite that it will be a little longer than Pee-wee's summary, so please bare with me. As mentioned above Ernest made his first appearance sort of quietly to most of the U.S. in a 1980 television commercial for the Dallas Cowboys cheerleaders at Beech Bend Park, an amusement park and camp ground complete with it's own race track in Kentucky located near Bowling Green. This was kind of ironic however since the park was in the middle of it's biggest decline so far at the time. Never the less, Ernest became popular enough as a character that more commercials began to pop up covering several Coke products especially Sprite and Mello Yello which lead to the coining of the phrase "Make the Mello Yello move" (which I have), as well as several different car dealerships, mostly Toyota but also dealers like Chevy, Oldsmobile and Ford and sometimes they would cover food services (Braums and McDonalds come to mind) and there was a large advertising campaign for Purity Dairies headquartered in Nashville, Tennessee as well as other dairy companies around the country. Ernest also had some PSA's some of which warned about the dangers of smoking although it would seem that Ernest's actor Jim Varney had decided not to follow his own advice since he is no longer with us. In any case, these commercials became popular enough to earn Ernest a made for TV movie called
Hey Vern, It's My Family Album
. First airing in 1983 Family Album takes us through the history of the Worrell family and introduces some of Ernest's zaniest relatives and ancestors. Next up was the theatrical movie
Dr. Otto and the Riddle of the Gloom Beam
(1985), an unusually dark film for this franchise which focuses on Varney's main villain character Dr. Otto Von Schnick-ick-ick, the naive, semi mad scientist and his plans for world domination. The first big screen break for Ernest was the 1987 film
Ernest Goes To Camp
which is arguably one of the best in the series. In 1988 Ernest got his own TV series (however short lived) called
Hey Vern, It's Ernest
which lasted for one season with thirteen episodes. The show's
Your World As I See It
segments, hosted by Ernests wealthy and egotistical uncle Astor Clement were later cut from the episodes and assembled into their own half hour program which was given it's own VHS release. That same year we also got
Ernest Saves Christmas
in theaters. In 1989 Ernest helped promote the opening of the Splash Mountain ride at Walt Disney World in Florida with the TV special
Ernest Goes To Splash Mountain
in which he spent the majority of the special preparing for the big plunge at the end of the ride. The special aired along with Goes To Camp on
The Wonderful World of Disney
. The movie series then continued with
Ernest Goes To Jail
(1990),
Ernest Scared Stupid
(my favorite of the bunch, 1991), and
Ernest Rides Again
(1993). Sadly, Rides Again didn't make enough money at the box office to warrant any more theatrical releases so the rest of the series are direct to video:
Ernest Goes To School
(1994),
Slam Dunk Ernest
(1995),
Ernest Goes To Africa
(1997) and
Ernest In The Army
(1998). A movie entitled
Ernest The Pirate
exists but sits in a dark corner somewhere, incomplete, due to Varney's untimely death in 2000. Don't fret though because it would seem that this franchise isn't dead just yet as a new reboot movie called
Son Of Ernest
is in the works and I'm happy to report that the perfect actor for Ernest's long lost offspring seems to have been found. He is a talented young man named Billy Crank and, despite his somewhat questionable last name, I highly encourage everyone who reads this to check out his audition video on YouTube and vote for him. (*Long, drawn out breath here*) Whew! That - was one - long - summary! *Huff, pant*
Okay, now that the history lessons are out of the way, it's time for the moment we've all been waiting for...
The Battle of the Goofballs!
I had started to make this an actual story treatment but it would have lengthened the article that much more and I figured it was long enough already, so instead I'm going to jump right to the analysis of the combatants' attributes to determine who would win in a fight. And no, this is not about their careers in real life, so Ernest having a longer career and their popularity have nothing to do with this. Also bare in mind, this is about the characters, not the actors so Paul Reubens and Jim Varney have nothing to do with this either (and Varney is dead now anyway, so...yeah).
Courage:
While Pee-wee usually prefers to run away from a fight (as seen in Big Adventure), Ernest has always shown some back bone even against some very large and powerful enemies such as the miners' foreman in Goes To Camp and Trantor the troll in Scared Stupid. Ernest will also join a good scrap as long as he believes it's the right thing to do, although his methods and tactics are always questionable at best. Win=
Ernest
(just barely)
Characteristics:
Both men, or should I say man and a half, are good natured and willing to lend a hand, as well as being somewhat childish and fun loving. The only downside to Pee-wee is that he is also kind of annoying and can be rude sometimes, which once included a mouth load of profanity, while Ernest is usually very polite and a gentleman. I think this one is pretty clear. Win=
Ernest
Rides:
Ernest usually drives ordinary vehicles, most notably his pick up truck, as well as a maintenance cart (Goes To Camp), a large garbage truck for picking up dumpsters at businesses (Scared Stupid), and even a taxi cab (Saves Christmas) while Pee-wee has a couple of rides that any little boy would go crazy for; his red, lion headed bike (Big Adventure) and his rocket powered scooter complete with kooky helmet that even has a big eyeball on the front (Playhouse). Pee-wee also got a ride from a ghostly trucker once ("Large Marge" in Big Adventure) and if Ernest had been allowed to drive a tank in In The Army this one may have turned out differently, but I digress. Win=
Pee-wee
My favorite scene from

Pee-wee's Big Adventure
"It was the worst accident I ever seen, like the sound of a dump truck, dropped off the Empire State Building!"
Intelligence:
For a man who thinks he's still a little boy Pee-wee has some pretty good brain power even though it doesn't seem to have matured yet while Ernest, on the other hand, also has a few working brain cells but doesn't seem to use all of them most of the time, so even though Ernest has a big enough heart to make up for his half working brain it is very possible that Pee-wee would beat him on an I.Q. test. Win=
Pee-wee
(Unfortunately)
Puppet Companions:
I thought I would point this out for fun. Both Pee-wee and Ernest have their own ventriloquist dummy companions: Pee-wee's Billy Boloney and Ernest's Woody.
Billy was soft spoken and usually agreed with Pee-wee most of the time while Woody was sort of arrogant and intolerant of his own puppeteer (Ernest). Billy was lucky enough to have gotten his own collectible toy but if these two ever fought I figure Woody would probably whup Billy and throw him into a wood chipper, mostly out of revenge for never having gotten his own toy. Win=
Ernest and Woody
And finally...
Powers and Abilities:
This is the most important one because it could change the whole fight. Pee-wee doesn't really have any special powers or abilities to speak of although if he needed help in a fight Pee-wee could always call on help from friends like Magic Screen with her ability to pull people into her screen (possibly a parallel reality) where tools and weapons could be created, Cowboy Curtis (maybe) and Jambi the genie who could grant Pee-wee a wish to help him out (should the genies of Pee-wee's world be allowed to do so).
"Wish? Did someone say wish?"
Ernest on the other hand, while being able to call on his buddies Chuck and Bobbie for help if necessary, can usually hold his own with his "multiple personalities" and his zany inventions as well as his knowledge of explosives (Goes To Camp again). Ernest has also proven very hard to kill due to his unusual durability which I'm sure some have mistaken for immortality. Ernest has taken beatings that would kill a normal, mortal man. Some examples include: getting shot in the head with a nail gun and run over by a limo (Rides Again), compacted in the back of a garbage truck (Scared Stupid), getting stampeded by a football team - in cleats no less (Goes To School), the list goes on and on. In fact, Ernest directly referenced his constant cheating of death in Rides Again; "I probably would be [dead] if I wasn't this close to bein' an actual cartoon". But the most interesting moment was in Goes To Jail when Ernest was zapped in an electric chair. For some reason, instead of killing him, as should have been the case, the electricity was absorbed into Ernest's body, making him electromagnetic and giving him a new power; he could actually disperse electric bolts from his palms to use as weapons and he was eventually able to break away from the Earth's gravity and levitated toward the end of the movie; behold, the awesome might of Ernest P. Worrell "Electroman!".
The only drawback to this is that it does ware off after a while so hopefully Ernest would use it wisely (Though that is somewhat doubtful), but never the less: Win=
Ernest
So all in all these two comedic defuses have had great careers and if they were ever to meet in a cross over I seriously doubt that they would really fight, but if they did it looks like it would be pretty one sided. I think we can all see who would come out on top here.
The winner (thank god) is: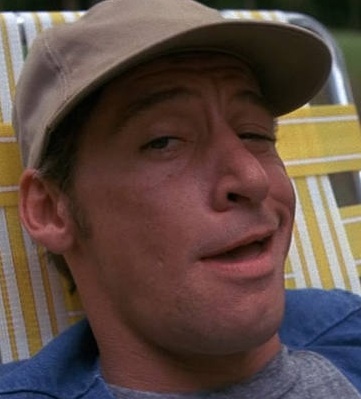 "No muss, no fuss, the man-boy's dust, knowutimean?
Eh, heh, heh, heh, heh, heh!"
Now I know that some of you may disagree with my outcome here and that's fine, everyone is entitled to their opinion, I was just using research about the two characters to determine how this would most likely turn out, it has nothing to do with me being an Ernest fan. This article was tricky to write so I'm going to take a breather but I will be back with round two soon and hint, we may yet find out who the real ultimate life form really is. Until then retrojunkers, Nightwatcher out.