In the remnants of my childhood memories, food always plays a big role. Not just the delicious candies, sandwiches, vegetables, fruits, etc. that I remember eating, but also the places where I and my family ate and bought the food we ate. The good news is, most of these places are still runnin' their businesses, so if you all want to come by and try some delicious food, or just have a good old fashioned restaurant experience, then go right on ahead!
Another piece of good news is that the restaurants (and the grocery store) are NOT owned by a huge chain-oriented corporation. There is (to my knowledge) no place else on earth like these great, locally owned, businesses that bring back memories of simpler times. The superiority of home-cooked, meticulously prepared food and warm, friendly relationships with the owners and waitresses of local restaurants are what made these restaurants memorable to me. These places beat McDonald's in a heartbeat. And the small, locally owned grocery store featured in this article is a nice reminder of what grocery stores used to be like before the big super grocery stores of today were built.
Restaurants
My family and I ate in plenty of restaurants as I was growing up, but these two restaurants were among our favorites. Both of these restaurants are still open and cookin' to this very day, and their food still excites my taste buds like they did 10 years ago.
Merichka's
604 Theodore Street, Crest Hill, Illinois
Phone: (815)723-9371 | Fax: (815)723-3194
Since I was about six years old, my parents and I have gone to this restaurant on many occasions -to celebrate, to just relax, etc. I have met friends there for lunch, and this past Christmas my boss (from my college work-study job) decided to have her office Christmas party there. Just recently, my family and I went to Merichka's to celebrate my being inducted into a Math honor society at my college. We all ordered their legendary poorboy, just as we do whenever we are in this restaurant. Usually we order fries, onion rings or (my favorite) double baked potatoes to go along with the poorboy, and I order a cherry Coke with a couple of actual cherries in it. Even if we are hungry, none of us (save my Dad), can eat a whole poorboy in one sitting. They are very long and large, and have a substance called "butterine" in it that makes it oh so delicious. I also like putting pickles and ketchup on my sandwich. After eating about half the sandwich I usually ask for a carryout case so I can bring the rest of the sandwich home to re-enjoy the next day. We don't go to Merichka's much anymore, though, because my parents have deemed that $8 for just poorboy and fries is a bit too much money for them to spend.
When I am eating their delicious poorboy, I usually do not take the time to wonder about Merichka's history. In order to learn about how this restaurant started, I visited their website (http://www.merichkas.com/).
According to the website, Merichka's was opened by Mary (Merichka, which is Slovenian) Zdralevich and her son Joe on April 19, 1933 (75 years ago!). They continued to run the restaurant until Merichka passed away in 1957, after which younger generations of her family have taken over the restaurant's operations. Rose Kolenc and Joe Jr. (Joe's grandson), along with Merichka, came up with the recipe for the "World-Famous" poorboy. Rosie was also responsible for the delicious onion rings, double baked potatoes, and house salad dressing. Many expansions (of the bar, the kitchen, etc.) and changes have taken place at the restaurant over the years, but to this day Merichka's family still runs the restaurant.
The website also had pictures of the restaurants and its delicious poorboy, which I have included below. WARNING: the picture of the poorboy will make you very hungry!
The website also had a menu of the food this restaurant offers. There's a wide variety of delicious food to be eaten at Merichka's, but I have never tried hardly anything else on the menu but the poorboy, fries, onion rings, and double baked potatoes. The menu can be found at http://www.merichkas.com/menu.htm.
I also have my own 'family connection' to this place because one of my cousins works as waitress at Merichka's.
Whenever we dine at Merichka's, it's always a true family-restaurant dining experience. The service is (almost always) good, the interior decoration is very retro, and the home-made food is always delicious!
Now, let's move on to the second restaurant...
Lonestar Restaurant & Lounge
25208 W Eames St
Channahon, Illinois
This is a picture of Lonestar from the outside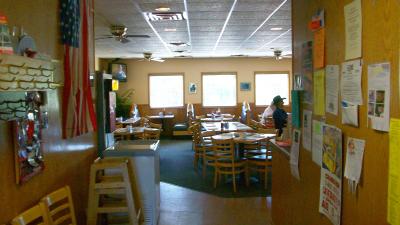 This is what the restaurant looks like inside. Nice booths, tables, and wall paintings depicting the Illini and Potawatomi history of Channahon, Illinois.
Lonestar Restaurant & Lounge (and no, it's not associated with the Lonestar Steakhouse chain, even though this restaurant does serve steak) has been in existence for 35 years. Three Greek brothers (George, Thamis, and Ted) opened the place, and now they and their children are still running the place.
This place has had a very unique, interesting history. When it first opened, it was, as my mother described it, "a honky-tonk beer/bar place, where bands performed." She also mentioned that there was a fake fireplace display at Christmas. Over the years, this restaurant has developed into one of the best family restaurants in Channahon, Illinois. It is known for its good ribs, chicken, and good homemade soup. It is also known for their interior paintings of Channahon's history and association with Illini, Potawatomi Indians, etc., which I think add to the place's ambience.
My mother and father went out for dates at this place (in early 1981), and I have been going there since I was in my Mom's belly!
We have always loved this place because of the good food, clean atmosphere, and affordable prices (compared with other restaurants we went to, this place does not charge as much for dinners). We usually go to this restaurant on Friday night for dinner. Dad and I like their poorboys (swiss cheese, fried onions, and garlic) - and, talking about affordable - for $7.95, I could get the poorboy, fries, pickle, coleslaw, and a delicious bowl of potato soup. I love their homemade potato soup - it's my favorite soup!
This is what a cup of soup looks like at the restaurant!
This is a picture of the potato soup at my house. I had ordered a quart of the soup as a carry-out for only $8.65, and later on I had some of it in a large bowl!
Actually, all the soups are homemade, and they serve a different soup depending on what day it is. On Fridays, they serve potato soup. Lately they've been putting ham in it - yum! On Sundays, my Mom told me they serve cheesy broccoli soup -which sounds delicious, but I have not tried it yet. Mom also told me they have served chicken pasta soup, vegetable beef soup, and minestrone soup.
My mom (and sometimes I) like ordering their reuben sandwiches, or their patty melt sandwiches. Whenever we went to this place in the past, I would always order the reuben with fries.
This is not exactly a picture of Lonestar's reuben sandwich, but this is what it looks like.
The restaurant also has a few healthy meals - here's a healthy meal I ordered one night - cottage cheese,a spinach & cheese 'hot pocket', some peach, some green peppers, some tomato, some melon, and some lettuce. It was very good!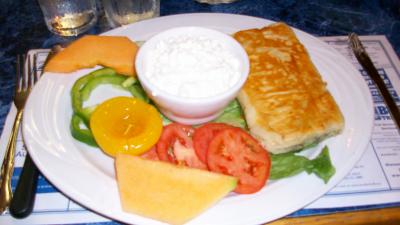 I could never eat all of my sandwich (or meal) in one sitting -- the restaurant serves big portions, and so I would always have to doggy-bag half of my sandwich to eat later at home.
One of the brothers is (and has always been) at the place whenever we would come (any of the three could be there, but there's almost always one of them there). He would greet us personally and ask us how we were doing, since he (like the other brothers) know my Dad. Sometimes, we even get free dessert (like pie or ice cream) at the end of our meals. The waitresses, most of the time, give us good service, and Mom likes the fact that this place hires older waitresses with experience. Actually, she told me that my aunts Joyce and Linda once worked as waitresses at Lonestar!
I was searching on the web for information about Lonestar, and I found this restaurant review on www.yelp.com written by Nick S., son of one of the owners, who also works at the restaurant while going to college:
"My dad owns this place and I wanted to get a review on the map. I grew up in this restaurant. I saw it go from a honkeytonk to a lounge to a family restaurant.

Of course I'm giving the 5-star b/c it's my dad. There is definitely room for improvement, but you're always going to get good, comfort food at a good price.

I no longer live in the area, but the Lonestar Channahon is the place for breakfast. It's more of a greasy spoon joint, but it's very clean and has a nice ambiance. They also have a full bar and server lunch and dinner. You can get everything from a Rueben to Surf n Turf, which is pretty funny if you think about it."
He's completely right about breakfast - especially on Sunday mornings! Our family went to Lonestar recently for Sunday morning breakfast, and that place was PACKED! I had pancakes with sausage, and it was delicious!
On a Friday night, after we get done eating at the restaurant, we pay our bill and leave. I remember that after eating at the restaurant, we sometimes went to the nearby McKinley Woods or the nearby Channahon I & M Canal to take a nice, leisurely walk. The last time we took a walk through the Woods, I saw a deer!
Groceries
Mitchell's Food Mart

1300 Raynor Ave.
Joliet, Illinois, 60435
Finally, I remember a small, local grocery store Mom and I used to shop at - Mitchell's Food Mart. This store has been in Joliet for many, many years (I believe around 70). It, thankfully, is still in existence. Mom shopped for the bread, milk, meats, vegetables, etc. necessary to cook her delicious meals (porkchops, tacos, chicken, etc) while I would drool at all the delicious candy at the candy display. I especially loved the colored dots candy, the bubble gum (especially Bubble Tape), Now and Laters, Push Pops, and the lipstick candy. I also loved buying Pik Sticks from the store. The store was (and still is) rather small, but that just adds to its allure.
A week ago, Mom sent me into Mitchell's to get some bread. I took a few pictures of the store while I was in there. We haven't shopped there in years (Mom now shops at Jewel's or Super Walmart), so it was the first time in several months that I got to go into the store. Mostly, it was the same, except my Mom believes the store has expanded its aisles a bit.
This is a picture of an aerial view of the store, courtesy of Dwayne's Blog City.
Picture of Mitchell's from the outside.
Pictures of a couple of the aisles inside the store - everything is jam packed!
After all these years, these three wonderful venues of food and good memories still exist. Hopefully, in or near your hometown, there's still good local restaurants that serve delicious home-made soups and food. In this day and age fast-food restaurants such as McDonald's, KFC, and Burger King are popular (and I like eating at these places as well), but we all need to, in our lifetime, experience the one-of-a-kind service and homecooked meals of locally owned restaurants. Also, hopefully there's a nice home-grown food market in your hometown also, where customers and store owners and workers can know each other and where one can just stop in a store for a few items without wandering through miles of confusing aisles (like Walmart, KMart, etc.).
I hope you have enjoyed this tour of my childhood places of food. If, by looking at pictures of food, you've gotten hungry, now would be a good time to head to your refrigerator or to your own favorite local restaurant for a hearty meal.