The Network That's As Young As You Are. Does anyone remember that slogan? I remember back when YTV first went to air on September 1, 1988 and a lot has changed over the past 3 decades since the network aired. It's a shame that now YTV is a hot bed for crappy shows, with equally crappy actors, that other networks have cancelled but back when I was a kid of 11 or 12 years old YTV used to air a lot of stuff that I loved when I was a toddler. I don't know if it's the old fart in me or if it's just because I liked YTV before all of the new P.J.s got in. YTV was the network for kids. So what the hell happened that made it so bad over the past few years?
YTV in 1988.
YTV's first logo which ran from 1988-1992
When YTV first went to air I remember being able to sit on any given day of the week and just watch it. Jem, She-Ra Princess of Power, He-Man and the Masters of the Universe, YTV Rocks, You Can't Do That On Television, Transformers, Denver the Last Dinosaur, ReBoot, Fat Albert and the Cosby Kids, Filmation Ghostbusters, Rocky and Bullwinkle, Lassie, Bat-Man The TV Series, Home and Away, Dr Fad, Nickeodeon's Guts, Beasties Transformers, The Muppet Show, The Carol Burnette Show, Bizzare. That was the core of YTV. Canadian content.
It's also cool to note that YTV aired short programs in between shows. Most notably little vignettes from the National Film Board of Canada, What on Earth Is, and The Undersea Adventures of Captain Nemo to name just a few programs.
The Program Jockeys (P.J.s) and Other YTV Personalities.
I remember before the network started hiring stupid people to host TV blocks that the P.J.s or Program Jockeys were people who had personality. They never read from a teleprompter or a hand writen script. They did it all themselves and they did it with such style.
Notable YTV Program Jockeys and hosts include.
Laurie Hibbard aka Laurie Hibbard-Gelman (Former host of YTV Rocks and YTV Hits. Now the host of the Mom Show on Life Network.)
Michael Quast aka Michael Q (Former host of YTV Rocks and YTV Hits. Producer of the Holmes on Homes show on HGTV Canada)
Nicholas Picholas (Former host of Video and Arcade Top 10)
Janis Mackey aka P.J. Jazzy Jan now known as Janis Mackey Frayer(Former YTV News Correspondent former host of the Weekend Zone.) Now the CTV News Middle-East Correspondent.
P.J. Jenn. (Jenn went on to host a Disney programing block on CFTO, which was then taken over by a girl named Melyssa. I don't currently have a photo of Jenn or have any knowledge of what's she's been up to since then.)
Jennifer "Katie" Raicot aka P.J. Katie (Host of P.J. Katie's Farm.) No photo is available of Katie.
Phil Gurerro aka P.J. Fresh Phil (Former host of the After School Zone, Snit Station, and co-host of YTV Shift.
Ashna Patel aka P.J. Ashna (Former host of the Hit List and former co-host of YTV Shift .)
Paul McGuire aka P.J. Paul(Former host of Clips, The After School Zone, and The Weekend Zone) Now hosts CMT Central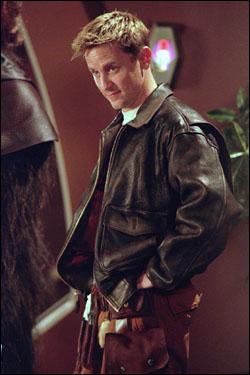 Gordon Michael Woolvett aka Gord The P.J. Man. (Former host of Video and Arcade Top 10. He was the very first YTV Program Jockey)
The Hit List
Tarzan Dan Freeman hosts The Hit List on YTV but he wouldn't be the last host
First went to air in 1991 and went on strong for 12 years before being cancelled in 2006. The first host Tarzan Dan Freeman was a radio personality at the time and hosted the show for three or four years. In later years hosting duties were taken over by Leslie, Xsan, Ashna, Rob, and Danielle.
The show is on an indefinite hiatus.
The Mighty Morphin Power Rangers and Teenage Mutant Ninja Turtles Controversy. Did it cause aggression in young children?
In 1993 YTV began to air episodes of the Mighty Morphin Power Rangers which originated on the Fox Kids Network and was the subject of much controversy. The controversy began when parent's and teacher's groups complained to the network that the show was inciting aggressive behaviours in very young children. These groups put pressure on YTV execs to remove the show from the network completely. A vote was taken the following year and it was decided that the show would not return to the fall schedule in spite of it's immense popularity.
The Teenage Mutant Ninja Turtles was another show that aroused controversy after a young girl was murdered in Montreal. This show was also removed from the network completely due to its violent content.
YTV Original Programs
YTV began to produce its own original programs. The first show that began to air on YTV was YTV Rocks, later renamed YTV Hits, which was hosted by Laurie Hibbard and Michael Quast.
Oliver's Twist with Ron Oliver then aired afterwards and then was followed by The Hit List which was originally hosted by Tarzan Dan Freeman. Catwalk, which starred a unknown actress named Neve Campbell, and other shows that made YTV what it was.
In early 1993 ReBoot aired which was animated by Mainframe Entertainment. Mainframe would then go on to produce four more CGI animated cartoons. Beasties in 1996, Shadow Raiders in 1998, Weird Ohs, Action Man, and Beast Machines in 1999.
Barbara Mamabolo stars as Zixx Phunkee Zee who hails from the planet Hailk 7 in the distant Aphex Galaxy. Jeffery Hirschfield voices her wisecracking Lizzard side kick and mentor Flannigo.
The most recent Mainframe series to air on YTV is Zixx Level 1 and Zixx Level 2. Whether or not Zixx Level 3 will air or not is unknown.
2000 and beyond
YTV has changed a lot since its earlier inception and I can't even begin to tell everyone just how badly the network has deteriorated over the years. New network execs might have something to do with it but something else that might have something to do with it is that the network is getting Nick shows from Nickeodeon, a U.S. network owned by Viacom international.
It seems to me that if a network, that's been on the air for almost 20 years, is getting nothing but crappy shows that other networks have cancelled then they must be running out of ideas about what to air on the network. I really think the higher ups should really consider changing their programing formatt for the sake of people who aren't really Sponge Bob fans.
Sponge Bob Square Pants airs weekdays at 5:30 in the Zone
I can't, for the life of me, figure out what's going on that they would even consider airing Sponge Bob Square Pants in a weekday afternoon time slaught where billions of kids are watching everyday? As a matter of fact I can't figure out why Sponge Bob is so appealling to some people?
There are so many other shows that the network could be airing and yet they choose not to air these shows. Is it because they don't have the money or the resources to bring shows that we used to watch as children? Or could it be that they really can't get the broadcasting rights to the shows that they know we really want to watch?
I think that since YTV is going to be 20 years old next year the very least they can do is get more new and interesting programs on the network before the shows that are already running on there become stale and make the network unwatchable. What made me watch YTV in the first place was the shows that I used to watch as a young child. Now you'd be lucky if you can find something on there on weekdays that's at least half-decent.