On you first turn, roll the die and select which color/category you want to land on and which of the six spokes you'll move down. If you roll a six, you will immediately land on a category headquarter and try for a scoring wedge of that color.
If you land on a non-headquarter spot, another player will ask a question in that category—that player draws the first card from the box and reads the question in that category. When done with the question, place the card in the back of the box behind the other cards.
If you land on a headquarter spot, then refer to the DVD for your question. As I said, there are six categories, and questions could be
-"Who Is This?" question (a mystery character has a blurred face that gets progressively clearer.
-What Years is It? Question (they'll give you some clues as to what happened that year on "SNL" (who joined, someone said this, etc.)
-Audio Clips (a sound byte will play, and you will guess who it is, or what they're discussing
-General Trivia (I got one that asked which of these actors was nominated for an Academy Award)—there will be headshots of the actors – good retro stuff if you're curious as to what some of these actors looked like
-Don Pardo reads a trivia question, and you must answer it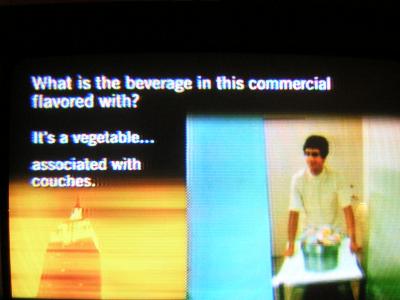 After the twenty seconds are up, you'll be asked if you answered it correctly. If you answered correctly, hit Enter or OK on your remote. If you did not answer the question right, scroll to the right to highlight "no," and press Enter or OK. The DVD goes back to the Menu.
Note: At ten seconds, the question becomes an "All Play" question. Whoever gets it right gets to roll the die next.
If you answer the question correctly, you can continue. But, if you answer incorrectly, in the exaggerated words of Nat X, "sit your loser a** down." Wait your turn. Play will then pass to the left.
If you land on a "Roll Again" spot, you will do exactly as it says--Roll Again nawh!
For the Win
Once you've collected one scoring wedge in each color, make you way to the hub and try to answer the game-winning question. You must land in the hub by exact count; if you over shoot the hub, then you must land on a spoke and answer the corresponding question. On your next try, attempt to land on the hub. I have faith in you that you can do it.
Once you're on the hub, go to the "For The Win" icon in the lower right-hand corner of the screen. You will get a question from a random category that is for you only. Once you have answered the question, press the enter button, and the correct answer appears. If you got the answer right, indicate such on the screen.
Make everyone else bitter, and celebrate your victory by pressing the Enter button!
However, if you answered incorrectly, highlight the "I Missed It" selection and press Enter. Simmah down nawh, and wait until you next turn to try again. But, here's the catch, you must leave the hub, answer another question to re-enter the hub (by exact count), and then you can try for another game-winning question.
Question Samples
Show – What U.S. First Lady was shown engaged in Wardrobe Limitation Talks With Raisa Gorbachev? (Answer—Nancy Reagan)
Sketch – Which cast member had to relax her throat in order to stop gagging on Pete Schwetty's plump wiener, on The Delicious Dish? (Answer – Rachel Dratch)
Parody – Who hyped his USA Today News and Views column with gems like: "Baltimore is a dirty, ugly city," and, "In my book, Ellen DeGeneres is not gay?" (Answer – Larry King)
Character – What cast member played Jonathan Feinstein, Jarret's eccentric disc jokey? (Answer – Seth Meyers)
SNL Etc – What former writer was honored at a wake in New York City, where a film of the brain aneurism that killed him was prominently displayed? (Answer – Michael O'Donoghue – for the curious, he died in 1994, and was one of the original writers—even I didn't know this)
Impressions – What Lifetime talk show, hosted by Linda Dano and Nancy Glass, was lampooned by Nora Dunn and Jan Hooks? (Answer – Attitudes – this is a GREAT retro question—there aren't enough of them here, or maybe I should have looked a little more)
My Review
Despite only having played this one, this is a fun game. There is certainly a good variety of questions, mixing the old with the new, though I was highly disappointed to flip over the box, and see a screen cap of Dennis Miller sitting next to Dana Carvey with a blurred face, playing the other Dennis Miller. Why didn't I get this question? How obvious does it get? I'd laugh if anyone who watches enough "SNL" didn't get that right. Shame on you.
43 minutes later, I'm taking the disk out. Note the time.
So, if you're looking for a fun diversion for your evening, "Trivial Pursuit: Saturday Night Live" Edition is a sure bet.
I hope you all enjoyed this review, and take into consideration that I sat and played this alone, so I could bring you a very different article. Party on!
~Allison aka "Allison_SNLKid," your "Saturday Night Live" Guru
All screencaps courtesy of my digital camera.