Hi all,
I couldn't believe that there was not one article about my favorite action hero,
so that's why I am writing this article.
Steve Seagal began with aikido at the age of 7.
before he knew it, he earned belts in aikido, karate, judo, and kendo and in his late teens, Seagal became part of Demura's Karate Demonstration Team and performed daily demonstrations in the former Japanese Village and Deer Park in Southern California.
Seagal then became a bodyguard to celebrities such as future wife Kelly Le Brock and Hollywood agent Michael Ovitz. It was Ovitz who, impressed with Seagal's martial arts abilities, personally financed a screen test in front of Warner Bros. executives. They too were impressed and Seagal was signed for his first film.
Above the Law. (1988) this was his first, and i believe his best movie.
he plays a cop named nico toscani who discovers a web of corruption in the city's police department
and takes care with it, his own way.
the movie is awesome, and if you haven't seen it, go buy it now!
Hard to Kill (1990) Here he plays a cop named mason storm.
he found a dark secret about the new mayor, and that's why assassins came by his house and "killed" him, his wife and son.
7 years later he wakes up from his coma, and is out for revenge.
with a little help from his nurse and an old partner he takes those motherfuckers down.
one by one.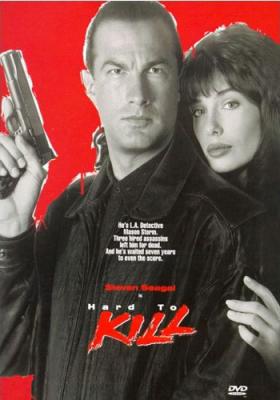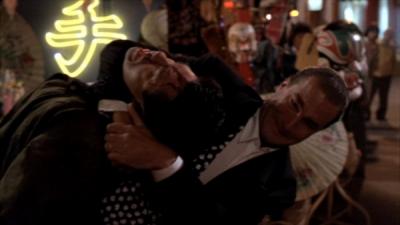 Marked for Death (1990) Playing a retired DEA agent who returns to his hometown, to find an evil drug named Screwface in charge.
the movie doesn't have much action scenes, but it still is a great movie.
at the end of the movie, Steven gets pissed off and kills like 25 guys.
all in great style and much bone breaking stuff.
and just when you think it's done, it starts all over.
i wish more movies had endings like Marked For Death.
Out for Justice (1991) Playing an NYPD cop in Brooklyn on the hunt for an old childhood rival who killed his best friend.
the "childhood rival" in this movie gets really fucked up in the end.
the rest of the movie is more talking.
but still te movie is fun to look at..
Under Siege (1992) this one is about a cook on a Navy ship who prevents nuclear armageddon. This was his most successful movie, but it's as brutal as his other movies.
this movie has all the excitment and aikido moves that you would expect form a steven seagal film.
On Deadly Ground (1994) A movie in which he befriends an Alaskan Native Indian tribe and fights against an evil oil company. This is Seagal's directorial debut; he also produced. However, the movie under-performed at the box office and damaged his career.
Under Siege 2: Dark Territory (1995) Seagal returns as Casey Ryback, this time out to foil a mad scientist who tries to hijack a satellite weapon hidden on-board a train.
he takes every bad guy out with an astonishing move.
this movie rocks!
this is one of the best sequels ever made!
along with aliens and wayne's world 2 afcourse \m/.
there is so much action in this movie, that you just gotta love it.
Executive Decision (1996) Playing the head of an elite military team that must stop a plane carrying a nerve-gas bomb. The only time Seagal is killed during the course of a movie in which he has appeared.
and that is why the rest of the movie s kinda boring.
The Glimmer Man (1996) Playing a detective who (along with Keenan Ivory Wayans) must find a serial killer. also a great movie, but with more shoot-outs and less fighting.
which, in my opinion, is too bad.
Fire Down Below (1997) Playing a hard-hitting EPA agent investigating a mine in Kentucky.
this movie doesn't have much action scenes, but it still is fun to look at.
the only negative thing about this movie is that kris kristofferson stays alive, and doesn't get killed.
he doesn't even get an arm broken.
The Patriot (1998) Playing a Canadian who foils an evil, virus-releasing militia.
Exit Wounds (2001) Playing a tough urban detective who tries to clean up his precinct with the help of a wealthy business man who in turn is trying to free his brother from jail.
this movie was great success, because i think a whole new generation got to know steven seagal.
you just got to love him and his moves!
well, that it.
i hope you like my first article, and i am sorry for my lousy use of word.
but that is because i am dutch, and only16 years old.
if you have any questions, you can reach me at:
[email protected]
Willem-Jan Coppns