Hey guys........Yes it's me again Warriorman here and this time I'd like to take a break from Rock n Roll history and legends. I would like for all of you to see a side of me no one really ever got to know, my favorite childhood moments and games to play when I was younger.
Ok this is going to be my list of favorite games to play when I was younger, and who know's maybe one of you might see a game one here you haven't seen in a while. Here we go.
Now let's start off with my favorite game ever to play as a child.
Demon Sword
.
Yes Demon Sword, the one game I would play all night if I was able, I played this game so much I think I have worn it out, every time I try'd to play this game in the past years It won't load it will either flash different colors or simply stay blank on one color screen. Recently I was browsing through a used game store and OOOOOHHHHHHH YYYYEEEAAAAAAAHHHH I found another copy of demon sword so I did not hesitate to purchase it (It cost me $20.00 for the game can you beleive how much it costs even now a days) and thankfully it worked in my machine and I have never been happier. I rember one year I even dressed up like Victar(The Character in Demon Sword) for Halloween and I bet you guys know who won Best Class Costume. HEHEHEHE
.
.
.
.
In this game it starts out with an evil demon ruling over the world and its inhabitants, who live in fear of it. However, a man named Victar,(NOT VICTOR) who comes from a small village, has a sword that can destroy the demon. The blade had previously been split up into pieces, though, and Victar must travel through three worlds to get back the three broken pieces in order to restore the sword to defeat the demon. MAN IS IT EVER HARD TO FIND PICTURES OF THIS GAME WITHOUT UPLOADING THEM FROM MY COMPUTER. The game contains three worlds, with two stages in each of them plus a final stage making 7 stages total. In order to regain the pieces of the shattered sword and advance in the game, the player must defeat a boss at the end of every stage. The player will also encounter enemies on the way to the boss, which must be defeated with a variety of weapons and magic spells, such as the character's Demon Sword (which he begins the game with), arrow darts, and power beams. The player can also jump over enemies and change direction in midair, as well as land in and run on top of trees. However, the player must be careful when jumping, as there are various traps, such as holes, that the player can land in. Did I also mention that there is a power up (I can't remeber the name at the moment) for when you fall into holes/traps a white Bird appears, but only last's long enough to get you out of the whole. Beleive me when I first got this game years ago I thought the bird last for the rest of the level, well I was quick to find out it only last a few seconds.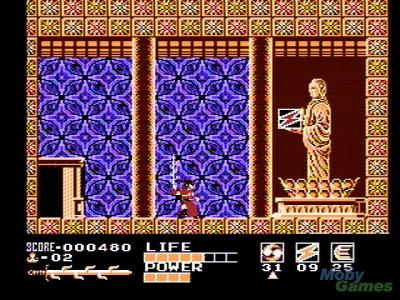 .
.
.
Well there you have it my list of favorite games.........KIDDING JUST KIDDING, man I miss saying that, OK ON WE GO.
Dr. Chaos
.
Yep Dr. Chaos, the only game I ever played when I was young and had no Idea what the heck I was doing, but somehow I still managed to get quite far in this game untill I was stuck. I finally realized what I was actually suppose to do and the whole concept of the game. The object of the game is to save Dr. Chaos by collecting many items, finding the secret Warp Zones and destroying the monsters in them. In this game the player assumes the role of Michael Chaos, brother of mad physicist Dr. Ginn Chaos, who has been doing Warp Zone experiments in his mansion and gone missing. Armed with only a Knife in the beginning, as Michael moves through the house, he can pick up Handgun Bullets, Machine Gun Bullets, Grenades and life-replenishing Yellow Vitamins and Red Vitamins. There are 11 Warp Zones in all. At the end of each of the first 10 Warp Zones, Michael must fight a large monster that carries a piece of the Laser and guards a valuable piece of equipment, the latter consisting of the Ultra Space Sensor, four Life Bottles, the Air Helmet, the Jump Boots, two Blue Vitamins and the Shield Suit. Once Michael fully assembles the Laser, he'll be able to challenge the final boss, Canbarian. For those of you who have never played or heard of this game, I won't give away the ending, but this is a must have or must play game if you are lucky enough to find it today. I'm lucky to have this game because I've had this game since it first came out in 1990, I've even taken it to a few game stores and asked how much I'd get for it, and since it is a rare game to find today I've had offers between $40.00-$60.00 and that is no lie.
.
.
.
.
.
Spy vs Spy
.
Probably not only mine but everyone elses favorite game to play while passing the time on those rainny days. The object of the game is to kill your opponent as many times as possible, while collecting all the items needed to exit the game before the timer expires. Each spy has a personal countdown timer. When a spy is killed they drop all their items, and are forced to sit out of the game for a few moments while their timer is depleted at a faster rate. you can also hide your items and boobytrap the hiding place of the item to kill your opponent and steal the bag(You need the bag in order to carry all the items). The arena is constructed from a series of interconnected rooms laid out on a grid pattern. Higher levels have more rooms, and therefore a larger play area. As well as hand-to-hand combat(and if your lucky you can even use a knife if you can find it) The spies can place traps on the furniture and doors which occupy the playing area. These traps are triggered when a spy searches a piece of furniture for an item, or opens a booby trapped door, resulting in a cartoon style animation showing the subject being blown up, zapped with electricity, etc and floating up to heaven as an angel. The Booby traps in this game are.
DYNAMITE BOMB (Counter: Water bucket)
GIANT SPRING (Counter: Wire cutters)
WATER BUCKET (Counter: Umbrella)
TIME BOMB (Counter: None, though the spy's face will turn blue upon entering a time bomb trapped room so if you are quick enough you can run out of the room and back in and the trap will be gone).
A sneaky way to win the game/levels is to trap all entrances to the final room and wait for the other player, who would have to enter in order to win. The other player would then set off the trap(s) and drop all their items, allowing the first player to collect all the key items and win that round/head for the plane hanger. A funny story I remember while playing this game, My sister had killed my spy and was on her way to the plane door, and when my spy was alive again I made it to the plane room first and boobytraped the door, and I was so excited about cheating her, I totally forgot all about the second door and the rightside and next thing you know the cutscene for the plane hanger appeared and all my sister could do was laugh at me for being to cocky and confident, that is one story I will never be able to forget when people bring this game up.
.
.
.
.
.
Blades of Steel
.
This is probably the very first hockey game I ever played when I was young, and still play it today. This is probably a game you guys weren't expecting to be on my list was it(LOL) Do many of you rember this one?. So it wasn't the greatest game made for NES but c'mon who didn't love the fighting in this game, bumping into the other players on purpose just to see how many fights you can get into in a game and tyring as hard as ever to have a tie game and enter a cool shootout mode, either that or fight in front of the goalie and get a penelty shot and go to the shootout cutscene for one shot.
.
.
And of course at the end of the game you circle around a few times and celebrate then get a black and white newspaper shot.
. (Okay not the original NES game but the arcade style of the game)
And to top it all off the traditional circle entrance around center Ice before the game starts with cool music to follow.
.
Alrighty then how about a little histroy on the game now. Blades of Steel was released by Konami for the arcade in 1987, and ported to the Nintendo Entertainment System (NES) in 1988. All teams are fictional but based out of real Canadian and American cities. The game is known for its fast paced hockey action and especially for the fighting. It is a one or two player game. When playing against the computer, there are three difficulty levels to choose from: Junior, College, and Pro (with pro being the most difficult and Junior being the easiest). Each team consists of three forwards, two defencemen, and a goaltender. There are a total of eight teams, four from Canada and four from the United States. The four Canadian cities are Toronto, Vancouver, Montreal, and Edmonton. The four American teams are from New York, Chicago, Los Angeles and Minnesota. Each team sports a different coloured sweater, but some team colours are very similar making it difficult to distinguish between them. Presumably this is because of the limited capability of computer graphics in 1988. At the beginning of the game, the gamers can select either "Exhibition" or "Tournament" matches. An exhibition match is just one game played against either the computer or another player. Tournament matches are similar to the NHL playoffs. It starts out as one team of the player's choice going against other teams in a playoff style tournament. The team that is successful in beating all of the opposing teams is awarded the Konami Cup. Fighting in the game occurs whenever two players bump into each other three times in a row without hitting another player. The fight screen appears and the gamers take control of their players. The loser is given the penalty and sent to the penalty box. If a fight occurs close to one of the nets, the referee may break up the fight and call a "penalty shot". During the second intermission, either a video game will appear for Player One to play or a Konami ad will appear featuring a bear shooting the puck into a net mouthing the words "Nice Shot!" The video game is modelled off an old arcade game, Gradius, in which a little spaceship is trying to destroy a much larger spaceship. If the score is tied at the end of the game, a shoot out (similar to a penalty shot) is used to determine the winner. Each team gets five shots. The team with the most goals after five shots is the winner. If, after that, the game is still tied, each team keeps getting one more shot until a winner is determined. This game also features distinct voice samples, which was rare at this time in NES history. Most notably, the voice says "Blades of Steel" during the beginning of the game, "FACEOFF!" before each faceoff, "FIGHT!" when a fight breaks out, and "Hit the pass" whenever the player successfully passes the puck (some people believe the phrase is "Flip the pass" but it is in question.). The arcade version, having better speech software and more memory available to use, offered a much greater variety of sound bites and commentary.
.
.
.
.
The Bugs Bunny Birthday Blowout
.
YAY! Another game I bet know one rembers or would have thought would be on my list, and even to this day In my spare time I like to play this game for a while. This game is a side-scrolling adventure game where you control Bugs Bunny on a quest to get to his 50th birthday party. He is armed with a mallot that he can swing at various enemies to defeat them, deflect certain projectives or destroy bricks. He can also collect hearts to restore his health and carrots for bonus points. At the end of each level, Bugs Bunny had to use his mallet to defeat cartoon character such as Foghorn Leghorn, Sylvester, or the Tasmanian Devil. Also at the end of each level you get to play a fun line matching game and score lives if you make a line consisting of 3 numbers or more. At the end of each world you get to play a fun Willie the Weasel game(Similar to whack the mole). The funny thing I love about this game is all the guys you have to fight at the end of each level are trying so hard to stop you from making it to your party, all the while they were the ones who sent you the invitation card at the beggining of the game, as you find out at the end of the game they were just trying to see if good ole Bugs Bunny still had it in him even at the age of 50(But that was back in the 90's, so if I'm not mistaken Bugs Bunny now is about 67 years old and everyone today still loves him among other characters of the looneytunes). Characters that appear in this game include, Daffy Duck, Sylvester/Tweety/Jr., Yosemite Sam, Elmer Fudd, Wile E. Coyote, Pepe le Pew, Foghorn leg horn and Chicken Hawk, and Taz. Even though Porky Pig appears on the cover of the game he is not actually in the game, neither is the Road Runner. This is defenetly one game I will never get rid of.
.
.
.
.
.
.
.
.
.
.
.
.
And last but not least
Beetlejuice
.
YES YES, Beetlejuice, probably the greatest game I've played for NES. I don't really have much to say about this game because I haven't played it in years and because someone stole on me way back when and to this day I still don't know who. But what I can say is in this game you basically go throught levels and stomp on a bunch of rainbow coloured beetles and thoses beetles you step on turn into what you call Beetlejuice money, and if or when you find the items store you use the dead beetles as the money. This game by the way doesn't really have much in common with the movie and the storyline is somewhat different. You assume the role of beetlejuice and basically fight your way throught the afterlife. Oh yeah I almost forgot.....BEETLEJUICE..........BEETLEJUICE.........dare I say it one more time?...Oh what the hay...BEETLEJUICE, Wow I'm actually inside the model town, well there you have it my favorite games to play when I was a kid, I'll see you all later once I get outside of this model, and take care guys.
HOME.....HOME.....HOME
.
.
.
.
.
.
.