For years Nickelodeon: the #1 network for kids has given us many forms of entertainment, from game shows and live action programs to Nick Jr. and Nick at Nite. But none have ever been so popular as the series of animated shows known to everyone as Nicktoons. While kids today watch stuff like The Fairly Oddparents and Spongebob Squarepants, the first real Nicktoons started way back in 1991 with the premieres of "Doug", "Rugrats", and "The Ren & Stimpy Show". But we may not have had Nicktoons today if not for the many talented studios behind them, and that's what this article is about...
Jim Jinkins created the character of Doug Funnie through doodles he did to cheer himself up, and he became the inspiration for a character that kids could really relate to. In 1990 early versions of Doug and Porkchop appeared in commercials for Florida Grapefruit and USA Network. Little did anyone know that these characters would soon become world famous.
In 1991 Jinkins created Jumbo Pictures and on August 11th, Doug premiered on Nickelodeon as the very first Nicktoon. The show follows the adventures of Doug Funnie and friends as he writes about his life in Bluffington. It was a huge success for Nick lasting until 1993 and eventually it caught the eye of another famous company.
In 1996 Disney bought Jumbo Pictures and as a result taken some of the rights to Doug from Nick. The former Nicktoon star soon found himself under the mouse's wing and an entirely new version of Doug came on ABC as "Disney's Brand Spanking New! Doug", alongside shows like "Pepper Ann" and "Recess". When I saw this version of Doug I wasn't quite sure what the difference was, but I guess I didn't watch the show enough. One good thing I could say about the Disney version though is that they made Connie look more attractive.
Disney also released "Doug's 1st Movie" in 1999, which was originally meant to be direct-to-video but was rushed into theaters as a way to compete with The Rugrats Movie from Nick.
Jim Jinkins also created other shows for Disney such as "PB&J Otter" and (surprisingly) "101 Dalmatians: The Series". At the time I would have thought it was just more of Disney's stuff like "The Lion King's Timon and Pumbaa", but I had no idea that the creator of Doug was behind it!
After PB&J Otter ended in 2001, Jumbo Pictures changed it's name to Cartoon Pizza and now works on Playhouse Disney shows like "Stanley" and "JoJo's Circus".
Of course Doug was not the only Nicktoon to premiere that day. While Jinkins was working on Doug, another company Klasky Csupo were working on their own show to pitch to Nick... and probably the most famous Nicktoon of them all.
While doing animation for "The Simpsons", Arlene Klasky and Gábor Csupó created a pilot called "Tommy Pickles and The Great White Thing" which then became the show Rugrats. The show starred Tommy, Chuckie, Phil & Lil, and Angelica and explored the world through the eyes of babies. The show lasted until 1994, but an amazing increase in popularity caused Nick to revive the show and since then it has become Nick's longest running Nicktoon ever, outlasting all the other originals.
Klasky Csupo created many other new Nicktoons for Nick like "Aaahh!!! Real Monsters" (which was on around the same time as Rugrats) and later on "The Wild Thornberrys","Rocket Power", and "As Told by Ginger". To be honest I never really liked The Wild Thornberrys or Rocket Power because I thought they made the characters look too ugly and I liked it better when they were doing babies.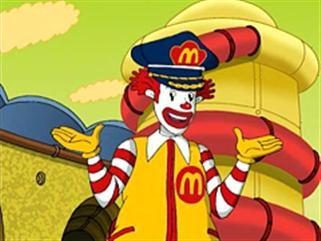 Klasky Csupo also made a series of videos for McDonald's called "The Wacky Adventures of Ronald McDonald" which was done in their own familiar style.
The success of Rugrats led to two films from Nickelodeon Movies: "The Rugrats Movie" and "Rugrats in Paris: The Movie", and later on a crossover movie with The Wild Thornberrys called "Rugrats Go Wild". It should be well noted that the first two movies introduced two new characters: Tommy's brother Dil and Chuckie's new sister Kimi. Also by 1999 the popularity of Rugrats began to decrease with the arrival of Spongebob Squarepants, who would eventually take over as the most popular show on Nick. In an attempt to keep the show interesting Dil and Kimi were added to the series and a new intro was made, which many believed was the point when Rugrats finally jumped the shark.
In 2003 the Rugrats were spun-off into a new Nicktoon called "All Grown Up!" which showed the babies as older kids now going to school. This series was recently cancelled in 2006, and around 2004 Klasky Csupo had ended production on all their shows.
Up next, Ren & Stimpy and Rocko's Modern Life...