***Snare hit***
When this Boy Meets World!
Boy Meets World!
Wandering down this road that we call life
Is what we're doin'.
It's good to know I have friends that will always
Stand by me.
When this Boy Meets World.

N
o sitcom theme gives me more of an exhilarated feeling than the one above. In my twenty-two years on this earth, I can't recall experiencing such a deep emotional attachment to any particular TV show as I've had with
Boy Meets World
(BMW). From the very first episode all the way to the very last, my undivided attention was continuously situated towards this show. In my natural progression from boyhood to preadolescence, BMW was right there every step of the way teaching me the workings of the universe and got me acquainted with it rather cozily.
It might sound cliche and a common occurrence to you - and rightfully so - but the Matthews family became my second and artificial family. I simply clinged tightly to the strong mesh established between the characters
Alan
,
Amy
,
Eric
,
Cory
,
Morgan
, and later little
Joshua
. My fascination with this close-knit group was entirely inspired by my ever-existing urge to be a member of the Matthews clan. As much as you might wonder if there were any dark secrets as to why I wanted to be a Matthews, you'll be sorely disappointed. I had no reason to escape my own reality. Besides the fact I was only 5 years-old when the show started its 7 year run, I lived a happy life that never positioned me to long for another. My little enamored brain just thirsted to be in this wonderful world created by
Michael Jacobs
and
April Kelly
; a perfect world where hilarity ensued and morals were discerned.
Starting at the beginning might be the most appropriate way to show you my growth alongside BMW. When the show began, the character of Cory was played by a very young looking
Ben Savage
. In fact, the overall cast had a tinge of youth injected into each character during the early years - save for
Mr. Feeny
, played by
William Daniels
. Although the age difference between Savage and I was quite large, I still looked up to him as an equal within the breadth of our social endeavors. Cory was just trying to find exactly where he fit into his world, while I worried about when I would worry about such ideas. I knew I was far from reaching that age, but I thought, "Why not learn about this stuff before I get there?" I was more than willing to prepare for my extremely awkward stages in life. Through the lessons that were always incorporated into the plots of BMW, I sought clarity for my future. Cory Matthews was always there to show me how to
survive as a lowly 6th grader, handle the rigors of the middle school dating world, aspire to be a professional baseball player, and balance the importance of family
. But I could only absorb more information as he grew older.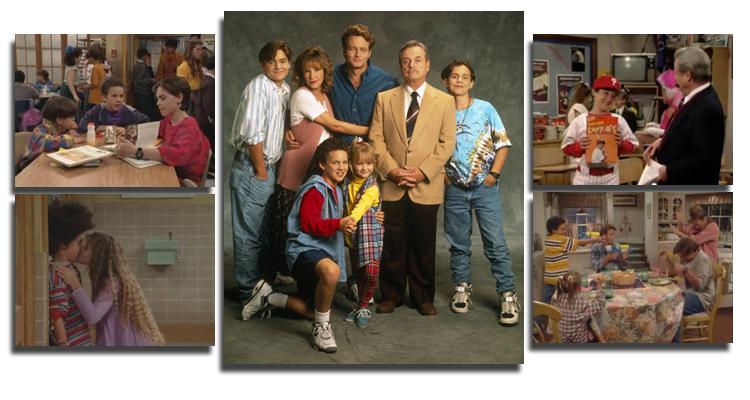 As the young cast rapidly grew into their late-teens and I remained in my elementary confines, I soon was introduced to more mature themes. One of which is none other than finding true love in this big blue world of ours. During the constant oscillation of the Cory and
Topanga Lawrence
(played by
Danielle Fishel
) relationship, one is exposed to every kind of love hardships and joys. It proves that love is something that is a perpetual struggle - and although it may have its dark days - brighter days are always on the horizon. I guess I'm inadvertently spoiled with the notions of love from BMW. I still seek that perfect Topanga out there who just snuggly fit into the Cory mold. I can only pray a girl with a Topanga charm will gracefully amble into my life and fit my own mold just as beautifully. That perfect girl for me may never stack-up to Fishel's character that well, but if BMW taught me anything it's that a soul-mate can exist out there in some of the strangest places.
"Use a mirror, babe."
A good portion of the series reflected Cory and Topanga's bond, and I took a lot from it. From dealing with apprehensive emotions, to giving your all to win back the person you love, to feeling the divide of someone trying to wreck your relationship, to stomaching the sexual tensions during one's prom or wedding night. The list could absolutely go on perennially. I believe this theme is the most resourceful from the series, and I'm strongly in its debt for gracing me with this information at an early age. Though stories revolved around issues like child abuse, economic turmoil, alcohol use, and student-teacher conflicts, that smack of romanticism is what still hook and reels me back to the show in a consistent manner.
Throughout the course of the show, Cory engaged in one unique friendship with
Shawn Hunter
- played by
Rider Strong
. But was it truly a unique partnership? In many ways my friendship with my best friend, Bill, through elementary and middle school was alarmingly similar to that of Cory and Shawn. Briefly hitting the highlights, Bill was the adventurous one, very outspoken, masculine in every way, great with the ladies, prone to some trouble, and in some ways less assertive in his studies at school than me. All traits point to easy comparisons towards Shawn. I was more like Cory, who is remarkably almost the exact opposite of his counterpart. My interaction with Bill was almost always loosely based on how Cory and Shawn collaborated. With silly antics galore, our friendship mirrored what I saw on my TV screen. It was never a perfect coalescence between reality and fantasy, but I would say the two dimensions had the same proverbial mother. I can't perceive the numerous lessons I learned about friendships from BMW, but I'm most assuredly thankful for them.
"Stop it! You're boys."
About the time I was in 5th grade, the kids from
John Adams High School
were embarking on a new path at
Pennbrook
college. Although my collegiate aspirations were vacuous, I still retained much of the material my little eyes gazed upon because I knew one day I'd be in their very shoes. My sister was about to graduate from high school and head off to the east Texas university Stephen F. Austin during this time. My small callow mind just projected images of my sister running into Cory or Shawn,
dealing with co-ed bathrooms, hanging out in the college's common area, and being in classes with the same 9 or 10 people
. The naivety of these thoughts didn't deter me whatsoever. In a way the gang from BMW had become sort of like a new batch of older siblings for me. They say it's best to learn from your own mistakes, but on a weekly basis I was learning how to deal with life's obstacles from my seven fanciful friends. I tucked each solution away in my back pocket for days I am currently living. It might sound corny, but I probably would have never bit my lip and dove into the college lifestyle without these tidbits. With the invaluable resources in hand from BMW, college has just become another chapter in my life like it was in Cory's.
At the end of the series we finally got a sense of who all of these characters really were. As they crossed into the territory of adulthood, we recognized the paths that each character had taken and the paths they were about to take. I for one felt a sense of pride and admiration - as if they grew up around me. I saw them grow from little runts ruling the 6th grade halls to mature adults finally finding their place in the world. Oddly enough I find myself in the same situation, or at least approaching it. As I draw near to meeting my own world, I wonder how will I accept my new challenges. Where will my life lead me? How will the things I've learned affect my roads ahead? I am fairly confident that where ever I wind up being is absolutely because of the teachings I've accumulated. Yes, the point of this article is to describe the messages I've stumbled upon from BMW, but I do have advisories found from my real family, my real friends, my real teachers, and my real life experiences. I do feel like BMW has made me a better person, but a show is merely a show. I owe a huge debt of gratitude to those closest to me. They are the ones who have showed me that the world's greatest show cannot dethrone the world's greatest reality.
"Do good."
Laters!
UNDERPANTS!!!