Ladies and Gentlemen, I would like to talk to all game fans. The video game Tekken is in fact the evolution of the fighting games. Since its birth in 1995 with the first tekken, it proved that it was going to be a game that would be talked about for years on.
It is true and any fan would say it, "Street Fighter and Mortal Kombat held hands and kicked the door down for other fighting games to make an impact. But in an era where Mortal Kombat is at its end and Street Fighter making a slow return, people been sort of asking "When they are gone, Who's the next big thing?" Many have tried such as Killer Instinct, Samauri Showdown, Virtual Fighter, and Fatal Fury, but none of their successes compared to what Tekken 2 had in store.
Tekken 2 raised the bar because it was getting much more attention than the previous game. Introducing new characters and adding more storylines to the game, Some critics referred to the game as "A movie that you can play." Around the same time video games in 1996, such as Resident Evil, gameplay has begun to resemble more of a movie than just an average, which adds to the excitement.
When Tekken 3 debuted in '98, the world finally took notice that Tekken was the new phenomenon in the world of gaming. Though it still had to deal with the likes of Virtual Fighter, Street Fighter, and Mortal Kombat, it showed that it was still a forced to be reckoned with. According to Metacritic, Tekken 3 has a score of 96 out of 100, indicating universal acclaim and is ranked number 2 on their list of greatest playstation games. Tekken 3 became the first game in three years to receive a 10 from a reviewer from Electronic Gaming Monthly, with three of the four reviewers giving it the highest possible score (Tekken 3 was the first game to score a 10 under EGM's revised review scale in that a game no longer needed to be "perfect" to receive a 10; the last game to receive a 10 from the magazine was Sonic & Knuckles).
Like all other games, Tekken 4 did not get the warm ovation Tekken 3 had recieved. Tekken 4 received an average of 82% at Game Rankings.[3] Edge reviewed Tekken 4 in their June 2004 issue, awarding six out of ten.[1] The review highlighted Tekken 4's experimental and pretty nature; and that overall it is a more solid and thoughtful proposition than its predecessor, but concluded that the game feels "over-familiar and curiously uninspired." Though the bad review, it still managed to earn a best Fighting game award in 2002 at the E3 gaming awards.
Tekken 5 proved to pick up the slack that Tekken 4 created. Tekken had new characters, the best storylines, a hard boss fight with Jinpachi Mishima, and amazing graphics. It also marked the 10th anniversary of the series in 2005. Though the price was kinda ridiculous lol ($95.00), the price did not matter because it was the talk of the world. While Street Fighter was on hiatus and Mortal Kombat still putting out games such as Deadly Alliance, Deception, and Armageddon, Tekken was being considered the "CHILD OF THE FIGHTING GAME POWERHOUSES." It also had a sister installment called Tekken 5: Dark Resurrection.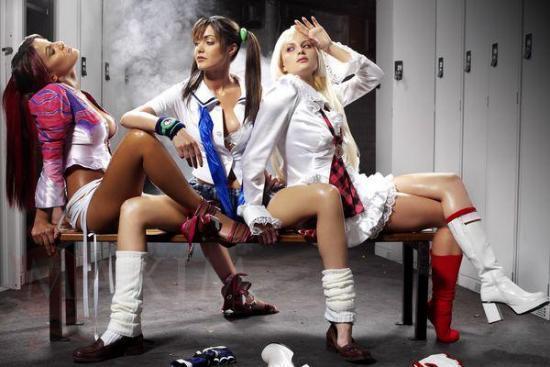 Now to the present. After a 4 year break from the world Tekken 6 will be released in Fall 2009. Already being called "One of the most anticipated games of all-time" next to Street Fighter 4, Resident Evil 5, and Fight Night Round 4. The release of Tekken 6 was not easy though. It faced a lot of set backs through pushing date backs. Instead of being upset, It made fans become even more anxious for the return of one of the greatest fighting games in history.
In the end Tekken has proven that all of the games it produced helped changed the landscape video games forever.Guinness World Records awarded Tekken with multiple records in the Guinness World Records: Gamer's Edition 2008. These include, "First PlayStation Game to Sell Over One Million Units", "First Fighting Game To Feature Simulated 3D", as well as a record for the entire series as "The Best Selling Fighting Series for PlayStation Consoles." Tekken was the first PlayStation game to sell over a million units.