Action movies have mostly had male protagonists throughout the years, with the women usually shunned to the side as eye candy or body count. There are some exceptions to that concept, though, and my newest interview subject is one of those exceptions.
Her name is Sybil Danning.
I don't know what I can pin it down to, but I've always enjoyed watching women take charge of the situations they're in, and laying down the law. From "Chained Heat" to "Grindhouse", Ms. Danning has been one of the supreme definitions of the woman of strength.
With the assistance of her manager, Peter Bucher, I was able to do an e-mail interview with her, so without any further ado, here's:
The RetroJunk Interview With Sybil Danning!
--------------
Caps: What were your pop-cultural likes growing up?
Sybil: My life as a teenager in Europe was very serious. I started working at 14 and had very little free time for myself. I did, however manage to go and see every movie that came out with Elvis Presley and bought all his records.
Caps: What were your school days like?
Sybil: I hated school. My mother being a very strong disciplinarian, my life was very structured. To me, school was an extension of that structure. Ending school at 14 and going to work was a pleasure for me.
Caps: What inspired you to become an entertainer?
Sybil: That came by chance. I was working as a model in Austria when one day a director who had seen my pictures at a photographer's office, chose me to play a role in his movie to be shot in Germany. That movie gave me major PR in the top German magazine Stern which led to the next movie and an agent. My director was Czech, my agent Hungarian, I Austrian, and the movie German. Typical European movie making.
Caps: What jobs did you hold before becoming an entertainer?
Sybil: My first job, not counting babysitting, was with my Uncle in Ried i. Innkreiss, Austria in his private practice as Dental assistant. I bartended on the side, Representative for Dental Products for a Dental Company in Vienna, Assistant to a top Dental Surgeon in the top Hospital in Salzburg then in his private practice, made a Diploma in Cosmetology in Salzburg, worked as a cosmetician, model, actor, writer producer, director.
Caps: You had been acting in European movies since 1968, but you made your American debut in the 1974 movie "Bluebeard". When you made that movie, what did you feel was the main difference between European and American film making?
Sybil: Instead of doing my make-up in a mirror hanging from a tree, going into a nice make-up room with Neil Diamond music playing with professional lighting, same for the hair dept was very nice. It was the main studio in Budapest, Hungary so I had a dressing room to myself where I could rest and prepare for shooting. Everyone was most professional including the top stars were very kind, engaged, respectful and easy going, including Richard Burton. Most European productions too were professional, but the budgets American movies brought made a difference.
Caps: In 1979, you had a supporting role in the movie "The Concorde...Airport '79". What was it like to work on that movie?
Sybil: I played Eddie Albert's wife and had never before seen one episode of "Green Acres" but Eddie told me how much he loved Eva Gabor and the fact I was Austrian. Maybe he was connecting us with the Austro-Hungarian Empire. The shoot was at Universal Studios, my first Hollywood and American Studio experience. The disaster scene of the Concorde going down was exciting. The mock-up was incredible and gave us real reason to be true to those scenes. Though I had my own, I spent most of my time in Eddie's trailer where he played his guitar and sang to me. One of his favorite songs was Sondheim's "Send in The Clowns". It is because of Eddie I turned down a 5 year contract Universal offered me. He told me "They will just stick you in every TV show and not give you movies; you belong on the big screen." I took his advice to heart! I turned down the contract.
Caps: "Battle Beyond The Stars" was full of stars. Did you feel that your role in the movie could've been bigger?
Sybil: No, I never look at the size of a part. The substance of my character is most important to me. The idea of doing an Akira Kurasawa classic, The Seven Samurai version in outer space was most intriguing to me. Meanwhile, "Battle Beyond The Stars" has become its own classic and through wonderful new technologies, keeps breathing a new life. Originally released by New World, Orion, NBC and WB, John Saxon and I promoted BBTS for Shout Factory at the San Diego ComiCon for their release on Blu-Ray. It was my character "St Exmin" who committed her version of hara-kiri, jammed the stellar converter on the bad guys' ship and died a hero. It was me WB asked to tour Europe and promote the film. Size does not matter, substance does.
Caps: You played Ericka in "Chained Heat", which was one of my favorite prison dramas, and one of the best examples of an action movie with bad-ass female characters. Do you feel that the movie was ahead of its' time?
Sybil: No, I don't think so because Women in Prison and as a matter of fact, Men in Prison movies have been around long before "Chained Heat". They have always been successful worldwide, a subject matter that interests audiences worldwide, whether it's Joseph Losey's "Concrete Jungle" (Writer's note: This was the American title for Losey's film "The Criminal"), or Tom De Simone's "The Concrete Jungle" with my dear friend Barbara Luna, there is always room for more. I've turned down many bad scripts, but actually have one now I really like and want to direct beside playing the warden.
Caps: You played Ariadne in "Hercules", which was produced by Cannon Films. What did you think of Menahem Golan and Yoram Globus?
Sybil: I had worked on movies with Menahem and Yoram before and I must say, I loved working with them. They were major doers at that time. I'm sorry they're not around anymore. The only thing they did not do, which is also my fault because I did not ask, was give me credit where credit was due. I got them "finishing funds" for God's Gun, when the production money ran out shooting in Israel. I got all the funds, distribution and cast Klaus Kinski in Operation Thunderbolt, aka Mivtsa Yonatan, (Raid on Entebbe) for which we were Oscar Nominated for Best Foreign Film. I would have been proud to get a producer credit on those movies even without a producer fee. I had the lead role in each movie and got paid as I did for every other movie I did for them. I was still living in Germany at that time and new to the business of raising/providing funds, basically doing what a producer does. I've learned my lesson since.
Caps: You played Contessa Luciana in the Andy Sidaris movie "Malibu Express". Compared to current action movies, Sidaris' movies didn't really make any statements about modern society. What do you think has caused the change in action movies between the 80s and now?
Sybil: Andy's movies were all about fun, guns and sexy women period. I loved working with him. The 80s were very much my time because I filled a gap and some say pioneered strong women's roles in a Reagan Era which set women back in those roles in studio movies. Movies like Alien and Tomb Raider with plausible actresses helped further strong women's roles in studio movies. A sudden surge to date in adaptations by all studios of Comic Books certainly has continued providing strong female roles. I love those roles but rather than reflecting modern society, these roles undermine such, as the characters are fantasies, therefore not threatening! Again I will take things into my own hands. I've had my own comic book and am developing a new one currently under consideration with Top Cow based on the character RUGER I own. (Writer's note: Ruger is the character Danning played in the movie "L.A Bounty").
I'm developing with my dear friend, partner and Guru of Games, Les Thomas, a RUGER 1st person shooter Game. Video Game Analyst, Specialist, Journalist and master in this field, Les pioneered and is spearheading the game for which he has garnered incredible interest internationally. Les will be attending the world's largest and most significant Consumer Electronics Show (CES) January 10-13 2012 in Las Vegas to meet with major contenders. Also a movie based on RUGER is in development. To stay tuned, please go to www.sybildanningsruger.com.
Caps: In "Reform School Girls", you played Warden Sutter. What was it like to be playing an authority figure instead of a rebellious one?
Sybil: Playing authority figures is my forte per say. Playing the warden came natural. When "Chained Heat" came out the majority press wrote, I was so tough I should have played the warden. I loved working with Tom DeSimone and told him I think we need to have a fight to the death between Wendy O. Williams and me at the end because we were so at odds throughout the movie. He loved the idea but came back to me and said Wendy refused to do it with no explanation! I know the fans would have loved it and would have made great sense for our characters. Too bad, that's why I have to direct one myself, which by the way, Tom suggested I should do! Thanks Tom, great advice and I'm taking it seriously. I just starred in and produced a music Video for THE LAST VEGAS' new single THE OTHER SIDE. Lead singer Chad Cherry and I just decided I will direct their next Video and play a small part. To see the video go to www.thelastvegas.com
Caps: You've played both characters, so in a fight to the death, who do you think would win: Ericka or Warden Sutter?
Sybil: Warden Sutter would win because she is bad through and through to the core. She was probably born in that uniform with her underlying sadistic traits only to be compared to an SS Officer. Ericka on the other hand though tough too, had certain traits of humanity and kindness. She even showed gentleness with Linda Blair.
Caps: You played Queen Lara in the title segments of the 1987 sketch comedy "Amazon Women On The Moon". Looking at your filmography, it was somewhat of an anomaly for you. What was it like doing comedy as opposed to action or drama?
Sybil: Believe it or not, I enjoy doing comedy, though I know it's not what my fans want me in. In that movie, wearing a great costume, having a great throne with my Amazon girls all around and delivering the line "Men are useless", is hilarious! For those fans who love comedies, will love a comedy I did in Germany, released in the US on cable called, FRENCH PUSSYCAT. In the few comedies I've done, I truly had fun and comedy comes natural to me. I do prefer dramas and action movies.
Caps: For the movie "L.A Bounty", you were not only the star, but you also produced the film and created the story for the movie. Did you think of directing the movie also, or would it have been too much pressure?
Sybil: No it would not have been too much pressure at all. I did create the concept and wrote the screenplay, though I gave that credit away as not to have too many credits and be frowned upon like they did with Barbara Streisand on Yentl. She had credits for Director, Writer, Producer, Star and Music. I can't remember when a man was frowned upon for too many credits. I will not care about that in the future. I believe men and women alike should get the credits they deserve and from now on I will take them all. I would have loved to direct the movie but the bank was not going to let me since I had no prior directing experience. I did get the director to let me direct the "alley scene" where I appear in a blue haze armed with an exotic weapon That is the look I wanted for the entire movie and pretty much got what I wanted because I hired the wonderful cinematographer, the late Gary Graver who I'd worked with before.
Caps: After 1990's "Pale Blood", you didn't make another movie until 2007. Why did you take such a long break, and what did you do in the interrim?
Sybil: I had a back injury while practicing a wrestling move in the gym which took out 2 lumbar discs while destroying all the tissue. Doctors said it was an accumulation from years of accidents, car accident, falls with horses, on skis and the stunts I did myself in the movies. The LAPD retire their German Shepherds after 7 years of duty. I almost felt the same way. I was in a wheelchair, etc. I fought it for a long time with 4 epidural blocks, stretching, massages, and therapy, then surgery. I made the best of it and started writing which I enjoy and had ample time for. Not sure I would make it back to where I was, I needed time to heal and be private. My dear loyal fan and friend Jim Blogg kept his Sybil Danning Fanclub:http://groups.yahoo.com/group/TheLegendofSybilDanning/
alive during my absence. Jim also started, created and is Web Master of my Website www.sybildanning.net
Caps: One of your first roles after your break was playing Gretchen Krupp in the fake trailer "Werewolf Women Of The SS" for the movie "Grindhouse". Do you think that "Grindhouse" was making fun of B-movies, or was the parody more affectionate?
Sybil: Hey, first let's talk about my comeback! Not bad huh, a project including filmmakers Quentin Tarantino and Rob Zombie. I must tell you, there was a lot of fun involved in the making of these movies, but there was absolutely NO making fun of these movies. Are you kidding me? Zombie and Tarantino love their Grindhouse movies and would never make fun of them. They are as serious about these movies as are the fans. In particular, Rob loves Werewolf Women of the SS. I don't know, as I've never asked, but I think Rob could have been inspired by Ilsa: She Wolf of the SS, a classic on its own. Throughout the years fans have mentioned I should play Ilsa in a re-make. Rob asking me to be Gretchen Krupp was very affectionate.
Caps: What roles did you audition for, but didn't get?
Sybil: Oh boy, major movies comes to mind: Conan- Raffaella DeLaurentis wanted me, Arnold Schwarzenegger did not and took Grace Jones instead. I'm happy for her as she and I became friends thereafter and saw each other at the gym. "Forced Vengeance"-Director James Fargo and MGM wanted me but Chuck Norris did not and chose Mary Louise Weller. "The Eyes of Laura Mars"- Director, the late Irvin Kershner. wanted me, Faye Dunaway did not. Darlanne Fluegel got the role. Two years later Darlanne and I were in Battle Beyond the Stars together and became friends. Octopussy-Director John Glen wanted me, Producer, Albert Broccoli wanted me but thought my personality was too strong to be next to Roger Moore. I met Roger thereafter at the Polo Lounge and we got along very well. My dear friend Maud Adams got the role. My agent/manager at the time told me they found out; my personality seemed to be too strong for not only the women but also the men I would stand beside in these roles. Something I can't understand! These are major stars but obviously insecure in their own skin.
Caps: What's the farthest location you've ever gone to in order to make a movie?
Sybil: South Africa, Albino, with Christopher Lee. At that time it was Rhodesia, today Zimbabwe and breathtakingly beautiful. Nowhere else in the world can you ride a horse into the horizon with the sun on one side and the moon on the other. You are close to the equator and also maybe a little bit closer to....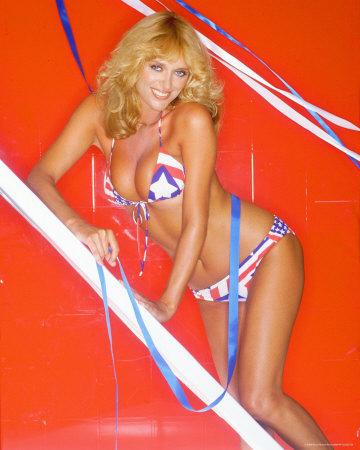 Caps: What's the one talent you've wanted to show off that you haven't had the ability to do so yet?
Sybil: Singing. It's something I've always wanted to do, but instead of not having the ability or opportunity to do it, I actually had 3 different offers to do a record. I turned them all down.
Caps: If you could go back to your youth with the knowledge that you have now, would you do anything differently?
Sybil: NO, there is nothing I would have done different with the exception that I wish I could have come earlier to Hollywood than I did.
I'm writing my Autobiography with my Editor in Chief, Marshall Terrill, best-selling Novelist, ("Steve McQueen: Portrait of an American Rebel", Jeremy Renner will produce and star in). Marshall also wrote and is producing, Fame & Fortune a movie based on his bestselling novel, Elvis: Still Taking Care of Business. Before that, Marshall wants me to put together a picture book which I'm doing. I'm producing/starring in a vivacious "Vampire" movie, The Last Revenants written by my dear friend Scott Sanford. I'm also producing and will play "Anna", famous shipyard worker/activist in the historic/action/political love story called Solidarity, based on the Polish Union leader "Lech Walesa" who stood up to the Russians, helped Eastern Europe out of Communism, won the Nobel prize for Peace, became President of Poland, close friend of Polish Pope John Paul II, was madly in love and father of 8.
Thank you, and and thank you to all my loyal fans! I love you!
Sybil
-----
For more information on Ms. Danning, visit:
www.sybildnning.net
www.facebook.com/sybildanning
www.twitter.com/sybildanning
www.myspace.com/sybildanning