This is my second article. It is a discussion of the players and teams that I heard about or watched while growing up.
George Herman Ruth
The Sultan of the Swat! The King of Crash! The Colossus of Clout! The Great Bambino! Babe Ruth. For the Past century, Babe Ruth, represented the epitome of baseball players. In my mind, he is still the champion of home runs although Hank Aaron passed him in the 1970s and players like Josh Gibson and Sadaharu Oh have hit more home runs in other leagues. Ruth started out as a pitcher and didn't really become an everday batter until his 6th season, his last year with the Boston Red Sox before the infamous trade. Given some leeway, that's about 120 more homeruns he could have hit.
Lou Gehrig
Gehrig prepares to deliver his famous speech
Another Yankee, and a hero at that. He retired from baseball after learning that he had ALS (now often known as Lou Gehrig's disease). In his farewell speech he said one of the most memorable lines of the 20th Century,
For the past two weeks you have been reading about the bad break I got. Yet today I consider myself the luckiest man on the face of the Earth.
It is unfortunate irony that Gehrig had to step aside from baseball the way he did, as he was the original iron man playing in 2,130 straight games.
Jackie Robinson
No helmet, hat falling off, none of that stopped Robinson
There is no perspective on baseball complete without mentioning Jackie Robinson, who for as much credit as he receives for the integration of baseball, continues to be woefully underrated as a player. He won rookie of the year in 1947 and the NL MVP award In 1949, also helping the Brooklyn Dodgers win the world series in 1955.
Roberto Clemente
Clemente looks into the distance, as if to see his fate
Clemente left everything on the field
Clemente is an oft forgotten player, although he was a great player and a great man. He had been part of the first wave of Latino players opening the door for others like the Alomar brothers, Pedro Martinez, and Albert Pujols. Unfortunately, Clemente's life was cut short when the plane he was on for a humanitarian mission to Nicaragua crashed. Nicaragua had suffered a strong earthquake and Clemente wanted to help out. The emergency relief he arranged to be flown to Nicaragua was turned away by corrupt government officials and so Clemente decided to accompany one of the flights, hoping his fame would get the plane would be let through but they never made it there.
Hideo Nomo
Nomo starts his pitching motion with a strech
Nomo winds up using his patented tornado style
A lot of the movement of Japanese players to the Major League is attributed to Ichiro Suzuki, but Nomo is the one who really started the influx. He had a couple of really good seasons, but never consistently lived up to the hype after his first few years as his ERA went from a magnificent 2.54 to a disappointing 4.92 in a span of four years. However, his distinct tornado pitching style is something that will never be forgotten.
Ken Griffey Jr.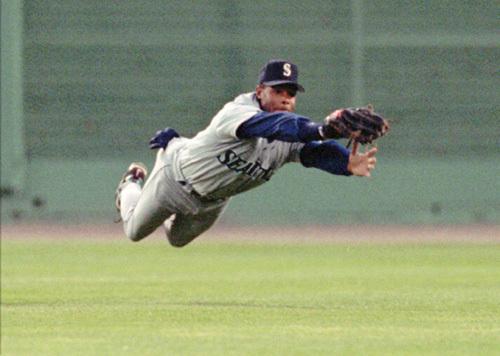 Anyone remember when this guy could fly in the field?
Really...Junior could fly!
My favorite baseball player. Since I live on the east coast and Seattle is three hours back I used to stay up late just to watch him bat once. My bed time was usually around 9:30, I think, but when the Mariners would come on TV, I would be allowed to stay up until 10:15 so I could see him knock-out another homer. I remember being very disappointed when he left Seattle for Cincinnati. I didn't seem him play in person until a few years ago in a game between the Cincinnati Reds and the Washington Nationals.
Bob Feller
One of the first true fireballers
I have a collection of books on old baseball players, and my favorite one to read is on Bob Feller. He came into the league really young at 17, for the Cleveland Indians. Later he lost a few years to World War II. I heard him on the radio recently talking about how they played baseball while island hopping in the Pacific. My dad met him once and got a baseball autographed when Feller came to one of the military bases in Germany.
Bob Gibson
Look at that ball zoom, look where it's headed...
As a pitcher it is important to be able to intimidate batters, and Gibson was clear and far the best at this, perhaps only challenged by Randy Johnson. Not only did the way he stood at the mound make hitters uncomfortable, but many of his pitchers made them think twice about stepping into the batters' box. In one year he had a simply insane season, posting a record 1.12 ERA in 1968. I met him once at a Commissary in Ft. Campbell, Kentucky where he was signing baseballs.
Joe DiMaggio
DiMaggio was once the face of high-life New York
Vince, Joe, and Dominic DiMaggio
How did so many Yankees make it on my list...Anyway, the Yankee Clipper, Joe DiMaggio is my favorite player to have been with the Yankees. As great as he was, holding a record 56 game hit strike almost impossible to break, he might be just as famous for his very short marriage to Marilyn Monroe. DiMaggio's career stats would have been much higher if not for 4 years missing due to World War II. His brother, Dom, who played for the Boston Red Sox is greatly underrated and the third DiMaggio, Vince, also had some success.
Brooks Robinson
Diving stop by the third baseman
Brooks Robinson won the 1964 AL MVP and helped the Baltimore Orioles win the world series in both 1966 and 1970. My Grandfather gave me a baseball signed by Robinson. He had the ball sitting around for thirty years or so, and it is a little worn but it doesn't matter since I don't plan on selling it.
Seattle Mariners 1990s
Griffey slides into home to beat the Yankees in the '95 ALDS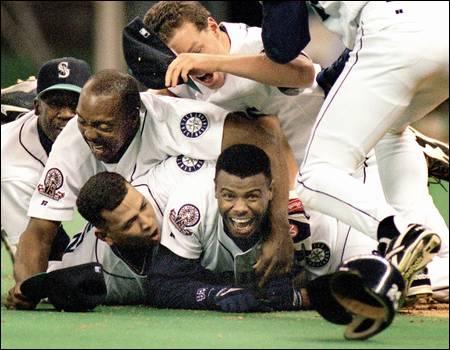 Teammates tackle Griffey in celebration
What's not to like about a team that upset the Yanks in the 1995 playoffs? The line-up was built from top to bottom with talent including Griffey, A-rod, Edgar Martinez, and Jay Buhner. The pitching staff was anchored by ace Randy Johnson. Great defensive shortstop Omar Vizquel spent his early years with the Mariners, as well as first baseman Tino Martinez. When the core of this team broke up, around the same time as the Seattle Supersonics NBA team fell apart, the city of Seattle lost its flair in the sports world.
Atlanta Braves of the 1990s
Tom Glavine, John Smoltz, Denny Neagle, and Greg Maddux
World Series Celebration
The team that won the World Series in '95 was not the Mariners. They also went to four other World Series matches and won the division every year in the decade from 1991 onward. Although Seattle was my favorite team I really liked the Braves too. Their starting pitcher rotation is unmatched in history. Three future Hall-of-Famers, Greg Maddux, Tom Glavine, and John Smoltz led the team managed by Bobby Cox. Two other pitchers, Denny Neagle and Steve Avery, also had a few exceptional years in Atlanta. The team had a number of other great names in the line-up from Fred McGriff to David Justice and Javier Lopez to Ryan Klesko, and of course Chipper Jones. There are a couple other familiar names including Marquis Grissom and Jason Schmidt who was just coming up from the minors and is better known for his San Francisco years.
The Cincinnati Reds' Big Red Machine
The Great Eight
This team was stacked. Pete Rose, Johnny Bench, Joe Morgan, Tony Perez. They won the World Series in 1975 and 1976, the only NL team to win back to back since 1922. The core of the lineup was referred to as the Great Eight and included other players such as Dave Concepcion and Ken Griffey Sr. My dad used to talk about this team all the time.
My collection of autographed baseballs...Bob Gibson, Bob Feller, Brooks Robinson, and Ken Griffey Jr.
This ends my article. I would like to have covered a whole host of other players and teams. Ted Williams, Ozzie Smith, Sandy Koufax, Willie Mays, Mickey Mantle, Nolan Ryan, Josh Gibson, Sadaharu Oh, the New York Yankees of the 20s, 30s, 50s and/or 90s (they probably need a whole article to themselves), and the 1968 Detroit Tigers.