My SNES collection part 2
16. Madden 96: Madden 96 is a football game that you play football the goal of the game is to ultimately win the superbowl. You have a variety of different teams to choose from such as the Tampa Bay Buccaneers, Denver Broncos, and Miami Dolphins. You even have a special All Madden team. Overall, I had a blast playing Madden 96 I thought the graphics were cool and the game provided bone crushing tackles, huge runs and a variety of different passing plays. Along with a special feature that you could actually go through each and every drill. Madden 96 was really an awesome game because when I hit someone in the game I actually sit back in horror thinking about if the guys leg was broke or not. And another thing is the game tells you if you broke the players bone or not. I think it is very cool at the end of the game when your team finally wins the superbowl. I think all of you should check Madden 96 out for the SNES. Overall though this game gets a 9.5 out of 10.
.
.
17. Mickey Mania: Mickey Mania is a game in which you must save Steamboat Willy from Pete. The game is very cool because you can throw marbles at skeletons, bats and butterflies, you can also jump and duck out of the way. In the game you will be fighting a mad doctor and moose will be chasing you and you will also have to deal with those annoying ghost that appear and re-appear. When I pop in the game to play it the game is actually very hard making your way through all kinds of crazy, wacky obstacles. I think the game is awesome because it has all sorts of colors on each level. I think all of you who have not played Mickey Mania for the SNES should check it out because it is a very hard game but then again a very well drawn out game. Overall this game gets a 9 out of 10.
.
.
.
18. NBA Jam Tournament Edition: NBA Jam Tournament Edition is a great game that you can pick from a variety of different teams such as the Chicago Bulls, Atlanta Hawks, and Indiana Pacers and so on. I personally like the Indiana Pacers because they have Miller and Smits. The game provides a huge amount of dunks that you can choose from by standing in the dunk zone on a different part. You can also get on fire by shooting three consecutive shots in a row. You can also shoot 3-pointers, and you have cool codes at the "tonights matchup" screen. Overall the game is one of those games where it is not really hard or easy but sometimes the odd thing about the game is that it can get really hard or really easy. It is just awesome because I can slam the ball right over the opponents head or I can steal the ball right out of his hands I feel it is just like playing NBA basketball. All of you who have not played NBA Jam Tournament Edition for the SNES try it because you can play like a pro without actually being one. Overall, this game gets a perfect 10 out of 10.
.
.
.
19. Newman Haas Indycar: Newman Haas Indycar is a game where you control a racecar trying to win the cup. Overall you have pretty interesting tracks to race on you have to play really careful because it is like a game of chess, also moving around the cars can be a pain in the old backside and I personally have never beat the game but some parts are interesting. When I play this game though I feel like that sometimes I want to barf and bash the holy mess out of the cartridge. And other times when I play I want to praise the game and sing its praises. I think it is cool when you hit the people in the back with your car and also run over stuff. Overall though if you are a racing fan I would say check the game out. Otherwise, if you want an hour of fun though sure buy it. Overall, I have very mixed emotions about this game that is why it gets a 6.5 out of 10.
.
.
.
20. Pinball Dreams: Pinball Dreams is basically a pinball game. You have four different pinball games to play. You can play the steel wheel, beat box, nightmare or ignition. Each one of the game has a theme to it the steel wheel has a western theme to it saying western sayings such as yee ha. And the beat box has kind of a rap theme to it. And the nightmare has a dark Dracula type theme to it laughing every time your ball goes past the flippers. And the ignition has a space launch theme to it. I feel very good while playing the game I feel like that I am actually in front of a pinball machine. Well actually four pinball machines and all the funny sounds and sayings are funny to listen to overall I feel very happy when I play this game. I think that people who have not played pinball dreams should really try to find a copy of the game for the SNES. Overall, the graphics are very cool. And the sound is top notch for the SNES. Overall, this game gets a perfect 10 out of 10.
.
.
.
21. Street Fighter 2: Street Fighter 2 is a game where you play 1 out of 8 characters from all around the world each one with there own unique fighting style. The goal is to find M. bison and defeat him. Although the game is so much more personal than that because Blanka is trying to find his mom, Zangeiff is trying to show that Russia is the strongest place on the map. And Dhalsim is fighting to rescue his family. When I play this game I feel like a military person like Guile or a big Sumo Wrestler like E. Honda. I feel very cool because you can sit there and throw a huge ball called hadoken or execute the flash kick or you can throw yoga fire. I think it is cool when you finally see the character endings and all the glowing detail at the end. Overall people who have not played Street Fighter 2 pick up a copy of the game now because you can be a huge guy from Russia or a guy named guile from the air force. Overall, this game gets a 10 out of 10.
.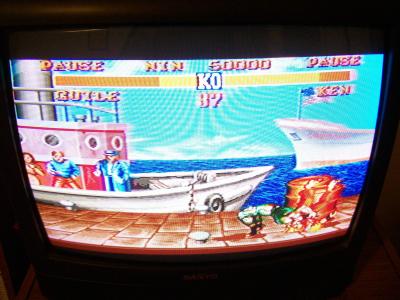 .
.
22. Street Fighter Alpha 2: Street Fighter Alpha 2 is a great game in the street fighter series for the SNES in fact the last Street Fighter game for the SNES. The game basically follows the same plot as Street Fighter 2 except you now have new characters such as Birdie, Rose, Sakura, Adon and so on. Except this time at the end you do or do not fight bison depending on who your character is. The game has cool graphics and sound followed with cool combos, but I don't like the new character design. When I play this game I feel sort of let down by the series because I feel that it just is not the same as the original. Also, when I play the game and when an opponent sits there and just bust out a huge combo I feel a bit put out. Although the game is not really a bad game at all I would say for fans of the series check it out. Otherwise do not really bother. Overall, this game gets a 7.5 out of 10.
.
.
.
23. Sunset Riders: Sunset Riders is basically a side scrolling shooter that has a cowboy theme to it. Your main goal in the game is to track Richard Rose down and to capture him. You have 4 characters to choose from in the game: Billy, Steve, Bob and Carmano. Billy and Steve are the guys with the pistols, they have a quicker shot but it is very weak. Then you have Carmano and Bob, these guys have the shotguns that come in very handy because they have so much firepower. The bosses such as Chief Wigwam, Paco Loco and Richard Rose are very challenging. I always have loved playing this game and I have always thought that this is one of the best games for the SNES because I can actually feel my hands shaking on the controllers when I am trying to blast the crap out of Chief Wigwam or dodge Richard Roses many bullets or trying to ride on the horses without getting shot down. I think it is cool though that you can finally beat Richard Rose and get the sweet victory. Overall, for anyone who has not played this game pick up a copy, you will not be disappointed because lets face it who does not like to be a cowboy shooting things right and left in the old west. Overall, this game is one of the best if not possibly the best for the SNES that is why this game gets a 10 out of 10.
.
.
.
24. Super Castlevania 4: Super Castlevania 4 is a game where you are in charge of taking the evil Dracula out and bringing peace back to Transylvania. The game provides a variety of different weapon power-ups such as the chain whip, boomerang, dagger, axe and holy water, frankly I like the boomerang or the holy water in the game the best I mean the axe is ok but you cannot use it very well for your typical ground enemies. Also the whip can now move in 8 different directions which provides a lot of range of motion for the whip in the game. Also the bosses are superb in fact I am going to go out on a limb and say that this game has the best boss design ever for the SNES. With bosses such as the two-headed dragons, huge skull, Frankenstein and the cool designed knight boss the game should keep you very busy indeed. When I play this game though I get kind of a creepy feeling going though draculas spooky castle and having to fight for my life in the game. I think it is cool though when you finally defeat Dracula and everything is back to normal and you can clinch the oh so sweet victory over Dracula and you see the castle crumble to pieces. For anyone who has not played this game though pick up a copy right away because you cant miss out on the castlevania experience at its best. Overall this game is awesome absolutely awesome with stunning graphics and background detail this game gets a 10 out of 10.
.
.
.
25. Super Ghouls and Ghosts: Super Ghouls and Ghosts is a game where you have to rescue Authors girlfriend from a huge Demon, which is very hard to do even on the easy mode. The game does provide good weapon power-ups though it provides the crossbow, lance, dagger and the crappy oh so crappy blue flames. Also the double jump can really hurt you in this game because you might double jump right off a cliff and the red demons I spend about two freaking minutes on just trying to defeat them. But now that the crappy parts are out of the way lets look at some of the good points of the game shall we. The game has very good boss design such as the see creature, three headed dragons and the ice creature that looks like a huge walking ice tree. Also the graphics and level design are beautiful with glowing detail. I felt that the game was both very good and at the same time very bad because it just had good things like the boss design and the graphics. And the bad things such as to difficult and the poorly designed double jump. For people who have not played this game though I would say buy a copy but beware the game does have its bad points so you have to take the bad along with the good. Overall, I have mixed emotions about this game that is why it gets an 8 out of 10.
.
.
.
26. Super Mario All Stars: Super Mario All Stars is a combination of Mario Brothers 1, 2 and 3 plus the lost levels. So with that being said lets start out with Super Mario Brothers, I thought this game was awesome because it provided a chance for the 1st ever power-up system and set the scale for videogames as a whole. The game also had good level design with a variety of different enemies. Super Mario Brothers 2: Super Mario Brothers 2 was honestly kind of a weird game but it was fun though because you had new enemies and you had to go around fighting this big pink egg-spiting dinosaur. You also had character choices to you could play as Mario, Luigi, Toad or the Princess. Now on to Super Mario Brothers 3: in this game you basically follow the same strategy of kicking Bowsers but and saving the princess. You can also play cool bonus games such as pick a card or you can try to match the faces kind of like a slot machine. I think this game is very cool because you actually have even more power-ups such as the frog and Raccoon Mario. And I actually feel like when I turn into a frog that I am a frog or a raccoon in real life it is very fun. The last game is the Lost Levels: The Lost Levels is basically the lost levels of super Mario brothers 1 that provides even more hidden levels to find but it is basically like Super Mario Brothers except you get more levels like ten or more. This provides a challenge for those expert gamers out there. Overall, all these games will hold a very special place in my heart because I remember me over at my aunts house always playing these games when I was like 4 or 5. So like I say all these games provide great memories and such a magical feel to them it makes me want to cry. Overall though Super Mario All Stars is a must own for any of you who have not played it. Because it is so awesome. Overall though this game gets a 10 out of 10.
.
.
.
27. Super Mario Kart: Super Mario Kart is basically a racing game which you compete in order to win certain tournaments and your main goal is to win the gold cup in every tournament. The game has different players that you can choose from such as Koopa Troopa, Bowser, Mario and Luigi. Also in the game you can do cool things to like shoot turtle shells at your opponent, get a star and run over everyone on the racetrack. And the game also has a two player head-to-head mode in which you are pitted in a maze trying to beat your opponent. The game has really cool racetrack design and good sound. I feel like that it is a bit tedious trying to track down your opponents with a turtle shell and shoot them also on the water tracks I always manage to fall in the water. I feel very relieved when I win but yet very sad when I don't even place. Personally though I absolutely love the game and I think that anyone who has not checked it out should really try playing it because it is a very fun racing game. Also very addictive. Overall though this is a great game for the SNES I give it a solid 9 out of 10.
.
.
.
28. Super Mario World: Super Mario World is a very fun game in which you are Mario and you have to rescue the princess from Bowser. Mario has a variety of power-ups this time he can change into the Caped Mario or the Fire Mario. He also has Yoshi, which Yoshi can basically walk around eating anything and everything it wants. Yoshi is a very valuable addition to the game because you do not have to mess with those stupid Turtles or Goombas you can basically just eat them or smash them. The game is the best I have ever seen in terms of level and enemy design. Although I do have to say the bosses were a bit on the easy side. Personally the experience I have every time I play Mario world it just feels great to get in another world filled with Goombas and a huge dinosaur named Bowser. In short it just feels great to be the hero of the game. I think that people who have not played this game should really check it out because you can go to another world and be a plumber named Mario and it is one of the best SNES games or possibly even the best sales wise. Overall, this game is awesome, I love it very much, and it gets a 10 out of 10.
.
.
.
29. Super Metroid: Super Metroid is a game where you play a woman in a space suit trying to rescue the Baby Metroid. This game is a maze like space shooter in which you go around different planets trying to find your way to the next boss. The game has tons of challenge to it along with very nice level and boss design. I feel that Super Metroid kind of has a nice space shooter feel to it where you just go around mindlessly blasting around with no rhyme or reason until your finally like ok where am I? then you finally decide to start playing for real. That is what I do most of the time in Super Metroid anyway. All kidding aside though Super Metroid is a flat out awesome game. I think anyone who has not played Super Metroid should really try it because the game is awesome and it is just very fun. Overall, I give this game a 10 out of 10.
.
.
.
well all yall retrojunkies that will just about wrap it up for my second article. Tanks for reading and have a nice day.