"Do you see that Odie? Tomorrow's Thanksgiving! That's the day people celebrate having food by eating as much of it as possible! Yes, that's the day people try to eat every turkey, pumpkin and cranberry on the face of the earth! It's a tradition, and you know how I loooove tradition!"
Garfield-
Garfield's Thanksgiving
Thanksgiving, like Easter, is another holiday that gets skipped over alot in the way of movies and TV specials so I figured it's a big enough holiday here in the states that it deserves an article on retrojunk.That being the case I would like to share some of my fond Turkey Day memories and a few suggestions for festive holiday entertainment on the tube (besides football which I don't watch). This may be another short article but hopefully it will be better than the one that I wrote for Easter.
As an appetizer to start off with, we have the the GEICO commercial featuring Little Richard from a few years back. According to it's page at YouTube it was banned but I don't think that is true. I agree with the members over there that the person who is running that page just put that there to get attention. I always thought it was hilarious, and they still use a sound bite of Litte Richard from the end of the commercial on my favorite morning radio show,
Chaz And AJ In The Morning
around this time of year. Enjoy!
(Broken YouTube Link Removed)
Thanksgivin' baby! Woo, hoo-ooo-ooo!!
Some traditions die hard, and as proof we (the parental unit and I) have one that continues to this day. We start our holiday by watching the Macey's Thanksgiving Day Parade.
Macey's always puts on quite a show and I have very fond memories of watching the parade growing up. As most of my fellow retrojunkers now know I am a huge Sonic fan so imagine my joy when the first Sonic balloon was introduced a few years back. There was an accident however when the balloon hit a light post which broke off and landed on an elderly woman's head, sending her to the emergency room. If my memory serves correctly she survived, but we never saw that Sonic balloon again because the executives at Macey's and the parade committee had deemed it unsafe. A more bitter/sweet story of Thanksgiving I'm afraid. In 2011 we got a new Sonic balloon for his twentieth anniversary. The new balloon bares our favorite hedgehog's new look from the more recent games and has him in a better pose.
There is also a new float that we really appreciate. It is dedicated to our nation's Native American population (finally!) and is designed to resemble their nature spirit, the Turtle of the Earth. Back in ancient times most Native American tribes (as belief in this deity seems to have spanned most of the country) believed that the entire world was being carried on the back of a giant turtle. Some tribes have also adopted the turtle as their animal symbol for longevity. The float is ridden by members of a different tribe each year and they usually bring some dancers with them who perform one of their traditional tribal dances for us when they arrive in Herald Square. It's quite beautiful, we like it. :)
Yes, those are real Native Americans
(And it's about damned time!)
When I was little I always got excited to see Santa pull into Herald Square at the end (and I still do even as an adult) because I've always thought that it was so cool and is like seeing an old friend return every year ho, ho, ho. Of course it's also because it reminds us that Christmas is right around the corner and acts as our que to start writing our lists of dema...
ahem
, er, I mean requests for Santa of what we would like him to leave under our Christmas trees. The new sleigh float is nice but I miss the old one with the big guy sitting in a seat that was built into a giant goose and it had a very pretty herd of reindeer, it was a beautiful float. At least they still have the giant turkey float.
Next we usually hang out all day and watch TV until dinner is ready. (A friendly warning: Don't watch the Food Network on Thanksgiving. Believe me, you
will
regret it by dinner time). Now, as for Thanksgiving dinner, my memories have been split into two phases.
When I was little we would go to our friends' house in Hicksville for dinner. Our moms are girlfriends from nursing school and their girls are the closest things I have to sisters, and I love them as such (insert group awwwww here). It was our usual tradition until one day when they moved to Georgia so that their mom could be closer to her sister. We miss spending Thanksgiving with them of course but we later found a new place to have our turkey dinner.
The 2x4 (two-by-four), so named because of it's small size, was a hide away restaurant on North Wading River Road in Wading River. The chef who cooked for them back in the day made a great tom turkey dinner complete with all the side dishes and fixin's, and it tasted awesome. Sadly the restaurant was recently sold and reopened as Micheal Anthony's Food Bar (I know, right?). It looks like they have fancy, culinary art type food now, not exactly Thanksgiving food, and we don't know if it's any good these days because we haven't been there since the buy out, which was several years ago. Fond memories of Thanksgivings past (*sniff*).
So these days we've been hunting (as it were) for another good restaurant to go to for dinner and in the meantime we have been having a nice cozey Thanksgiving dinner at home. Hey, there's nothing like home made, right?
There are some Thanksgiving themed programs that I enjoy watching while dinner is cooking including two shorts starring our old buddy Ernest, knowutimean?
Ernest Thanksgiving shorts
The first is an advertisement for gas heat and the second is an Astor Clement short where Ernest's overly intelligent uncle gives us his take on our favorite red neck's preferred turkey carving method. It's always the same formula: Ernest tells us what he is thankful for and then offers to carve the turkey for himself and Vern. The only problem is that he likes to use a chainsaw so he accidentally cuts through both the bird AND the table thus accidentally ruining Thanksgiving dinner. Okay, so Ernest may not be very bright, but he has a huge heart and means well, and that is the important thing. And yes, you read the first sentence of this paragraph correctly. I forgot to mention it way back in
Nightwatcher's Patrol #1
but Ernest and Astor are in fact related. This is Nightwatcher suffering through your world as I see it.
(Broken YouTube Link Removed)
Ah, the turkey carving methods of the common base born.
How amusing.
Rocko's Modern Life


Turkey Time!
It's Rocko's first time celebrating Thanksgiving in America and Heffer wants to show him the ropes. When Rocko gets the first turkey from Conglom-O early, he ends up being the only person in O-Town to have one after the entire flock decides to bunk with him, causing Conglom-O run out of birds. Now all of Rocko's friends and neighbors want to have dinner at his house but Rocko, being the nice little Wallaby that he is, refuses to harm the turkeys. This is going to be difficult, but with help from good old Heffer they should be able to pull it off,...right? This is a regular eleven minute cartoon and is coupled with
Floundering Fathers
where the main cast members (Mr. Bighead, Filbert and Heffer) argue about who's ancestor founded O-Town on Founders Day. Sadly, this was also Rocko's final episode.
A Charlie Brown Thanksgiving
Charlie Brown is forced to put together a Thanksgiving dinner when Peppermint Patty invites herself, Marcie and Franklin over. What is a desperate boy to do at a time like this? Recruit his best friends of course. Snoopy opts to make dinner while Charlie Brown and Linus keep the other kids busy. Of course the dinner doesn't turn out the way Patty expected but she soon learns to embrace the spirit of the holiday:
to be grateful for what we have
. Not to mention having come to the realization (thanks to Marcie) that she was rude enough to have invited herself over instead of allowing Chatlie Brown to explain his plans to her. Thoughtless, much. Thankfully (pun half intended) Grandma Brown saves the day in the end. Turkey dinner acquired, mission accomplished.
Scooby Doo and the Witch's Ghost
Why
Scooby Doo and the Witch's Ghost
? Because it takes place in a fake puritan village in the lovely little hamlet of Oakhaven, Massachusetts (which just happens to be celebrating it's annual Autumn Fest), includes some demon pumpkins and one monster sized dancing turkey and Scooby and Shaggy get to have their own authentic New England feast at the local restaurant. I think that about sums up my reasons. This movie was released in 1999 and is one of the better animated Scooby movies. The gang goes to Oakhaven with the famous horror writer Benjamin "Ben" Ravencroft to help him find the lost journal of his ancestor Sarah Ravencroft. No sooner does Mystery Inc. show up than they get caught up in another mystery (big surprise) and have to face the Witch's Ghost and help Ben save his family's name. There may, however, be a more sinister side to Ben and Sarah Ravencroft. This movie may seem more like something that one would watch for Halloween but it is appropriate for Thanksgiving too, and it is pretty good for a kids' cartoon movie. Also, the Hex Girls make the perfect rock band for this movie. The soundtrack album can still be obtained by the way, but it will set you back quite a bit. The cheapest copy I've seen on amazon recently was thirty seven dollars. Ouch! Here's the theme song by the Hex Girls, sorry about the first twenty five seconds of nothingness but there are only two of these on YouTube to date and this one has better audio. I hope everyone enjoys it anyway.
Garfield's Thanksgiving
This is easily my favorite Thanksgiving special ever. Jon invites Liz over for dinner but she has put Garfield on a diet, of all times. Of course Thanksgiving is one of Garfield's favorite holidays since he gets to stuff himself silly, (even more so than usual), but what is the point of celebrating Thanksgiving if you are on a diet? Meanwhile, Jon is having trouble preparing the turkey and is forced to call Grandma Arbuckle for help (and boy can she whip up a turkey dinner! Another grandma comes to the rescue). The storyline works perfectly and it also has a nice soundtrack. The theme song
The Funky Turkey
is swingin' and it has a soft, slow song called
Thanksgiving Everyday
which makes for a touching dinner scene. A true Thanksgiving family classic in every respect.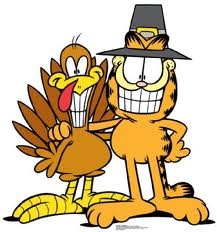 Well that about wraps this one up, I hope everyone enjoyed it and it seems to have turned out better than my Easter article and wasn't as short as I thought it would be. Whether or not it was better than
Nightwatcher's Easter
I'll leave up to you guys. I also hope that we all have something to be thankful for this year, I know
I
do. Of course there is one thing that I always look forward to after Thanksgiving: left over turkey sandwiches! Yeah, baby!! If you will excuse me, there's a big, fat juicy turkey and a slice of pumpkin pie with my name on them.
Thanks
for hanging out with me again, until next time...
Have a pleasant holiday
and try not to eat to much