As far as I'm concerned the drummer makes a band good or bad. If a drummer doesn't have good drumming capabilities then the band will never be good to me. The following is a list of the 10 best drummers both males and females. These drummers that I chose have talent and are some really kick @$$ talents.
10. Sheila E
Sheila was the very first girl drummer who caught my eye. Her signature single was "A Glamourous Life" with a video that showcased her percussionistic talents. Before her solo career she was the drummer for Prince's band The Revolution.
9. Keith Moon (The Who)
AKA Moon The Loon and boy did he ever earn his nickname. Keith was the drummer for the british rock band the Who. He was best known for his onstage antics and his heavy partying which lead to his death in 1978 from a drug overdose. Keith's death shows just how many rockstars in the 70s and 80s truly lived that rock n roll lifestyle. His talents can be heard in the signature Who songs Magic Bus, Won't Get Fooled Again, and Who Are You?
8. Tico Torres (Bon Jovi)
Tico Torres is the oldest member of Bon-Jovi and perhaps my favourite drummer in the world. He plays on a set of Pearl brand drums and his talents can be heard in the signature Bon-Jovi songs Livin on a Prayer and Lay Your Hands On Me to name a few songs.
7. Tommy Lee (Motley Crue, Rockstar Supernova)
If there's anything that Tommy is known for it's having a good time while he's doing his work. Let's just forget about the things that lead him into trouble. He is known for his onstage antics that include his drumstick tricks and awesome stage personna. His talents are showcased in the Motley Crue songs Home Sweet Home, Dr Feelgood, and Hooligan's Holiday.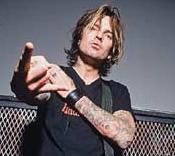 6. Phil Rudd (AC/DC)
If there ever was a reason why AC/DC is known as the "Thunder from Down Under" Phil Rudd would be it. His drumming style can only be described as thunderous. Probably the other reason why AC/DC is known as the "Thunder From Down Under" might have to do with Angus Young's guitar playing. But I'll save that for another article. Phil's drumming can be heard in the signature AC/DC singles TNT, Jailbreak, and Back in Black among other songs.
5. Roxy Pertucci (Vixen)
After watching VH1 Bands Reunited on Much More Music I found that Roxy's drumming style was something of a mixture of a lot of things that I'm not too sure. I never saw a girl that was more aggressive in her drumming style especially when she had just been reunited with her band mates.
4. Cindy Blackwell (Lenny Kravitz)
Cindy is the most explosive drummer who sits behind Lenny Kravitz. Raw and aggressive are the words that best describe her drumming style. Her talents are showcased in the singles It Ain't Over Til It's Over, Are You Gonna Go My Way, and Let Love Rule.
3. Steve Adler (Ex-Guns N Roses)
Steve joined Guns N Roses in 1986 shortly before the band was signed to their major label debut but that rock n roll lifestyle lead to a crippling addiction to heroin. This addiction became too much for band leader Axl Rose to handle and in 1990 Steve was imediately relieved of his drumming duties aftewhich he spent time trying to kill himself. Steve's drumming talents are showcased in the singles Paradise City, Welcome To The Jungle, and Paitence.
2. John Bonham (Led Zepplin)
John was a wild man behind the drums of Led Zepplin his aggressive and raw style was a match for Robert Plant's piercing vocals and Jimmy Page's thunderous guitar playing. John was one who lived that rock n roll lifestyle with alcohol. This lifestyle would lead to his death in 1980 after he drank 23 straight shots of vodka and passed out. The remaining members of Led Zepplin would never perform together again.
1. Ringo Starr aka Richard Starkey (The Beatles)
Ringo is tops on my list for a number of reasons. He has good rythm, and he has the talent to keep the rythm going, and he has been in the music biz for 40 years.
Some of the other characteristics that make Ringo Starr so good at what he does is that he never misses an opportunity to speak of how good he is with the drums especially when it's to promote what he's doing with his All-Star Band.
All and all Ringo is an awesome drummer and he has the talent to keep on going making him my #1 best drummer.