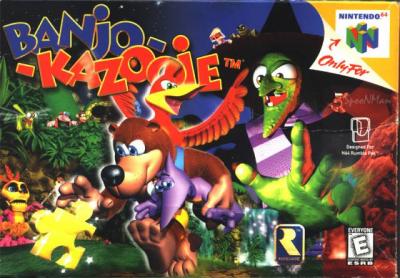 One of my favorite groups of games to play growing up for me was the Banjo-Kazooie series developed by United Kingdom-based development company Rare for the N64. Needless to say, the games were... I don't even know how to put it... magical. That's a good way of putting it. Magical. Just as magical as it's codename "PROJECT: DREAM". Banjo-Kazooie and it's sequel Banjo-Tooie chronicled the adventures of an anthropomorphic bear clad in a blue backpack with an ever-loving and ever-picky sidekick, Kazooie the bird as they retrieved Jiggies, magical Jigsaw pieces and fought the evil witch, Gruntilda.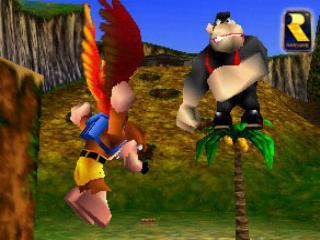 For me growing up, an evening playing these games was enough to keep me entertained beyond expectations. They were fast, good-looking, but most importantly, they were fun. This was during Rare's golden years making games for Nintendo systems, before they sold out to that bastard company Microsoft. They were pumping out classics such as the Donkey Kong Country trilogy, Jet Force Gemini, Battletoads, you name it. However, after the release of Banjo-Tooie in 2000, the Banjo-Kazooie series has been about as dead as a doornail and almost to the point where Rare refuses to accept the games actually existed. There was a planned Banjo for the Nintendo Gamecube and even some vids were shown at conferences, but that was before Rare departed from Nintendo to the devilish pits of suck at home in Microsoft. Then, near the end of last year, Rare released a teaser trailer depicting Banjo and Kazooie's Return! FINALLY!!!
This teaser's most prominent feature were the more abstract redesigns they gave to the bear and bird. While many people complained, I actually liked the new look. The new trailer actually looked awesome. There was the classic theme in the background, they showed Banjo using Kazooie for moves, such as trying to open a door with her beak and using her as a jackhammer. It was like being a kid again and I couldn't wait till Rare would release more footage of the next adventure in one of my favorite child-hood game series.
Another thing, what would the name of the title be? It would be logical to name it Banjo-Threeie, since the second was "Tooie" after all. There was even a mentioning of it at the end of Tooie. Would that be the name of it? We all waited for more clues to this puzzle.
Things stayed real quiet for a while. Every single time I went to IGN hoping to find more footage or pics of the game, and there was nothing. NOTHING. Then, in mid-may 2008, came the one blow to this game that would not only shatter the hopes of this one in particular, but would completely ass-rape one of my and many others most beloved games to play growing up.
Wtf is this.
This isn't Banjo-Kazooie. This is some half-assed cliche racing game. This is not a Banjo platformer.
Vehicles. Yes, you hear me right. This entire Banjo game revolves around building vehicles, driving vehicles, and racing in vehicles on land, water, and air to get Jiggies.
I'm sure the name is Banjo-Threeie at least, right?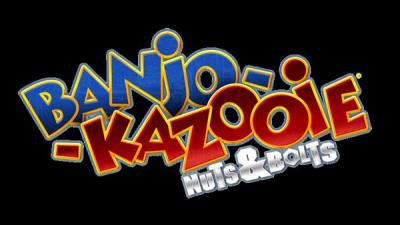 Nope. It's not even named Banjo-Threeie like we thought it would. This isn't the Banjo-Kazooie 3 us fans have been waiting for. This is a disgrace and shouldn't even BE labeled as a Banjo-Kazooie game.
What the hell was Rare smoking?
Please, please, please, PLEASE someone tell me WHAT THE HELL RARE WAS SMOKING?!?!?!
DAMNIT RARE! WE WAIT 8 F*CKING YEARS FOR YOU TO MAKE ANOTHER DAMN BANJO GAME AND YOU F*CK IT UP SO HARD, IT WOULD MAKE GEORGE W. BUSH CRINGE!!! RACING IS NOT WHAT BANJO-KAZOOIE IS ABOUT! RUNNING AROUND LEVELS, FIGHTING BAD GUYS, COLLECTING JINGOS, AND GAINING NEW MOVES IS WHAT BANJO-KAZOOIE IS ALL ABOUT! NOT FINDING PARTS AND BUILDING CARS TO RACE IN! THAT'S THE KINDA STUFF YOU FIND IN RATCHET AND CLANK! BUT NOT BANJO-KAZOOIE!!! ALSO, KNOW I AM NOT THE ONLY ONE WHO THINKS THIS, EVERYONE DOES! IF YOU LOOK ON IGN POLLS TO SEE IF PEOPLE HATE IT OR LOVE IT, THE MAJORITY OF THE PEOPLE SAY THEY HATE IT!!!
...changing Banjo's perfect platforming mechanics to a sloppy racing game... WTF WERE THEY THINKING?!?!
I HOPE THIS GAME FLOPS AND RARE SEES THE ERROR OF THEIR WAYS! F*CK YOU RARE! F*CK YOU FOR RUINING MANY PEOPLE'S CHILDHOOD!!!!!
*end rant*