Nickelodeon the Rise and fall of a Great Network
Nickelodeon was launched in 1977 as the Pinwheel channel in Columbus, Ohio on the QUBE cable system (now Time Warner Cable).
During its broadcast day, it would air shows such as Pinwheel,a show hosted by a human with a bevy of puppets, Video Comic Book, America Goes Bananaz, Nickel Flicks and By the Way.
In 1979 on April Fools Day the channel changed from Pinwheel to Nickelodeon, the goal was to give kids a place on television just for them.
In 1980, Geraldine Laybourne joined the network. She would become President of Nickelodeon in 1983. In 1981, Nickelodan expanded nationwide.

Nickelodian became known for its iconic green slime, originally featured in the network's first major hit, the 1980s Canadian comedy show "You Can't Do That on Television". The slime was then adopted by the station as a primary feature of many of its shows.
In 1984, the original "Silver Ball" logo was replaced with the current "Orange Splat" logo. Also in 84 Nick launched Nick Jr., Nickelodeon's preschool programming block. Hosted by the beloved animated face named Face, the Nick Jr. block was created as a place preschoolers could call their own while their older siblings were in school. The trademark motto "Play to learn" captures the Nick Jr. mission—to inspire preschoolers' understanding of the world and themselves through playful entertainment. Nick's continued commitment to this philosophy is seen in award-winning programs such as the phenomenally successful Blue's Clues and Dora the Explorer.
In 1986 Nickelodian premiered "Double Dare." This kid-centric game show incorporated trivia, obstacle courses, and a whole lot of slime. Needless to say, the show and the slime were an instant success. Channel ratings quadrupled within four days of the program's premiere and it became the highest rated series ever on cable television just one month after its debut.
In keeping with Nick's commitment to kids, Nickelodeon launched the Kids Choice Awards in 1987. KCA was the first award program ever to dedicate itself exclusively to kids, giving them the chance to vote for their favorite stars from the worlds of music, sports, movies and television.
By Nickelodeon's tenth anniversary in 1989, Nick truly was the kids' choice for favorite TV destination. Over a decade, our initial subscriber base of 600,000 never stopped growing, and by 1989, Nickelodeon was available in 44,000,000 homes across America.
On June 7, 1990, Nickelodeon Studios in Orlando, Florida opened to the world. This combined theme park and production facility was chock full of slime and where all of Nickelodeon's Game Shows were produced. Nickelodeon Studios stayed active till 2005 to make way for the Blue Man Group.
On August 11, 1991, Nickelodeon welcomed their first 3 original cartoons, cleverly titled "Nicktoons". The original line-up consisted of: "Rugrats", "Doug" and "The Ren & Stimpy Show", all of which are now considered true Nickelodeon classics.The cunning conversations that went on among talking babies in "Rugrats" always kept me interested and "The Ren & Stimpy Show" was a work of genius that I still hail as one of the few cartoons that still makes me laugh. Meanwhile, "Doug" was a show that all kids could easily relate to.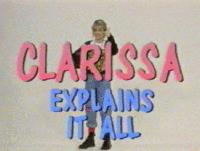 By 1992, Nickelodeon was riding high with the success of their Nicktoons line-up and live action programming which still consisted of the newly renamed "Family Double Dare" and "Clarissa Explains It All". In addition, "What Would You Do?", a part game show/talk show that was hosted by Marc Summers (host of "Family Double Dare") aired on Nick in 1991 and ran for 3 seasons.Also in 92 Nickelodeon Put in a time capsule with old bumpers and other stuff inporant to the kids of 92.
By 1993, Nickelodeon's popularity skyrocketed with kids of my age thanks to their latest projects. "Guts", hosted by an extremely loud Mike O' Malley, was an intense sports show involving 3 kids competing against each other in different events. The final event called for the 3 competitors to climb "The Aggro Crag", a mountain type structure, that required them to hit a series of actuators before reaching the top. Scores from the entire competition were tallied at the end and whoever had the most took home with them a gold medal and "a glowing piece of the rock".
The premiere issue of Nickelodeon Magazine debuted in 1993. Like the channel, the magazine is everything kids dig like sports, music, movies, puzzles, comics and more. In the years since the magazine launched, circulation has grown from 150,000 subscribers in 1993 to 1.05 million today! 1993 also saw the launch of Nick UK in the United Kingdom. Nickelodeon Australia and Nickelodeon Germany launched just two years later, and more countries were soon to follow.
In 1994 Nickelodeon started "The Big Help".The Big Help focused on encouraging kids to pledge hours to volunteer in their communities. Televised public service announcements and "Big Help a Thons" encouraged 35 million kids to pledge over 400 million volunteer hours to help their communities. The Big Help has grown to include a focus on the environment, and other prosocial initiatives.
Part 2 and Part 3 coming soon
By the way I know i missed some things i will get to them in part 3.