Throughout the 90s, Nicktoons had become powerhouse cartoons on the wildly popular kids' network, Nickelodeon. After the enormous success of
Doug
,
Rugrats
, and
Ren and Stimpy
, Nickelodeon had decided to strike while the iron was hot by releasing more Nicktoons.
Rocko's Modern Life
-Launched in the fall of 1993, it featured a wallaby from Down Under named Rocko, (voiced by Carlos Alazraqui, who currently plays Deputy James Garcia on
Reno 911
), his dog Spunky, his friends Heffer Wolfe, a steer adopted by a family of wolves, Filbert Shellbach, a spectacled turtle, and next door neighbors Ed and Bev Bighead, (both played by veteran voice-over actor Charlie Adler). Set in O-Town, which is presumed to be located in the Midwest (NOT Orlando, Florida),
Rocko's Modern Life
even featured several offbeat characters, such as Mr. Smitty, (Owner of Kind of a Lot of Comic Book Store and Rocko's boss), Dr. Hutchison, (a feline dental hygienist with a hook for a hand), comic book super hero Really Really Big Man, twin Chameleons Chuck and Leon, and Conglom-O CEO Mr. Dupette.
In 1994, the theme song was changed, featuring 80s New Wave rock group The B-52s.
Rocko's Modern Life
ran on Nickelodeon until 1996, and often contained sexual innuendoes, double entendres, and toilet humor, similar to
Ren and Stimpy
.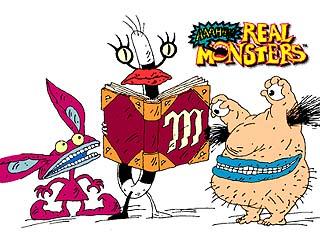 Aaahh!!! Real Monsters
-Created by Gábor Csupó and Arlene Klasky, the same people who created Rugrats, this show follows three monsters learning to frighten humans while attending a monster academy under a city dump.
Ickis, (voiced by Charlie Adler)-A monster with a rabbit-like appearance, he is the son of Monster Academy alumnus Slickis. His most notable scares occur when his fellow monsters are trouble and he must save them from human mistreatment.
Oblina (Voiced by Christine Cavanaugh, who also did the voice of Chuckie from
Rugrats
until 2001)-An overachieving candy cane-like monster, her trademark scares are the ability to pull out her internal organs as well as transforming into more grotesque forms.
Krumm (Voiced By David Eccles) A monster with eyeballs separate from the rest of his body, he is more known for his pungent body odor than his scaring ability.
Although it lasted until 1997, it was not, in my opinion, my most favorite Nicktoon of the bunch because it dealt mostly with issues of the macabre.
Hey Arnold!
- Arnold [No Last Name Given], the blonde-haired, football-headed fourth grader made his debut in an animated short in the movie
Harriet The Spy
in the summer of 1996. He lives with his grandparents, Phil and Gertie, in a boarding house in New York City. The storylines are often sentimental, dealing with Arnold helping out and often befriending other people, and ending up in his own predicament. There is also the motif of Helga Pataki's secret crush on Arnold.
Hey Arnold!: The Movie
was released to theaters in the summer of 2002, and the series came to its finale in 2004.
Kablam!
- This show was unlike any other Nicktoon that had been seen before in that it was hosted by cartoon characters Henry and June and featured a large collection of short films, in different animation styles ranging from hand-drawn animation, to claymation, to chuckimation, to stop motion animation.
The Angry Beavers
-The animated series featured Beaver brothers Daggett (voiced by Richard Steven Horvitz, who also did the voice of Alpha 5 in
Mighty Morphin Power Rangers
) and Norbert (voiced by Nick Bakay, best known as the voice of Salem the cat in the series
Sabrina, the Teenage Witch
) leaving their parents' home to become bachelors in the forest. This Nicktoon was not an immediate favorite of mine, but I learned to enjoy it as time went on.
The Angry Beavers
was involved in controversy in 1998 in the second season when a viewer anonymously complained about the phrase "shut up", uttered in the episode "Alley Oops". The real controversy was over the bleeping of "shut" in "shut up", which some viewers misconstrued as vulgar language.
In the series final episode "Bye Bye Beavers", the plot consists of Norbert being informed that he is part of a television series that has been cancelled and that he must convince his brother that they are actually fictional cartoon characters. It had apparently violated a rule imposed by Nickelodeon, which was to never reveal the ending of a show. The episode was rejected from being aired, which ridiculed the company's practice of profiting off re-runs instead of new episodes, and the series was cancelled.
CatDog
-The series of a feline and canine conjoined at the abdomen. It featured the voice talents of Jim Cummings (Cat), Tom Kenny (Dog), Carlos Alazraqui (Winslow), and Billy West (Rancid Rabbit). The pilot episode premiered in the spring of 1998, but the series didn't make its debut until fall of that year. Although it had a three season run, it was speculated that Nickelodeon was attempting to repeat the success of previous Nicktoons.
And last, but most certainly not least:
SpongeBob SquarePants
-The Nicktoon to end all Nicktoons. Since it's debut in 1999, nobody has been able to change the channel, go to the mall, or surf the internet without seeing an image of this blue-eyed, tie-wearing, buck-toothed, porous, yellow sea sponge. The world-wide appeal to this cartoon sensation is simply unbelievable. Even after a hit movie in 2004, the series is still going strong and will continue to be seen on television for years to come.