"If ya wanna car or truck, PUSSY COW! If ya wanna car or truck, PUSSY COW! You can buy one for yer wife! She will love you all her life! PUSSY COW! PUSSY COW! PUSSY COW!"
If you are still reading this, then you probably grew up on the West Coast in the 60's, 70's or 80's.
For years growing up, I would have sworn that was how the song went for the frequent Cal Worthington Ford ads. I eventually figured out that the actual line is "GO SEE CAL!," not "PUSSY COW!". Even more years later, I realized I wasn't the only one making this mistake. Almost anyone I speak to who remembers the local ads of Cal Worthington, car salesman extraordinaire, admits to making the same phonetic mistake that I did. This mistake is almost as much of a common phenomenon as the ad campaign was.
Calvin Coolidge "Cal" Worthington, has been selling cars since 1945. At nearly 90 years old, the man is still selling cars up and down the West Coast. I live near his long standing Long Beach, CA dealership, but his autos sell on lots as far up as Alaska!
There is a lot I could write about Cal Worthington, the man (including being a captain in WWII). But let's face it, we wanna know about Cal Worthington, the pitchman.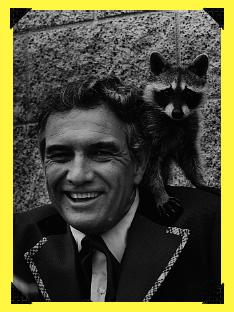 Before most of us were alive, he bought a regular 3 hour time slot on Los Angeles TV station KTLA 5 to host "Cal's Corral" on Saturday and Sunday nights. The idea was to showcase country/western stars (Cal himself wrote the country theme song in his commercials) while at the same time selling Cal's American made cars. In my opinion, this also makes Cal a candidate for creator of the modern infomercial too.
After only a few years, television took off as a medium. Cal could no longer afford to buy up so much air time, and changed over to traditional short ads to sell his automobiles, often airing late at night.
Ever hear of Chick Lambert? I didn't think so. In the 60's, Chick had a successful run as a Los Angeles TV pitchman selling cars in ads featuring his dog, Storm (a German Shepherd). Each ad featured Storm behind the wheel, or sitting on the hood of the deal.
Cal Worthington shot back with a series of mocking commercials that always started with the near battle cry, "It's Cal Worthington, and his dog, SPOT!". But Spot was never a dog. In the first ad, Spot was a gorilla. As time went on, Spot was also an elephant, a tiger, a baby bear, a killer whale, and even, at one point, L.A. RAMS' Deacon Jones! (Try THAT one nowadays!)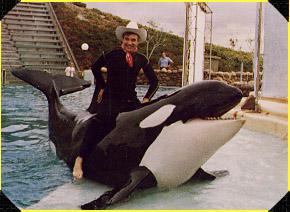 On top of the ads, Cal Worthington has appeared in a few movies as himself. He has also appeared several times as a guest on "The Tonight Show," one time bringing on a goose that unintentionally left Johnny Carson's suit in need of a dry clean.
As Cal sold more and more American made automobiles, he became a top seller in the United States. By 1988, the man was making up to $600,000,000 per year, and was the basis of the crazy car dealer character in every movie (or copycat ads) from the 60's on.
On the floor of his own dealerships, Cal is known to do anything to make the deal, from standing on his head, and even eating a bug to sell a car.
Despite having bested his competitor 40 years ago, the "dog Spot" campaign has endured. I saw Cal himself in an ad a week ago.
Recently Ford Motor Company itself, within the modern horror known as the recent car economy, tried to close Cal's doors permanently. The citizens of Long Beach, CA, actually signed petitions to keep the icon's business alive as an historical landmark.
What I find very interesting, personally, is that every account of Cal Worthington's life shows him to be "quiet and gentle," as a man behind the scenes. Hardly the image I expect from the outrageous, animal-loving, pitchman.
If you grew up here, on the West Coat, you know exactly what I am talking about by now. Please let me know where you are coming from, and if you thought the song was "pussy cow" also. I am dying to know!