Im too lazy to write an introduction, so...
THIRD WORLD WAR
Formed in 1970 by Terry Stamp, John Fenton, and Jim Avery, Third World War was a band who came out too soon and was ahead of their time. They released their garage-metal masterpiece debut, "Third World War", in 1970. Fearing the bands lack of mainstream appeal, their manager dropped them from Fly Records and signed them to Track Records, who also released many albums from The Who. When they signed,their second album went through numerous changes before being released as "Third World War II" in 1972. That same year, John Fenton ran out of money and could no longer pay his bandmates, so the band called it quits later that year. Member Jim Price went on to play the horn for the Rolling Stones during their 1972-1973 tour.
CABARET VOLTAIRE
Formed in 1973, Cabaret Voltaire is mostly remembered for their late 80's electronic sound. However, in the 70's, they recorded a number of interesting sounds, which would later be collected on "Methodology '74/'78: The Attic Tapes." They split up in 1994.
THROBBING GRISTLE
Don't let the image fool you; this music was creepy,aggressive, industrial noise. Led by Genesis P-Orridge (not transvestite; not man or woman either) formed this band in 1975 after being in performance art group COUM Transmissions. In 1979 they released "20 Jazz Funk Greats", which led to a lot of people misunderstanding the title. Although they broke up in 1980, they reformed in 2004 and have been doing shows ever since.
THE STOOGES
They have such a long and crazy history i'd half to write another article on them. Same goes for the New York Dolls.
Moving on...
LAUGHING DOGS
Originally starting as an underground CB-GB's band, released two critically acclaimed albums, "The Laughing Dogs" and "The Laughing Dogs Meet Their Makers" on Columbia Records. "Get 'im Outta Town", "Reason for Love", and "Johnny Contender" all hit the Billboard charts. However, after the release of their second album, they disappeared. On another interesting note, The Laughing Dogs were selected as The Monkees backing band on their 1977 reunion tour.
IMPERIAL DOGS
Little is known about the Imperial Dogs except they seemed to be at their peak in 1974. Although no album was released, through various compilations, their music has been heard and has inspired millions of hard-rockers everywhere.
ZOLAR X
Mostly known for gigging at Rodney Bingenheimer's English Disco in the early 70's, space-punks Zolar X were never quite understood, like cult heroes The Residents. After their 1981 split, members returned to their normal jobs, and lead singer Zory Zenith was arrested (i'm unsure why, though.) However, when Alternative Tentacles issued a compilation album called "Timeless"', the group got back together (minus Zory Zenith) and have been touring ever since.
ELECTRIC EELS
Crazy cleveland punk rockers from the 70's, the Electric Eels were simply in the wrong place at the wrong time. Their many exploits include (but not limited too) bringing a lawnmower on stage, kicking a cop in the nuts and getting a broken hand (that's how Guitarist John "Broken Hand" Morton got his nickname), yelling racial slurs at the audience, which caused them to only perform 6 gigs, most ending in violence. However, after their demise in 1975, various 45's and demos began to pop-up, eventually leading to the release of "Eyeball of Hell" in 2001. Lead singer Dave E formed The Jazz Destroyers and Cool Marriage Counselors before settling down, and most the other members went on to be in the Styrenes.
LOU REED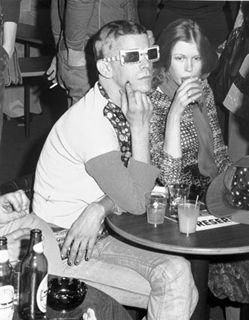 Heroin loving New Yorker Lou Reed began his solo career after the demise of the Velvet Underground. He released masterpieces such as "Transformer" and "Sally Can't Dance' before releasing the controversial "Metal Machine Music" in 1975. 4 album sides of feedback played of different speed, it, quite frankly, pissed everybody off, (except for Lester Bangs, but that's another story for another day.) After settling down in the late 70's, Lou Reed eventually made a comeback with 1989's gritty urban masterpiece, "New York", and has been livng the high life ever since.
Thank you for reading this article and be sure to keep a watchful eye for "Odd and Interesting Music: 80's", coming soon!
SSPig
SSPig Productions