Has anyone heard of these games? I have never played them, but I remember reading about it in Nintendo Power. Apparently it's just another Pokemon knock-off, but the Game Boy Color game had a special receiver on the cartridge that let you point a TV remote at it to upgrade your robots.
Sorry for the crappy picture, it was the biggest one I could find.
Here's a picture of the cartridge: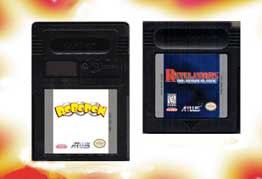 Here's a link just in case it doesn't load:
http://nectaris.tg-16.com/gbim/robopon2.jpg
Here's a picture that shows what the receiver does:
Here's a link just in case it doesn't load:
http://nectaris.tg-16.com/gbim/robopon1.jpg
If none of those links work, here's the website that has the pictures:
http://nectaris.tg-16.com/GB-KISS-LINK-FAQ-2-hudson-gameboy-nectaris.html
Here's a description from Atlus's website:
Robopon are robotic creatures that inhabit the planet alongside humans. They can be captured and trained to battle other Robopon. You have just inherited the Robopon Dispatching Company from your grandfather, but the business is failing. To start earning a profit, you must become the greatest Robopon master in the world. To do this, you must travel the globe, battling other Robopon masters and collecting the 150 species of Robopon. As Robopon battle, they gain experience and evolve into more powerful types. The cartridge also has an infrared sensor that will allow new attributes to be unlocked by shooting remote control beams into it. An internal clock is built in and will notify you of time- sensitive events. Try to catch them all in Robopon: Sun Version.