Hey all you fellow Care Bears lovers! I went to Kmart yesterday and there's a new Care Bears DVD out. It has a bunch of the classic "The All New Care Bears" Episodes on it. It was only $9.99 (yay!).
It is called "Care Bears: Share a Scare"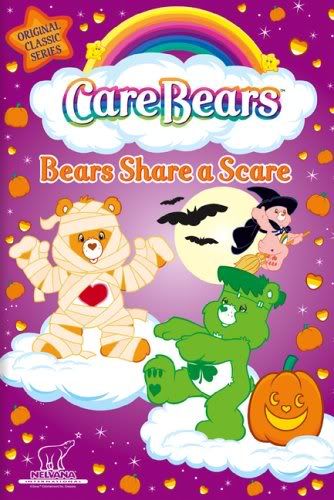 It features 8 Care Bears episodes:
Treat Heart Baba and the two Thieves
"In this arabian tale of adventure, little Treat Heart Baba overcomes her forgetfulness and saves Badgag from evil thieves"
Doctor Brightenstein's Monster
"Gram tells the story of how Dr. Brightenstein creates a friendly monster who is misunderstood by the inhabitants of a small town"
The Mystery of the Phantom
"Gram recounts how a group of Care Bears overcome their fears to fix up an old theater haunted by a mysterious Phantom"
The Most Ancient Gift
"In this tale of ancient Egypt, Beastly and Shreeky try to break the friendship between two neighboring countries by stealing a precious gift"
One Million C.B.
"Hugs and Tugs learn it is wrong to lie when, as a result, Brave Heart and Gram are captured by the evil No Heart Saurus!"
Tugs the Brave
"Little Tugs tries to be like his hero Brave Heart but realizes he'd rather be himself when he confrots a dangerous dinosaur."
Bad Luck Friday
"Brave Heart must overcome his superstitions on Friday the 13th and save the other Care Bears who are lost in the jungle"
Food Frolics
"The Care Bears are baffled when a usually friendly dinosaur turns mysteriously hostile and starts wrecking their garden."
Yeah, definently an awesome little DVD.
Just thought I'd let ya all know. :D