This time of year is so full of cheer and goodwill! Candy, costumes and pumpkins with weird faces!
Though truth be told, I've never been too big on Halloween. Don't ask me why, I'm not really sure. I did the trick or treat thing a few times as a kid, but I guess even then I just never got into it. Even as I got older, it wasn't my thing. Still isn't. But that's not to say I don't indulge into a few scary things due to the overwhelming power of the season. Everywhere you go, it's Halloween whether you like it or not. And so, here are some spooky things that have stuck with me through the years.
No better place to start than with one of the most signature things of my youth. The NES! The
Castelvania
is burned into my mind forever. Featuring scary creatures of the night, and showdowns with Dracula himself, they are just what Halloween calls for.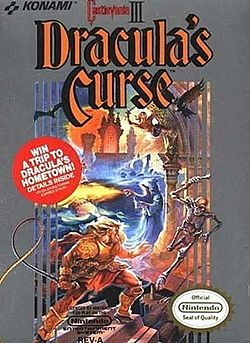 Like anyone else, I enjoy an old fashioned ghost story. That's why this film remains a favorite.
"There's something in the fog..."
The Fog
, a film by John Carpenter from 1980 tells the tale of a sweeping, glowing fog that pours into the town of Antonio Bay. It proves a mystery to residents, seamen, and local radio voice Stevie Wayne.
Phones ring, lights come on for no reason, and there are strange knocks at doors. Why? Because shrouded in the fog, are the ghosts of mariners killed a hundred years ago by the town's founders. And they want some revenge.
While not the scariest film of all time, The Fog delivers some good chills and a strong cast that features Jamie Lee Curtis, Janet Leigh and Hal Holbrook.
In elementary school, we would often go to the local library to see a short movie. One day, we headed over to see a Halloween special from 1978...
Witch's Night Out
.
Two kids, Small and Tender, are visited by a witch, voiced by the late Gilda Radner. The kids are ticked that no one is scared by their costumes, so the Witch transforms them into a real werewolf and ghost, and even turns their sitter into Frankenstein's monster for a major Halloween party at Witch's house.
I can't seem to find it on YouTube anywhere, but even today it stays in my mind.
Speaking of Halloween specials, there is nothing more essential at this time of year than
It's The Great Pumpkin Charlie Brown
. Even today, ABC never fails to air it.
Maybe this year, the blasted pumpkin will finally rise out of this very sincere pumpkin patch.
Maybe this year, Charlie Brown will finally get something other than a bag of rocks.
But I doubt it. In any case, it is classic TV.
I mentioned I liked old fashioned ghost stories. Well, this is a newer film, but it's story is old fashioned, as thus has become a favorite for me in such a genre.
The Woman In Black
stars Daniel Radcliffe as a young London lawyer, sent to a bleak, isolated mansion to get the final papers for it's sale. But once there, strange happenings point to something sinister lurking in the old house.
Radcliffe definitely impressed me in this film, showing that he is quite capable of stepping out of his signature Harry Potter role. Check it out.
But ultimately, there's no other essential film that the original 1978
Halloween
. A largely gore free, but effective independent film, it's the original slasher movie. Donald Pleasance has always been a favorite actor of mine, and his presence adds great intelligence to the plot. After all, he is the only one who knows what his quarry is capable of.
Michael is home.
The sequels were pretty terrible, but I did like 1998's H20. Mainly because I liked the idea that Michael hadn't been seen since that night twenty years prior.
So there you go! It's now time to grab a bowl of candy corn, and have some creepy fun.
Thanks for reading.
~ The Outlaw