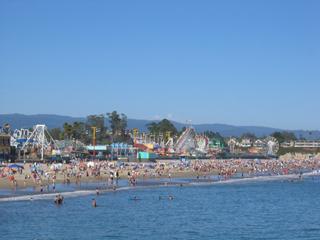 Anybody who lives in or near Santa Cruz, California has seen, heard of, or visited the Santa Cruz Beach Boardwalk at one point in time. This summer, the wildly popular amusement park is celebrating its centennial. For as long as I can remember, I've gone to the Beach Boardwalk, usually with my family, to ride on rides, play arcade games, miniature golf, or laser tag, and eat cotton candy.
Fred Swanton, a Brooklyn-born businessman who opted to replicate "Coney Island" for the west coast, founded the Santa Cruz Beach Boardwalk at the beginning of the twentieth century.
Swanton's project began with Neptune's Casino in 1904. It consisted of 500 dressing rooms, a plunge, a cafe and grill, a ballroom, and two roof gardens.
However, on June 22, 1906, 22 months after its opening, the Casino was destroyed by a fire that started in the kitchen. Construction of a new building began a few months later, and the original Boardwalk, a pier, and new Casino opened in June of 1907.
In 1911, Charles Looff, a woodcarver and amusement park pioneer, created the Looff Carousel. The Giant Dipper roller coaster, the boardwalk's centerpiece, opened in 1924, replacing the park's first thrill ride, the aging L.A. Thompson Scenic Railway. The wooden roller coaster stands as the one of the longest surviving amusement park rides in history.
During the Great Depression and World War II, business had slowed down, but the Casino's Cocoanut Grove ballroom was thriving, and attracted popular big bands of the time like Artie Shaw, Benny Goodman, Lawrence Welk, and the Dorsey brothers. However, in the post World War II era, interstate highways, along with affordable airline travel, and a growing middle class in America meant that people had greater options and were spending more money on vacation time.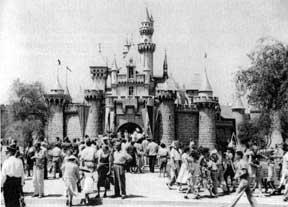 The birth of theme parks in the 1950s and 1960s drew visitors away from many local parks. Disneyland, for example, which opened in July 1955, offered a cleaner, safer, and more glamorous outdoor environment. Many local amusement parks were unable to compete with the growth of theme parks in America and were dealt with old and deteriorating facilities as well as unruly teenagers, giving them a seedy and run-down image. The television craze of the early 1950s led people to expect more pizzazz from their amusements.
While the general public has become less interested in amusement parks, the boardwalk was able to survive and thrive due to an increase in population in Silicon Valley in the 1970s. The Santa Cruz Beach Boardwalk has remained fresh in the minds of many people by introducing many new attractions through advertisement and undergoing extensive renovation throughout the years.
The boardwalk has been used in such films as "The Lost Boys", "Killer Klowns From Outer Space", "Sudden Impact", and "Dangerous Minds", as well as countless television commercials.
One commercial I remember in particular featuring the boardwalk was a 3-minute spot for Levi's Big Jeans in 1991. Very few people know about this ad, as far as I know. It is on this website under 90s Clothing. Although the commercial looks a little cheesy, I wish I could have been in it as a kid.
For one hundred years, the Santa Cruz Beach Boardwalk has brought joy to people from all over the world. Other amusement parks may have given up a long time ago, but the boardwalk has stood its ground, quite literally, by constantly reinventing itself. I don't think I will be alive to experience its bicentennial, but I hope that my children and their children get to do just that.
Happy 100th Birthday Santa Cruz Beach Boardwalk!