As we make our way towards 100 items, let's take a look at just a few of the things I think of every year around this time. Halloween has always been one of my favorite holidays. Maybe it's the weather, maybe it's carving things up with knives and then lighting them up, maybe it's beloved holiday classics or hayrides or "candy candy candy candy". All of these things create a delicious brew of Retro.
This is me, Halloween 1989. I was 11 years old at the time and as you can tell I was approaching that time of life where I didn't want to stop collecting candy on Halloween, yet was not willing to put too much effort into a costume. So I put on a plaid shirt, cut a slit in a plastic pumpkin, put it on my head and called myself (wait for it) PUMPKIN HEAD!
He-Man Costume
But there was a time earlier in the 80's when I was much younger and Halloween held a certain kind of magic. That's when I really cared about what I was for Halloween. In those days, we'd go to the store and see costumes like He-Man.
This is a He-man costume as it appeared in the 1980's. Remember what shopping for a costume was like then? All the kids costumes came in these square boxes with the clear Cellophane on the front that displayed the mask. Then on the inside was usually some kind of cheap vinyl or something that you'd wear on your body. It was always so cool to envision yourself as something like He-man, but once you put on the costume you would notice things that annoyed you instantly. Like how your constant breathing on the inside of the mask would make your face hot, or how you lacked the ability to see anywhere but straight ahead.
Scary Nails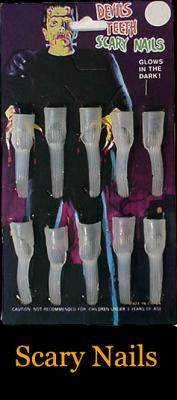 Perhaps one of my favorite Halloween costume pieces to wear were the scary nails.
These were great because they were easy to apply, comfortable on your fingers, and yet made you feel all scary and "Halloweeny". You always needed to put these beauties on last though, because if you had to button any buttons or zip your coat up, just forget about it, it wasn't happening with those things on. My second favorite pair of "scary nails" was Freddy's Glove, of course.
I loved putting this thing on and moving my fingers around like Freddy. Always scared the crap out of my sister!
McDonalds Halloween Pails
There are many signs that tell us that the fall is coming. The leaves change color, the wind slowly becomes brisk...and Mcdonalds releases their Halloween Pails.
You have to hand it to McDonalds, they have a way of catering to that desire many of us have to follow traditions. I'm sure there are people out there who magically get a craving for salty fries and greasy burgers whenever the calendar changes to October, and you can probably chalk that up to these pails. They are collectible, charming, and a great container for carrying around your tricks and treats. Obviously Mcdonalds is thinking about our children's health because this pail holds alot less than the 10-gallon trash bags some kids like to carry around. That's Mcdonald's for ya, always thinking about our health!
Halloween Decorations at Grandma and Grandpa's
Halloween is made extra special when someone in your family really goes all out for the holiday. When you went trick-or-treating at my grandparents house, you were greeted by this life-sized witch sitting in the front yard and stirring her cauldron.
You can still find that witch outside every year! Waiting for you inside were cool little retro Halloween decorations, such as this light-up ghost.
And to top it all off, they didn't just throw a few Snickers bars at you and send you on your way. They took the time to stuff your treats in special Halloween bags with great little drawings on them that really added class to the whole thing. And of course, Grandma's homebaked goodies were the only kind of candy you were allowed to eat that didn't have a wrapper.
You can still find these today! Class up your Halloween with retro flavor!
Speaking of bags to hold your candy, it's high time we talk about Halloween candy. Let's take a look at some of my all time favorite candies. I think you may be surprised! I'm not here to talk about Twix or Milkyways. Rather, I'm here to talk about some candy that many of you may have long forgotten about.
Mr. Bones Candy
Mr. Bones came in coffins of many different colors. Upon opening the coffin you would find bones made of candy. You usually had at least one of every bone you needed to assemble Mr. Bones and a barely visible diagram on the underside of the coffin lid would show you where each bone needed to go. Sometimes you'd either have bones that were missing or broken that would prevent you from assembling him, but there was nothing quite like putting him together and then eating him piece by piece. Mr. Bones lives on today but it's a different packaging and a different texture of candy. It's definitely worth picking up, but there's no way it beats the original.
Garbage Candy
When you're a boy, there's something appealing about the idea of pretending to do something disgusting. Garbage Candy was just one more way of being disgusting! These little multi-colored trash cans were filled with candy pieces shaped like different pieces of garbage. I think there was a fish bone shape, a chicken leg, and a soda can, at least that's how i remember it. Garbage Candy also lives on today in a different form but I personally find it to be too tarty for my taste. I like the stuff that is sweet and breaks into candy dust quickly in your mouth.
Wax Fangs
Wax Fangs have always held a strange fascination for me. You can start off by playing with them, you know, by just inserting them into your mouth and pretending you're a vampire or something. But then you go to take a bite out of the things and it really is like eating a flavored candle. I mean that in a good way! As you chew it, the flavors are certainly released but you are also left with this "do I eat the wax or do I not eat the wax?" dilemma. There's something unnatural about them but they are good.
Ice Cream Candy
Oh wow, when I was a kid I had these containers all over our house. My father would buy me whatever wacky candy was at the convenience store on his way home from work and Ice Cream Cone Candy was a frequent purchase. The lids came in different colors representing different flavors. I remember a chocolate lid with chocloate topping, a yellow cone with red topping, and a green cone with chocolate topping. The lid popped off and the candy was contained in the "cone" section. The candy itself was little pieces made to look like little ice cream cones or little sundaes. I used to take the mini cones and bite the tops off as if I were eating the ice cream.
Dubble Bubble Gum
In my circle of friends, Dubble Bubble Gum was like the Belle of the Ball for Halloween Candy. If a huge pile of candy was dumped out on the floor, it was every man for himself as we cherry-picked the pile to pull out the Dubble Bubble. If it came out of a pinata then forget about it, blood would be spilled. The best thing about this gum is just popping a piece in your mouth, chewing the flavor out, spitting out the flavorless wad, and then popping another one in. Rinse and repeat until all the gum is gone!
T2 Sour Meltdown
When this candy came out to coincide with the Terminator 2 movie in the early 90's, I was addicted to it like crack. I had never been a big fan of sour candy, but this won me over and I kept going back for more. The case was filled with many tiny balls. When you popped one in your mouth, a wave of sour would hit you. Yes, it would be bitter at first, but what came after was the sweetest sweet relief, a tiny bit of heaven hidden inside a raging ball of hell. A very satisfying product, one that was to blame for many an ulcer in my mouth as well!
And so you arrived home from a night out trick-or-treating. You have your bag full of candy, just waiting to be picked apart. What a better way to unwind than to turn on the television and catch some Halloween specials?
Halloween Television Classics
Garfield's Halloween Adventure is an annual "must-watch". The quirky music keeps it from feeling timeless, but it's still fun to watch Garfield and Odie go on their pirate adventure. The cartoon itself actually gets fairly intense for a kids show, but I think that is part of what makes it a classic. It didn't keep things safe, it put the characters in a sort of perceived danger not often seen in that series. I watched it last year though and really thought to myself that this is a little scary as Garfield and Odie are hiding in the cabinet from the scary pirate ghosts.
There's truly no better way to end a Halloween than with our next show.
"It's the Great Pumpkin, Charlie Brown" is truly a timeless classic. Every October needs to include at least 1 viewing of this 1966 Peanuts Halloween story. There is no doubt that some of the segments are tired, such as Charlie Brown getting a rock over and over again. Snoopy's Red Baron part has always run a bit long for me. The music however is unforgettable and has become engrained in the fabric of this continuum we call "Retro". I really enjoy how it's good old fashioned innocent family television that will live on forever. Every kids Halloween night should end surrounded by candy on their beds, dozing off to the classic Peanuts piano melodies.
So that wraps it! I could go on and on folks, I really could, there's alot I left out. But perhaps I'll save that for another time. Take care! And Happy Halloween from....