Released in 1991, this road movie is best described as a surrealistic dark comedy. I saw Motorama when it was originally released on video when I was around 11 years old. The box cover was irresistible to me immediately: A boy around my age standing atop the hood of a classic Mustang with the tagline "Most kids can't wait to get their drivers license, 10 year old Gus didn't." How could I not go for this movie!?! What I got was more than I bargained for.
Gus (Jordan Michael Christoper) is a ten year old boy who escapes his abusive parents by stealing a Mustang and hitting the open road. He's determined to win a national gas station contest called Motorama, promising a grand prize of $500 million dollars. Gus must collect game pieces every time he puts gas in his tank to spell out the word M-O-T-O-R-A-M-A. He envisions himself collecting his prize, finding his dream girl (Drew Barrymore) and settling down on a sunny beach somewhere. His carefree feeling is quickly destroyed when he is partially blinded by a disturbed couple while siphoning gas from their car. To his detriment, he is treated like the adult he wants to be see as by almost everyone in the movie. He soon realizes the road is darker and tougher than he ever expected. Faced with constant threats Gus must grow up fast if he's to survive, let alone win the game.
As I sat and watched what unfolded was a twisted and cautionary tale of being careful what you wish for. It made me uneasy right from the start. It seemed no matter how determined Gus was or how close he was to reaching his goal it was just painfully unattainable. I must say, it's a frustrating yet very quirky and entertaining movie. Like it or not this movie stays with you.
Other than the abundant weirdness, this movie is largely enjoyable for me because it's chock full of great cameos! I'll just go down the list: Dick Miller, Irwin Keyes, Meatloaf, Martha Quinn, Flea, Mary Wornov, Michael J Pollard, Susan Tyrell, Garrett Morris, John Diehl, Robert Picardo, Sandy Baron, Vince Edwards and even a squirrel hunting hotel clerk played by the always amazing, Jack Nance. It was written by Joe Minion, the man behind the script for the Martin Scorsese black comedy, 'After Hours', as well as, 'Vampire's Kiss' and one of my favorite episodes of "Amazing Stories", the terrifying "Mirror, Mirror".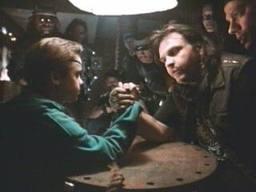 Thinking about it now it does have a similar feel to 'After Hours' in that, like the main character you feel trapped and helpless, in over your head, lost in an unfamiliar world and unable to break away. Will Gus reach his goal, win the Motorama grand prize and get his dream girl? Or will he figure out that no matter how hard he tries sometimes the world just doesn't play by the rules. You'll have to watch to find out!