Every August, my Mom would pile us into her Chevy Celebrity station wagon and drive us up to tax-free Salem, New Hampshire for back-to-school sneaker shopping.
The radio was cranked on Boston's number one pop station 94.5 WZOU and the three of us would be in the "way-back" bopping along to Salt N Pepa, Paula Abdul, New Edition, and Boston's hometown heroes New Kids on the Block.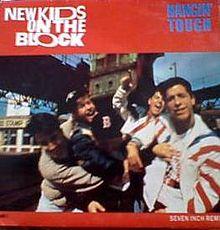 (*Author's note- I always laugh at the evolution of my musical tastes because not too long after this would I burn my copy of "Hangin Tough" as my flannel-clad friends and I smoked Phillies Sweets in the woods and rocked-out to Pearl Jam's 10 but I digress.)
My Mom was usually a pretty good sport about our music selection, but if a bad song came on, she reserved the right to change the station to Oldies 103. After about 20 minutes on the road, the outlet stores appeared. Converse, Nike, Reebok - they were all there like an oasis in a desert of gas stations and fast-food places. My brothers and I waited for mom to pop open the tailgate and then we jumped out like spring-snakes in a peanut brittle can.
We made sure to only step on the yellow lines in the parking lot (because the blacktop was quicksand) and eventually made it into the store. Looking at all the different shoes was always fun and my two brothers were always haggling with my Mom to try and get the latest trend usually to no avail, although I do remember one particular time when Danny was able to schmooze his way into some Michael Chang Reebok Pumps (the ones with the tennis ball on the tongue radical.)
Growing up when we did, it seemed that almost every week there was a new gimmick shoe coming out. Every sports star had a shoe and you could bet your sweet LA Gear Catapults that, come September, classrooms across America would look like Foot Locker showrooms. The neon look was particularly pervasive, with the day-glo colors of the day being extremely popular. Take, for example, the Nike Air Tech Challenge of 1990 as worn by Andre Agassi:
This was the embodiment of late-80's/early-90's fashion. Loud, outrageous colors and space-age looks. (The sneaker, not Agassi) And while I was not averse to these new looks, (I owned my fair share of Jams, Zubaz pants, and Hypercolor t-shirts too), when it came to my footwear, I guess you'd have to call me somewhat of a purist. The flashy fluorescents were ok for others, but I however was only interested in one particular shoe.
As a Celtics fanatic in the late 1980's and early 90's, there really was only one shoe that you should have ever thought about leaving the house in… The Larry Bird "Weapon" by Converse.
For a good four to five years as a kid, this was the only shoe I would ever buy. Every summer, I'd ride up to the stores and get a new pair of Larry's. It was almost a sickness. It didn't matter to me what new shoe came out that year, or what my friends were wearing. For me, there was something almost mystical about those black and white beauties in the silver and blue box with the star.
I think a lot of my initial interest in the shoes came from the classic 1986 commercial with Magic Johnson showing up to challenge Larry to a pick-up game at his home court in Indiana. The epitome of Showtime arrives in a limo and steps out with his new purple and gold weapons gleaming. The ad campaign was genius and, on a side note, is where the intense rivalry between these two MVP's developed into more of a friendship and mutual respect.
Larry Bird was IT for me growing up. The Hick from French Lick was everything a slow white kid could ever hope of becoming. His talent was unmistakable, his drive was intense and he worked harder than anyone ever has on the basketball court. I loved the fact that I could wear the same shoes as this living legend. And because he played for my hometown team, it meant I could watch him talk trash and destroy opponents on a nightly basis from my couch at home.
In order to see what type of competitor Larry was, one does not have to look any further than the 1988 3-Point Contest in Chicago. Bird was so confident that he didn't even bother to take off his green warm-up jacket for the competition. And although he was already a 2-time defending champ, in this particular situation he found himself needing the final money ball to extend his reign. Sure enough, with the seconds ticking down, Larry Legend sank the final shot, and left his arm in the air with his index finger pointing skyward as if to say Count it! He (not unlike Ron Burgundy) was the balls.
After Larry retired, I still bought his shoes for a few more years but eventually moved on. Junior High (sadly) meant Doc Martens instead of sneakers and I begrudgingly followed the trend. But my love for new sneaks has never waned. In fact, I'm actually looking forward to taking my daughter sneaker shopping in the years to come. She doesn't know it yet (because she won't be here until July), but I already bought her some pink Chuck Taylors to wear this summer. I know, I'm doomed.