If you're reading this article, I'd like to thank a few people. First the moderators of this fine site for approving a topic some might find controversial. And second, I'd like to thank Retro Junk's own HarryReems for encouraging me to write on the topic.

Hope this doesn't go straight to the backpages...
Herbert Streicher was born to a Jewish family in Bronx, NY on August 27, 1947. He served a brief stint in the United States Marine Corp before pursuing an acting career. That pursuit proved an expensive one, so in order to support himself he performed in pornographic films, or as it was called back then - stag films (which always reminds me of 'Pops' McKenna from the 1998 film "Dirty Work").
In 1972, Herbert was approached by hard-core filmmaker Gerard Damiano to work as a lighting director on a film he was shooting in Miami. The film was "Deep Throat", a story about a woman (played by Linda Lovelace) who discovers her clitoris is in her throat. It was a combination of skillful oral sex on Lovelace's part and hilarious one-liners on Herbert Streicher's part. I'd like to give examples of both, but my goal is to keep this clean. It was the first porn movie with a script, a musical score, and a sense of humor.
When a suitable male lead could not be found in time, Herbert was was paid $100 a day to play a wisecracking physician. His rent at the time was $38.37 a month, so he cleaned up quite nicely. The movie opened at 49th Street's New Mature World Theater in New York on June 12, 1972. It became an instant success and made pornography a national obsession.
So where does Harry Reems come into play? Well, Herbert Streicher didn't even give himself that name. He found out about the stage name the first time he watched the movie. From there on in, Harry Reems was his new persona. How awesome is that?!?! I find it stylish, yet sophisticated.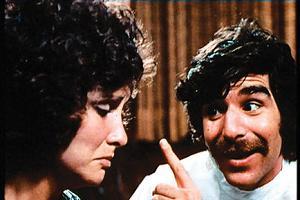 Say, is that Steve Martin?
Harry Reems was frequently cast as a doctor because under American law, sexually explicit material was permitted if it had socially redeeming value. "Deep Throat" was the first film of this genre to bypass socially redeeming values and go straight for comedic entertainment. Soon, Harry Reems found himself in a heap of trouble. As the film's popularity grew, the actor was arrested by the FBI and put on trial in Memphis, Tennessee. On April 30, 1976, a jury found him guilty (an appeal later reversed this decision). His passport was taken away for four years, killing the career he had been building in legitimate cinema abroad.
Harry Reems seemed to have his life back on track though. Interesting but little-known fact - he was offered his first role in a studio movie as Coach Calhoun in "Grease". Unfortunately, two weeks before filming began he was booted from the project for fear that is notoriety would jeopardize its box office in the South. Reems' life went into a tailspin and he returned to pornography a raging alcoholic.
"I panhandled in the streets. I lived in alleys. I had no money. I was in and out of jails, and in and out of hospitals. I suffered a tremendous amount of internal bleeding and needed hospitalisation on a regular basis. I drank half-a-gallon of vodka every single day for the last five or six years of my drinking. It became the most important thing in my life. If I didn't drink I would have a seizure."
Harry Reems was the first actor ever prosecuted for his work by the federal government due to his appearance in the film "Deep Throat". During his trials, he received a lot of support from Hollywood celebrities such as Jack Nicholson, Warren Beatty, Shirley Maclaine, Richard Dreyfuss, Gregory Peck, Colleen Dewhurst, Rod McKuen, Ben Gazzara, Mike Nichols, Julie Newmar, Dick Cavett, George Plimpton, and Stephen Sondheim.
Reems began recovery from alcoholism in 1989 and eventually married a deeply religious woman. You might say he became a
PORN AGAIN
Christian. He is now a successful real estate agent in Park City, Utah. Even though he never saw a dime of the estimated $600 million in profits generated by "Deep Throat" (which went mostly to the Mob that backed the flick), he doesn't regret being America's first male pornography star. Heck, to this day he still goes by the name Harry Reems.
Thank you, Harry Reems. If it weren't for I might never have been able to enjoy porn's two greatest assets - some laughs and...well, the other thing.
Harry Reems interviewed for "Inside Deep Throat", the fascinating documentary about a film that made more money than its producers anticipated and ignited a sexual and social revolution.

Harry Reems also wrote a book in 1975 entitled 'Here Comes Harry Reems', but it's very hard to find anywhere, even on the Internet.