This is the story of 15 major-named music stars who were selected to play newborn babies in a hospital delivery room. It took me almost a decade to learn about the ups, downs, and other aspects of a two-minute musical sequence in a kid's movie, leading me to write this article, which is a result of everything about what I've learned about that one scene as well as my opinion on the after effects of its impact.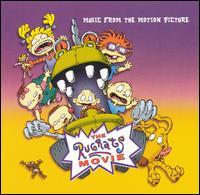 The 1998 motion picture "The Rugrats Movie" featured a musical scene with vocals by Beck, Lisa Loeb, Jakob Dylan (from the Wallflowers and also the son of Bob Dylan), Dawn Robinson (of En Vogue), the late Lou Rawls, Iggy Pop, Phife (from A Tribe Called Quest), Laurie Anderson, B-Real (from Cypress Hill), Lenny Kravitz, Patti Smith, Gordon Gano (from Violent Femmes) and, from the B-52's, Kate Pierson, Fred Schneider and Cindy Wilson. They had sung a special number entitled "This World Is Something New To Me"(this was supposed to be called "This World Is Something Strange To Me", but the composers changed their minds), where the artists had voiced newborn babies in a hospital delivery room themselves. This group was brought together by the man who does the Rugrats music on TV, Devo frontman Mark Mothersbaugh, who had also provided an 11-track soundtrack for the film, as well as writing "World".
The K-C book (p.110-111) includes complete lyrics to this song, plus the pictures of the newborns with their lines and the stars that are singing them. (I have an electronic copy of this on my Kindle.)
Also, in a true sense of "We Are The World", all of the artist royalties (the money that the music stars paid for to do that one scene) had gone to charity, with the Elizabeth Glazer Pediatric AIDS Foundation, the American Liver Foundation and the Crohn's & Colitis Foundation of America as recipients.
Important Note:
This number is among other items that have been omitted in some foreign releases, for reasons unknown. I don't know how many countries have shown the film without this number, though Spain is one of them. However, the Spanish version of the US / Canada Rugrats Movie video has the number (the film is unedited). Go figure.
Also, the French version of the film had the song translated into French; even though the music and the segment is still there, the top Anglophone rock artists were replaced by unknown Francophone voice artists.
Who Sung What:
Here is the "crib sheet" (pun intended; it came with the article) to the song, identifying which artist sung what line(s). This musical number takes place about 23 minutes into the movie. Here we go:
(This World Is Something New To Me is written by Mark Mothersbaugh; Published by Ensign Music Corporation / Mutato Muzika, Inc. / Music by Nickelodeon, Inc. (M.M. and MTV Networks, administrated by E.M.C.)(BMI); Copyright 1998 Interscope Records. Used with kind permission. Source: "Music Stars Play Kids", an article distributed by Knight-Ridder Newspapers; published in The Toronto Star, 11/20/98. Special thanks to Matt Hawthorne of this paper. Additional source: www.rugratonline.com)
And now, our feature presentation:
(Number begins as babies cry and Chuckie steps on one of the light switches on the floor.)
Lisa Loeb: Where am I?
B Real: How did I get here?
Patti Smith: Today is very different than yesterday.
Lou Rawls: So this is the world?
Laurie Anderson: I miss my old womb.
Gordon Gano: The wallpaper here just ain't the same.
Fred Schneider: This word is something strange.
Loeb: I'm wet,
Phife: I'm cold,
Lenny Kravitz: (waggles diaper) I need a change,
All: (tosses blankets in air) This world is something new to me.
Phife: (on one monitor) Oh, my head! What is this? I can't take it!
Dawn Robinson: (on an adjacent monitor) Me either!
(Robotic camera zooms in on next baby)
Beck: I'm hungry,
Rawls: I'm tired,
Jakob Dylan: (pounds crib floor to make pacifier bounce) I'm irritated.
Rawls: But I love the extra leg room.
Smith: (Points to her bellybutton) Man! They cut my cord!
Iggy Pop: (Looks in his diaper to see, uh, something Jewish boys get, usually at birth) Consider yourself lucky!
Dylan: This world is way too big.
Pop: (baby points at Chuckie) And populated by fuzzy pigs.
All: This world is something new to me.
Schneider: This world is such a gas. (passes gas)
Kate Pierson & Cindy Wilson: P.U., where's your class?
All: This world is something new to me.
(Two baby carriers collide with each other as the Rugrats push them around)
Beck: (shouts) Quiet! can't a guy get some shuteye?
Smith: (shouts) It's so noisy in here.
Pop: (shouts) I can barely hear myself suck.
(baby grabs bottle from Chuckie)
Dylan: The food here tastes pretty good,
Phife: My compliments to the chef.
Robinson: And you gotta holler to get fed.
Rawls: But I could get used to that.
(babies cry; Chuckie falls on floor onto a light switch)
Loeb: This world is way too bright,
Beck: Can't somebody turn down the light?
Beck: (as another baby; looks inside diaper) So that's what that thing looks like.
Dylan: All things here are meant for play,
(throws pacifier; robotic camera follows it)
Schneider: It's gonna be a real cool day.
All: This world is something new to me.
(Newborns pee in the air to make a fountain, while unidentified babies sing: "ba-buh-buh-buh-buh", etc.; one of the female babies say "Real cool", while another one says "Look!")
All: (as rainbow forms) This world is something new to me.
(robotic camera retracts and monitor shuts off as number ends)
Note: According to the sheet music in Hal Leonard's Rugrats Movie music book, one of the newborns were supposed to say "This is crazy" after the final line; evidently, it was not used in the film. Also, according to that source, during the fountain scene, "Real cool" was not ad-libbed, but "Look" was.
Now, a word from our sponsors...
We now return to the Newborns' Plight. And now, back to the show:
In a nutshell, we see that when the Rugrats (one year old Tommy Pickles, two year old Chuckie Finster, and 1-1/2 year old twins Phil and Lil DeVille) search for the new baby, they find themselves ending up in the newborns' section, which they refer to as a "baby store". Tommy then tells his fellow mates to help him find a baby that his birth-giving mother would like. Here, the newborns, complete with mature adult voices courtesy of popular music acts, tell of their post-natal plight in "This World Is Something New To Me", ending with a choreographed mass urination, creating a rainbow. Eventually, Boris and Grandpa Lou (Tommy's maternal and paternal grandfathers) finds the Rugrats. Also, I have some visual examples of the singers who lent their voices as the newborns. Lenny Kravitz, Jakob Dylan, and Beck are the acts you see here in pictures. These guys happen to be my favorites of all the rock acts who played babies.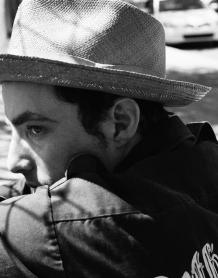 Recently, I went on Wikipedia and I found out that it said that Bob Dylan was one of the celebrities who lent their voices in the film. Bob Dylan? He didn't lend his voice in the Rugrats Movie! His son Jakob did! Now go figure!
Also, I heard that some of the acts did some good advertising gigs, like Gordon Gano and his group the Violent Femmes (you know them for their song "Blister in the Sun") did a series of promos for
Spongebob Squarepants
on Nickelodeon. It showed them performing the
Spongebob Squarepants
theme. However, these promos appeared on the first Spongebob DVD ever created:
Nautical Nonsense and Sponge Buddies
, released in March of 2002. Another example would be Jakob Dylan posing for the Gap's holiday catalog and in an ad for the famous clothing line that appeared in the December 2002 issue of
Spin
magazine. He even did a commercial for them as well, showing him singing Elvis Costello's "(What's So Funny About) Peace, Love, and Understanding" and playing it on his guitar, with the ad promoting their line of jeans, in which he was seen wearing in the advert.
This is the ad that Jakob Dylan did for the Gap that appeared in

Spin

magazine's December 2002 issue.
Now a word from our alternate sponsors...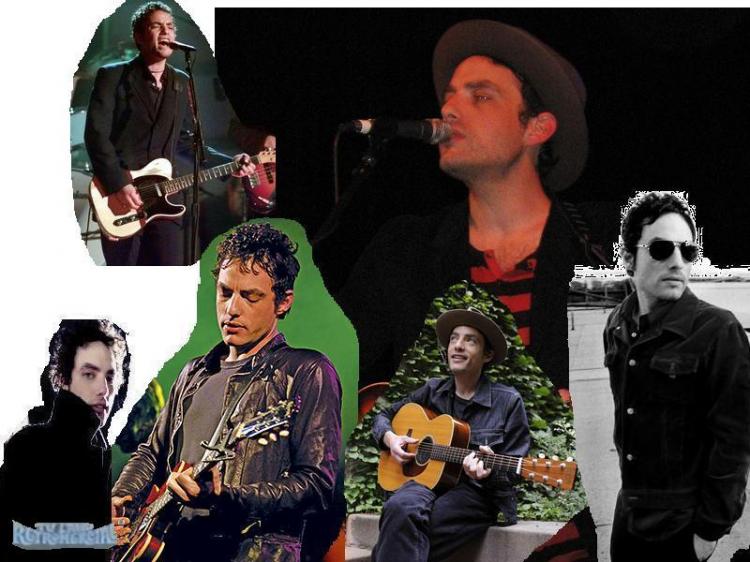 And now the conclusion...
This is my birthday gift to everyone who are users of Retro Junk, if you did not know anything about this article. It took me several months to complete the article you have just read, and it also took me almost a decade of scrutiny in order to dig deep and delve more further research upon completing it. So whether you enjoyed it or not, don't forget to rate and comment this article!
Also, you can check me out hanging in the forums, uploading commercials, or visit my profile page, where you can add me as a friend!
And coming soon on my Youtube channel (when my netbook gets fixed, since I am writing this on my desktop; check it out at www.youtube.com/user/jakobluke):
Thanks for reading! ;)