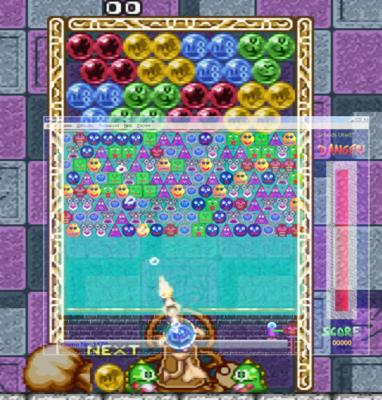 2 -

Snood

(AKA Bust-a-Move)
Who knows what would have happened if Bust a Move had been released in the USA under the same logical name as in Japan? Puzzle Bobble. You'd think that would have made it easier to cash in on the crossover appeal from Bubble Bobble fans. Alas, we shall never know. There's two ways to find irony here and the way you find it will most likely depend on your view of puzzle games in general. One way of looking at this is that it's ironic for one of the first puzzle games to alter the dynamics of Tetris and come up with original game play of its own wound up being copied note for note. Another way to look at it is that it's ironic for Snood to be accused of plagiarism when Bust a Move itself is essentially a Tetris clone with some minor changes. It may be a peerless situation, save for the legal controversy behind the songs "Ghost Busters", "I Want A New Drug", and "Pop Musik". And while we're grouping things, I feel there are two very good reasons for Snood being included on this list. First off, from Dr. Mario to Yoshi to Pac-Attack to Super Puzzle Fighter 2 to Kirby's Avalanche...hell, this list could go on forever...and that's my point. 90% of the puzzle market rips off the original Tetris. I can't say it any better than All Media Guide: "All 'falling item' puzzle games owe a tremendous debt to Tetris, which was originally created for the PC in the late 1980s by a Russian named Alexey Pajitnov." Second, doing direct comparisons, there is no way that you can find Bust a Move to have stolen as much from Tetris as Snood stole from Bust a Move. Literally, a switch to public-domain caliber graphics is the only immediate difference between Snood and Bust a Move. Inexplicably, Snood shot to baffling levels of popularity in the late 1990's when it hooked kids, teens, college kids, and adults who had obviously never heard of or played Bust a Move. One person who certainly did hear of it was college professor David M. Dobson who churned out his shareware version of Bust a Move around 1998. As of 2002 he was still employed as Assistant Professor of Geology at Guilford College in North Carolina. However, looking at the spin-offs, sequels, and merchandising that Snood has inspired, I have a feeling that early retirement is in Dobson's future...if not a description of his present whereabouts. I suppose that's the one silver lining on this carbon-copied cloud.
Behold the unholy trinity.
1 -

Super Mario Bros. 2

- (AKA Doki Doki Panic)
Simply put: the day you learn the phrase Doki Doki Panic is the day a little bit of your childhood dies. For those who have never heard of Doki Doki Panic, it might not be too late to turn back now - and forget this gibberish. For those of you who have heard rumors or know the truth, there's no denying that Super Mario Bros. 2 is the biggest rip off in gaming history. More so than any of these other games - Super Mario 2 IS Doki Doki Panic. Even Snood, while basically a skin for Bust a Move, is a complete skin. Super Mario Bros. 2 isn't even a complete skin. A handful of changes were made in terms of graphics and sound effects, but as a whole these changes would barely qualify Super Mario Bros. 2 as a hack of Doki Doki Panic. Mama Nintendo didn't raise no fool. In Japan, Doki Doki Panic was easily outselling the real Super Mario Bros. 2 (which was basically a glorified level-expansion pack for Super Mario Bros. to begin with) so instead of following up their classic with something that was doing lukewarm business, they upped the ante. They just made some minor changes to Doki Doki Panic and it was ready to ship in the USA as Super Mario Bros. 2. Gamers have noted for years that SMB2, was always the black sheep of Mario franchise and now you know why: it's not even Mario. SMB2 is truly the Milli Vanilli of the gaming world. Not only because of the shady intentions behind passing off the game as something it wasn't, but also for the sheer size of the deception. SMB2 is considered a classic and almost everything from Doki Doki Panic is associated with the Mario universe. So successful was this marketing scheme (and it was a scheme) that many a gamer are still unaware of the origins of SMB2 to this very day. And so Super Mario Bros. 2 remains the biggest rip-off in all gaming history.
Dishonorable Mention - Swamp Thing (AKA The Simpsons: Bartman Meets Radioactive Man)
Yes, the Simpsons game is actually the victim here. Swamp Thing shares a ridiculously high percentage of graphics and audio FX with the Bartman entry in the Simpson's NES outings. It's dumbfounding that Swamp Thing would steal from a game with such different subject matter, but then again the Bartman game failed miserably (the same as most other Simpsons games) when it came to capturing the bright and humorous tone of the series. Definitely uninspired all around. However, you've got to factor in one big technicality that keeps this entry from making the official list: both games sucked shit.
So there you have it. By no means a complete list, but hopefully a thorough one. I'll be happy if I've managed to open a few eyes to some glaring moments of shame in video gaming history. Or at least added some insights for those of you already aware of this dirt under the industry's carpet. For those who want more, you needn't go further than Google to find more content on these games. The Krion Quest and Super Mario Bros. 2 have already been especially well-dissected by other authors at various pages, which I encourage everyone to check out. Remember, you saw it here first: if you think you've seen it before, you probably have.[/color]